11 Unique Benefits of Live Chat in Education
Today's technology has the potential to transform education, but many schools aren't using it to its full capacity.
Websites, social media, virtual walkthroughs and video marketing have improved the educational institute hunt. Schools are actively putting technology in the hands of students and using digital learning more than before. But there's a simple way to take this technology a step further.
Live chat keeps student conversations alive beyond the acceptance letter, and is a modern way to stay connected across campus, state lines and borders. In this post, we'll share the ways live chat improves the education industry for your prospective students, current students, faculty and staff.
For prospective students
1

Proactively engage with your visitors

Live chat makes it possible to proactively approach your site visitors. Your branded chat widget will appear automatically on certain web pages and engage visitors to chat. This is ideal for prospective students and parents who may have a specific question about your school, but don't want to go through the hassle of sending an email or making a call.
We recommend using proactive chat on web pages where your visitors often stall, such as your course offerings or admission requirements pages. For all other inquiries, a humble live chat button sits idly by on your website for a prospective student to use at any time.
2

Have more meaningful conversations at once

A direct, instant line of communication is vital for prospective and incoming students. Live chat helps build early relationships by showing that your institution strives to meet the needs of its students even at the beginning stages. That's why Userlike offers Sticky Chat, which connects returning visitors with the Operator they chatted with before.

Plus, every conversation is automatically saved as a transcript. This makes it convenient for the student and staff to track correspondence and remember key information.
3

Improve parental engagement

Engaging in your child's education is simpler when they're young and dependent on you to decide where to attend. Once they're teenagers, it's easy to lose touch. According to the Academic Development Institute , parents have low involvement because their child prefers it that way or they don't feel that they're able to help.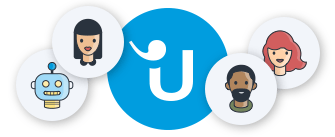 Looking for better customer relationships?
Test Userlike for free and chat with your customers on your website, Facebook Messenger, and Telegram.
Read more
Live chat makes your institution more approachable for parents who want to get a feel for the study program their kid is interested in. Since it's available directly on your website, parents can speak to a representative when it suits them most — even during a lunch break at work.
4

Offer multilingual support

For international schools, live chat is a cost-effective solution to global communication. Since students living abroad often rely on online resources when choosing an institution, it makes sense to speak to them there.

Florian Fürst, website manager at Frankfurt School of Finance & Management , cited that since implementing Userlike live chat , it has been especially valuable for international students:
"We're an internationally recognized school. Therefore, we have a lot of students coming to our website who might not be fluent in German or English. For non-native speakers, chatting is much more comfortable than having to talk on the phone. Also, it can save them potential phone charges. Chat allows them to get in touch with us easily."
Userlike lets you set up Operator Groups, which is helpful if you offer your website in more than one language. For example, if you offer a Spanish version of your website, you can add a widget that connects the visitor to an agent from the Spanish-speaking Operator Group. This ensures that the visitor is always connected to the appropriate agent.
Alternatively, you can use the Group Select feature so your site visitors can choose their preferred language from a menu before the chat starts. If you have multilingual support agents who can speak to a variety of visitors, use the Operator Skills setup to define their relevant skills. By linking their Skill Set to the appropriate widgets, they will only receive visitors they are most qualified to assist.
For more tips, check out our post, "9 Tips & Tools for Multilingual Chat Support."
5

Increase your availability

Your service times may not always suit your prospective students, especially if they're still in high school, live in a different time zone or have limited access to the internet. This is why live chat offers a contact form so visitors can ask questions at any time.

Your Chat Widget lets you display an offline message form for site visitors to use after hours, and responses are then forwarded to a designated email address. This is a lot easier for prospective students to use; they don't have to search for the right contact to send their request to or worry that they'll miss a follow-up call.
For faculty and staff
1

Improve student/instructor communication

As class sizes grow, educators are turning to digital solutions to connect with their students. Though open office hours are the best chance for a student to speak one-on-one with their teacher, various circumstances make it difficult to connect.

Live chat lets faculty conveniently "meet" with students without losing the personal feel. Instructors can create and embed a widget on their department or school's web page with a time table of availability.

Around exam time, instructors can use live chat to connect students to tutors or aids for last minute questions.
2

Report technical issues instantly and remotely

Technology breaks, and often at the most inconvenient times. Typical protocol involves sending an email to your IT department to report a ticket. Depending on staff, the whole process can take an uncomfortably long time.

Sometimes issues can be fixed remotely. With live chat, an IT professional can respond to chats instantly to determine the issue's severity. This helps cut down on staff or students forfeiting their technology for a simple software fix.

For serious issues, you can set up pick-up or drop-off times via chat. And with the right tool integrations , IT agents can instantly create tickets and follow the repair status.
3

Eliminate disruptive phone calls

Schools are not call centers, so administration buildings shouldn't function as one.

Admissions likely take the cake for having the most incoming calls, but other departments would benefit from live chat's versatility and unobtrusiveness as well. For example, libraries can use live chat to respond to inquiries about room and book availability without disrupting students. With Userlike, your team can even have up to 10 ongoing chats at a time.

For frequently asked questions, departments can set up a chatbot to assist students or visitors. This ensures that your staff is only forwarded important or unique requests.
For current students
1

Give your student body a voice

In addition to improving student/instructor interaction, live chat makes it possible for current students to conveniently voice their opinions or concerns.

If a department wishes to receive feedback on its study program or lecturers, live chat makes it easy for students to submit their honest, anonymous opinions. Since a chat widget doesn't require an agent to be active, students can submit feedback at any time, which is then forwarded to an assigned email or management system.

For instant evaluations, you can use Userlike's Survey feature to offer a multi-question survey before or after the chat. The answers are then saved in the chat transcript for you to review at any time.
2

Create student jobs

Your website may show off and explain all the wonderful benefits of campus life, but current student perspectives are more relatable.

Your institution could set up an "Ask a student!" page, where prospective students interested in living on campus or participating in a certain activity or program can speak directly to someone with firsthand experience. Institutions such as the University of Glasgow and Lancaster University are already putting this into practice:
Current students can also assist their classmates by offering tutoring services via chat. This lets a single classmate assist several peers at once without having to juggle separate meeting times with their own heavy schedule.
3

Let students report issues or ask sensitive questions

Your school may have an emergency phone line, but for less severe cases, live chat makes it quick and simple to anonymously report issues on campus.

A chat widget on an emergency hotline page lets students or staff quietly report a problem. Userlike connects to WhatsApp , Facebook Messenger and Telegram , so students can use the communication channel most accessible to them.

If students have a sensitive situation to discuss, they can reach out without needing to visit an office and reveal their identity.
Live chat is simple for the education industry to adopt
Implementing new technology and software campuswide can be difficult and costly. That's why Userlike live chat is simple to set up and has various plans to meet your needs.
Ready to try out live chat? Test it today with Userlike's free 14-day trial .