11 Tech Support Tools That Strengthen Any Business
Your customer support reps are under a lot of pressure when assisting customers. Are they getting the help they need too?
In today's technological world of speed and automation, customers will ditch you for a competitor if your support is slow and lackluster. But when your customer reps are always a chat, phone call or email away, they need the right software to organize requests and questions.
There are gobs of tech support tools on the market that claim to keep your team organized, build a knowledge base and improve customer communication. It all sounds great. Now how do you choose one?
Here at Userlike , we're partial toward live chat, but we use a variety of tools that integrate well with our software and jive with our team. Since there are so many to choose from, we went ahead and compiled a list of tools we recommend for your support team.
Collaborative platforms dominate this list and Asana leads the pack with its sophisticated project organization and clean interface. Asana's mission is to simplify team-based work management and they hit the mark. Tech requests, developments and meeting notes all coexist for your team to view, edit and complete.
Asana helps your support team track customer feedback. When a customer has an issue or feature recommendation, your team can gather and discuss requests before escalating it to development. This ensures that your team doesn't miss out on important updates, and can tackle tasks and issues as soon as they appear.
From tech issues to feature requests to yearly goals, Asana makes sure our team knows what's going on.

Anton, Customer Success Lead at Userlike
If you often need to follow-up with customers on specific topics and agreements, we recommend creating tasks as reminders. Asana is quick to alert you about tasks that are due by notifying you via your dashboard and email. And when a task is complete, you're occasionally awarded with a cute little unicorn, yeti or phoenix flying across your screen. It's a small detail, but definitely motivating.
For collaboration efforts, Asana makes it simple to organize and work on content creation, discuss cross-departmental projects and take meeting notes. Honestly, I don't think we would be half as organized without it.
What does an internal communication tool have to do with tech support? Everything, my friend.
Slack integrations keep your team from having to leave multiple tabs and apps open just to stay on top of customer communication. It's also a quick way to talk to your team without disturbing the rest of the office. This is especially helpful if a colleague needs assistance but is currently in a chat or on a call.
Though Slack isn't ideal for customer conversations , it boosts your team's responsiveness and lets you connect your favorite apps and support solutions. We connect Userlike to Slack so we can receive offline messages and notifications from the chat, such as written feedback and a link to the transcript.
Slack also has several phone support integrations so you can keep things like call insights, voicemail notifications and alerts in one place.
And if your company has an active social media presence or busy email inbox, there are several integrations that let you view and reply to inquiries directly from Slack. If you want to connect your help desk or CRM solution, there's integrations for that as well.
Heck, there's even an integration to receive daily cat facts if you're into that kind of thing.
Having bugs is a normal part of running a website, especially for a SaaS business . Your software is bound to have minor kinks from time to time, and Jira is the ideal place to track and manage your fixes.
Jira is a versatile ticket system that keeps your agile team organized. Customer support reps can track the progress of bug fixes and create tickets for feature requests submitted by customers.
Jira is a product of Atlassian , which produces a variety of incident management software. It bridges communication between customer support agents and developers to solve the issues that matter most to your customers. Jira even lets you create public projects so customers can stay updated on bug fixes and vote on features themselves.
In tech support, speed is king. Userlike live chat lets you connect to your customers immediately, avoiding the waiting agony that is often associated with traditional service methods.
This is our own support tool, but we use it every day. Not only do we get to see it from our customer's point of view, but it's a fast way for them to contact us for assistance. This is an incredibly important feature for tech support. Every conversation is personal, direct and transcribed, which leads to less misunderstanding and quicker resolutions.
Because everything is text-based, you can easily forward conversations to your help desk or customer relationship management system. Customers can also request a transcript of the conversation just in case they run into the same tech issue in the future.
Live chat also lets agents speak to multiple people at a time, increasing your support efficiency. Userlike provides chat routing, which instantly connects visitors to the Operator best-suited to their needs. Much of the process is automated, requiring little effort from your team and customers. It's a thoughtful solution for everyone.
Userlike even integrates well with the services you use and is an efficient way to keep up with customer expectations . Chatting is also a lot quieter and won't disrupt colleagues, which is a major plus if you have a loft-style office like we do !
Every organization needs a knowledge base. Having an information-rich library of information about your product, company and departments is valuable to your customer relationships.
A key challenge in customer support is maintaining the same level of knowledge among all of your employees. A knowledge base reduces misinformation spreading among the team, and employees feeling unable to accurately respond to a customer request. This is why we recommend Groove.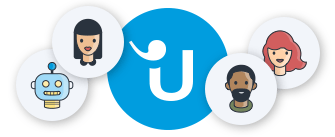 Looking for better customer relationships?
Test Userlike for free and chat with your customers on your website, Facebook Messenger, and Telegram.
Read more
In customer and tech support, you create many technical and internal documents to support your team. Groove is a great place to store all of this internal intelligence and it can be updated at any time. For frequently asked questions, Groove lets you build a public knowledge base that your customers can use to help themselves.
Groove even improves your company's workflow by giving your team a shared inbox with customizable automated filters and editable canned messages. This saves the hassle of forwarding emails and writing the same messages over and over.
The best part about keeping a knowledge base with Groove is that you learn what matters most to your customers. It tracks your conversions and sends you reports on your team's performance and your customer's happiness. You'll soon notice higher resolution rates, consistent service across your team and less time invested in training new employees.
Also, employees come and go, which means their knowledge leaves with them. Consolidating everything your team has learned makes knowledge transfers much easier. Plus, everyone can edit it as your company develops.
Despite having similar names, Userlane isn't our sister product. But it is an excellent tool for onboarding new users.
Userlane is an onscreen guidance tool that introduces new users to your product. You can create interactive customizable guided walkthroughs that are just as helpful as speaking with a real agent.
If users understand your product well, you'll notice a reduction in tech support questions. It's also helpful for training customers who have lower tier plans to avoid dedicating hours to one-on-one training.
When talking to customers, sometimes you need to take matters into your own hands. If an issue is too difficult to explain, TeamViewer lets you access the customer's computer and fix technical issues without leaving your desk.
Available in over 30 languages, TeamViewer is remote support software that's compatible on desktop and mobile. It cuts down on communication time by allowing your team to connect and use a customer's computer — with permission of course — directly from their own. An agent can even share their own screen, which is helpful during webinars or sales pitches.
It's great for remote work as well. Whether your team is scattered across the world or doing a home office day, TeamViewer is always accessible. It makes onboarding and tech fixes a breeze, which takes weight off of your customer's shoulders. Not to mention, it's pretty cool to be able to control someone else's computer. Just don't let your new powers go to your head.
Customer service representatives have to repeat themselves a lot. Canned messages help ease the pain, but Typinator takes efficiency a step further.
Once enabled and configured to your liking, Typinator lurks in the background waiting for your written commands. For example, if you often need to type "thank you for your order" emails, you can create an abbreviation that fills in the text for you:
Predetermined messages maintain consistency across your service team. Your abbreviations should be simple and easy to remember, but Typinator displays them in a list for those who are still learning the shortcuts. Besides messages, Typinator lets you create commands for writing the current date or time, or for inserting logos, signatures and emoji. And when you don't need to use it, you can disable it with one click.
We're avid Typinator users at Userlike. Besides live chat conversations, we use Typinator for creating quick HTML and taking notes on Asana during meetings.
Webinars are a personal way to build brand awareness and teach people about your product. If you're knowledgeable about your craft, why not share it with the masses? It's a prime opportunity to score new customers and teach existing ones.
If the thought of public speaking gives you sweaty palms, ease some of the fear by using a reliable service to host your presentation. We recommend Appear.in, a chill solution to your hosting needs. It lets you go live instantly, and gives you a private url to share with your participants. It's perfect for teams of any size, but a lot more affordable than its competitors.
Since Appear.in lets you record every webinar, you can send them to customers who may need help on the topic. We've even used content from a past webinar to create a support tips video for our customers. It's a valuable resource for your company portfolio and a unique way to connect with your users.
If you're lucky, your customers will come to you when they have a problem with your product or service. But they often don't.
Communication is important in every relationship, even in B2C and B2B. By encouraging feedback, your company shows that you care about your user's opinions. This could give your customer retention a healthy boost.
Satisfaction surveys are ideal for receiving constructive feedback and learning what's valuable to your customer. Since they take time out of your customer's day and are sometimes tedious, use a survey specialist, like SurveyMonkey.
It relays results in easy-to-read graphs and lets you send the survey through email, the web, social media and live chat. It's also customizable, so you can change the colors and add your company logo to keep it on brand. SurveyMonkey has plenty of tips on how to create effective surveys with high completion rates.
In live chat and email, you're grammar and spelling is as much as important as your message. If I wrote this entire post with very bad grammar and misspelled words, you might rethink trusting my advise.
In sales and support, bad grammar "increases a user's perceived risk factor of engaging in an experience." Customers want answers now, which means your support team is under a time crunch to deliver fast, efficient and correct information. Good writing doesn't come naturally to everyone, so browser add-ons like Grammarly save your team the headache of running their replies through spell check.
The "free writing assistant" lives in your browser, silently judging your writing everywhere online. Grammarly highlights mistakes and makes suggestions onscreen that are easy to accept or modify.
Grammarly is only available in English, but it recognizes many of the spelling, grammar and punctuation differences in American, British, Canadian and Australian English. If your support team has non-native English speakers, Grammarly takes the second-guessing out of their writing. Honestly, it's handy for everyone. It even edited this post.
Carefully choose your tech support tools
Don't overload your team with unnecessary tools to stay "current" and "tech-conscious." Accumulating shelfware, purchased software that's never used and wasn't needed in the first place, is a problem that affects all types of companies.
If you've already taken the tech plunge, make sure your team is using everything to its full potential. Chances are software companies have a few webinars and a public knowledge base up their sleeve too.
And if you're still shopping around, invest in tools that work seamlessly together, like the ones in this list. For more insight, read reviews on comparison sites like Capterra or G2Crowd to determine if these tools are right for you. At the very least, make sure your team has a reliable communication channel and a project management platform. Speed and organization will keep customers around.