Chat with Your Customers via Facebook Messenger Connect
There's a clear winner among the communication channels: mobile messaging. Who is still calling these days? Everybody's texting.
When it comes to customer support, business follows consumer preferences. Which is why we've made it possible to extend your support to your customers' favorite messaging app: Facebook Messenger.
Now you can use Userlike to answer chats coming from your website as well as from your customers' Messenger apps.
Userlike is first and foremost software for website support – allowing you to help your visitors, keep them engaged on your site, and convince them to take action.
The downside of web chat is that after the chat, the connection is lost. That's where our Messenger Channels come in.
With Messaging Support, your first customer interaction is the start of a long-term relationship. The connection to your customers' messaging contact list stays, and with that your brand stays top-of-mind.
Transactional support turns into relational support .
Every marketer is looking to be top-of-mind with his customers. What better way to be top of mind than with a permanent connection to your customer's favorite app?
"That's great, but why wouldn't I simply use Facebook Messenger itself?"
Sharp question. The thing is, that Messenger hasn't been built for service purposes. It's akin to using a fax for newsletter marketing.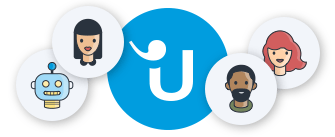 Looking for better customer relationships?
Test Userlike for free and chat with your customers on your website, Facebook Messenger, and Telegram.
Read more
With Userlike, you're using a solution that was specifically engineered towards service . When a Facebook message comes in, it is directly forwarded to one of your service reps. What's more, you'll be able to combine chat support for your website, Facebook Messenger, and Telegram.
How to set it up
If you don't have a Userlike account yet, get started with our 14-day free trial . Then please start a chat with our support guys to get access to a Corporate trial.
Once you have that, to set up Facebook Messenger support, create a widget in the widget section of your Dashboard, and select "Facebook Widget". Then all you need to do is connect your Facebook page and authorize. Follow the detailed instructions here .
Happy chatting!