Introducing Operator Skills – Guide Your Customers to the Right Support Rep
If you're offering chat support in a team, your team members will likely differ in skills, abilities, and knowledge areas.
Some might speak one language, others might speak two or three; some might have generic knowledge of all your products, others might be specialized in one.
Customer satisfaction is highest –and service costs are lowest– when your customers are instantly guided to the support rep that is best able to handle the specific question. No waiting time, no forwards.
That's why we'd like to introduce you to Userlike's most advanced and flexible routing logic: Operator Skills.
What are Operator Skills and what do they do?
With Operator Skills you match your Operator's abilities with the Chat Widget's requirements. When a web visitor starts a chat on a Chat Widget, she is guided to an Operators whose Skills include all the Skills assigned to the Chat Widget in question.
Let's use an example to illustrate how Operator Skills work.
Imagine you have three websites that are based on language: website.com/de (German), website.com/nl (Dutch), and website.com/fr (French). You sell two different products over these sites, Product X and Y. Your URL structure would look something like this:
website.com/de/X
website.com/de/Y
website.com/nl/X
website.com/nl/Y
website.com/fr/X
website.com/fr/Y
You have unique widgets for each of these pages. So you have the following widgets:
DE-X
DE-Y
NL-X
NL-Y
FR-X
FR-Y
Your support team consists out of four members, each with their own skills regarding languages and product knowledge.
| Operator | Skills |
| --- | --- |
| Francois | Dutch, French, Product X |
| Jeanette | French, Product X, Product Y |
| Jane | German, Dutch, French, Product X |
| Pieter | Dutch, German, Product Y |
You'd like the Chat Widgets on your various pages to guide your web visitors to the support reps with the best skills. So, a visitor who starts a chat when surfing for Product X on your German site should be connected to an Operator who (a) speaks German and (b) knows about Product X.
To set this up, you'd first create the relevant Skills in your Dashboard: Dutch, German, French, Product X, and Product Y.
You then assign the relevant Skills to your Operators. So Francois gets Dutch, French, and Product X; Jeanette gets French, Product X, and Product Y, etc.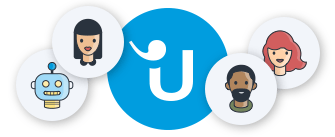 Looking for better customer relationships?
Test Userlike for free and chat with your customers on your website, Facebook Messenger, and Telegram.
Read more
Now, assign the appropriate Skill Sets to your Chat Widgets. To the NL-X Widget, for example, you would assign the Skills Dutch and Product X.
Now when a visitor starts a chat through one of these Widgets, he is guided to the Operator with the appropriate Skills. In our case, the Widget-Operator mapping would look like this:
| URL | Widget | Operator |
| --- | --- | --- |
| website.com/de/X | DE-X | Jane |
| website.com/de/Y | DE-Y | Pieter |
| website.com/nl/X | NL-X | Francois, Jane |
| website.com/nl/Y | NL-Y | Pieter |
| website.com/fr/X | FR-X | Francois, Jeanette, Jane |
| website.com/fr/Y | FR-Y | Jeanette |
What's important to stress is that an Operator is only eligible to receive chats from a Widget if his Skills include all the Skills set for that widget. It's no problem if he has more Skills than needed – he'll get the chat. But if he lacks just one, he won't get it.
So in our example, Pieter could never get chats about product X, because he doesn't have that skill. The only way he could receive a chat from the DE-X Widget would be if Jane forwarded it to him.
The benefits for you and your customers
Being forwarded is one of the biggest customer annoyances , and so is having to go through an options menu: "For English, press 1... Für Deutsch, wählen Sie 2..."
Customer routing is one of the areas in which live chat has always been more convenient than phone, but Operator Skills takes it to the next level. If you have a diverse support team, it allows you to tailor the strengths of your people to the needs of your customers.
How to get started
Operator Skills are available from the Business Plan on. We thought this made sense, since 10 Operators is the point at which significant differences in Skills will start to develop.
The steps to set this up in your Dashboard:
If you're not in the Business plan, consider making use of the Group Select feature. Check out all the routing options we offer in the video below:
Don't have a Userlike account yet? Get started with a free 14-trial ! Ask our support guys for a temporary upgrade to try Operator Skills for free.