Introducing the WhatsApp Channel – Support Your Customers on the #1 Messaging App
With at least 1.5 billion users , WhatsApp is the world's most popular messaging app. Even for those not using it, the words "messaging" and "WhatsApp" are nearly synonymous.
By adding WhatsApp as a support channel you can reach your customers on the messaging app that they already actively use on a daily – or hourly – basis.
This channel integration means that your customers can add and contact your business on WhatsApp while your service team can conveniently answer them from Userlike's Message Center, your communication hub for web and messaging support.
WhatsApp and Userlike – a perfect match
The WhatsApp channel relieves your customers from the need to go to your website to reach you. Instead, they can contact you in the app through which they are already constantly in touch with their family and friends.
All brands aim for top of mind awareness among their customers. They want customers to think of them as a friend. Being added as a contact on WhatsApp doesn't automatically make you a friend, but it's a good place to start.
An increasing number of innovative players have already started with WhatsApp support, including KLM , Unilever's Hellmann's and luxury hotel chain Steigenberger .
The advantage of connecting WhatsApp to Userlike is that Userlike, unlike WhatsApp, is built for customer support. Relying on WhatsApp's browser messenger to offer customer support is like using a fax for newsletter marketing. It leads to inefficient service. And we don't like inefficiency.
Userlike's Message Center, on the other hand, has been engineered precisely for service efficiency. It contains all your customer interactions with all your contacts from all your messaging channels. Your support agents can answer them from one single place, empowered by the Message Center's great overview and potent efficiency features.
The Message Center can be connected to WhatsApp, but also to your website chat and other messaging channels like Telegram and Facebook's Messenger . This way, we can relieve all the pains that used to plague messaging support when conducted, for example, via WhatsApp's browser version.
Ways to use WhatsApp for your business
WhatsApp for sales support
The most evident place to use WhatsApp – on your customer's way toward a purchase. It's an exclusive channel to consult them in their product choice.
WhatsApp for after-sales
By adding your WhatsApp Service number to your checkout page or confirmation email, you give your customers a low-barrier channel to ask about their order. KLM already use WhatsApp like this. They send their customers booking confirmations, boarding passes and flight status updates via messenger.
WhatsApp for follow-up questions
You know that situation where you hang up the phone, only to realize a few minutes later that you forgot to ask a question? WhatsApp is the perfect channel for such pop-up questions for most people since messenger apps are just one tap from their phone's home screen. So they can ask any sudden questions on the fly.
WhatsApp for physical shop support
Now this is one we are excited about, because so far we've been restricted to the e-commerce arena. Last week, however, I was walking through the mattress section of IKEA Cologne when it hit me. How useful would WhatsApp support be here! Instead of making my way through model kitchens and baby rooms in search of one of those yellow-blue employees, I could easily send a short WhatsApp message instead (I hope you're reading this, IKEA). Similarly, I can imagine many physical shops that would benefit greatly from WhatsApp support.
WhatsApp for Marketing support
Maybe you are running a campaign that makes your prospects curious. Adding your WhatsApp number to the ad so they can follow up directly can be a good way to power boost your ads.
Those are just some ideas to get you started. Get creative, go wild.
What about data privacy?
Despite WhatsApp's switch to end-to-end encrypted chats, data privacy concerns remain the elephant in the room when talking about the Facebook-owned messenger app.
With Userlike, all of your conversations are securely handled and protected in a GDPR-compliant setup . When you decide to connect WhatsApp, your conversations on this channel will inevitably pass through their servers. As WhatsApp explains here , all WhatsApp messages are secured with end-to-end encryption. This means that nobody but you and your customer can read them, not even WhatsApp.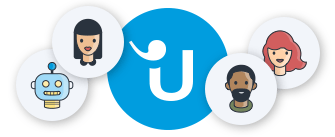 Looking for better customer relationships?
Test Userlike for free and chat with your customers on your website, Facebook Messenger, and Telegram.
Read more
We're constantly reviewing WhatsApp's current setup and stance on data privacy to make sure your conversations with customers via Userlike are safe and sound on any channel you add.
How to get started with WhatsApp
Before you can connect Userlike to WhatsApp, we have to take you through Facebook's verification process, since they're the company that owns WhatsApp. This step is inevitable because your Userlike WhatsApp channel requires access to the official WhatsApp Business API in order to work as expected.
To make things smooth and easy for you, we'll handle the communication with Facebook, provide you with all necessary documents and support you every step of the process. Click here to kick it right off.
We've also prepared a dedicated tutorial to give you an overview of Facebook's requirements for using their API and the individual steps we'll take with you. If you have any further questions, we're happy to hear from you.
Go tell the world
Your WhatsApp channel is up and running? Great! Then go inform your (potential) customers about your brand new contact option. Spread the word on social media or link to the WhatsApp channel from your website's contact page and your email footers.