Introducing the Telegram Channel – Support Your Customers Wherever They Go
From all messaging apps, Telegram has been dedicated to data security the longest. When WhatsApp considered end-to-end encryption, Telegram was already there.
With over 400 million users, Telegram has evolved from a niche phenomenon into one of the most popular global messaging apps .
The Telegram integration with Userlike allows you to harness this potential and meet your customers on their favorite channel.
Your customers reach out to your company in the Telegram app. You receive and reply to their messages in the Userlike Message Center, your support hub for web and messaging support.
"Why should I use Userlike instead of Telegram's web app?"
Telegram is a great app for private messaging. It's fast, secure, accessible on any device – and lots of fun .
But it wasn't built with customer communication in mind.
Userlike forms the bridge that's needed so you can use Telegram for immediate customer messaging on a scalable level.
Gain powerful chat features. Over the last decade, live chat providers like Userlike have specialized in making customer support easier through technology. Features that increase service efficiency are vital, especially for larger, complex organizations.
The Telegram Channel allows you to apply all the advanced features you know from web chat in customer messaging.
Automatically route your customers to the right support agent, use canned messages to boost response times, share files of any kind, and more. It's a double win. Not only will it save you time and resources but also lead to happier customers.
It's all in one. Although it's becoming more popular , there's no denying that Telegram is still relatively small compared to tech giants such as Facebook and WeChat who dominate the messaging market.
That's why you're probably looking into using Telegram as an additional contact option, not the only one.
Reply to every new message – be it from website chat, WhatsApp, Facebook Messenger, SMS or Telegram – comfortably from within the Message Center. A tag indicates through which Channel the message came in. Your support agents don't need to switch between different applications here.
How to get started
Get started with the Telegram Channel in just 3 simple steps.
Create your bot.
Open your Telegram app or sign up for a new account. Search for " BotFather" – Telegram's function for setting up new bot accounts and managing existing ones – then start a conversation and follow its instructions. The BotFather will generate an authorization token for your new bot.
Set up your Channel.
Log in to your Userlike account. If you don't have one yet, just create a free account here . In the Dashboard, go to Unified Messaging and click "Config", "Channels", now select the Telegram Channel. Enter your bot's name, username and the API token you got from the BotFather. Assign a Widget that will handle the messages you receive from Telegram.
Set up your bot.
Edit your bot so your customers know what to expect from this Channel. Go back to the BotFather in your Telegram app and use commands to set your bot's description, About information and profile picture – it's always nice to put a face to a name.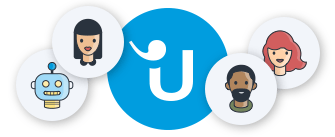 Looking for better customer relationships?
Test Userlike for free and chat with your customers on your website, Facebook Messenger, and Telegram.
Read more
But before you can start chatting away, there's one more thing. What's often overlooked is that your customers might not be aware that they can reach you on Telegram.
Make sure to inform your (potential) customers on how to find your company in their Telegram search. Spread the word by posting an announcement on social media or adding the Telegram Channel as an option to the contact page on your website.
---
The Telegram Channel – together with the Facebook Messenger and SMS Channel – are included in every Userlike plan . If you want to take customer messaging on a test drive, start your free 14-day Userlike trial today.