6 Userlike Customers That Offer Mental, Social and Psychological Counseling
At Userlike, we help businesses build long-term relationships with their customers through modern communication channels like websitechat and messaging. Our product has helped thousands of clients like Mercedes and Hermes, and we are proud of the positive effect our product has had on their customer service.
But private enterprise is far from the only industry we help. In fact, Userlike is applicable across all sectors, and has been implemented in a wide range of businesses and nonprofits.
Organizations that offer counseling are just one example. We are proud to partner with such amazing institutions, and are excited to show you how they implement Userlike to help people everyday.
Enables companies and their employees to identify and address emotional and mental stress and prevent work-related burnout.
Burnout is a problem that affects an increasing number of employees. Unfortunately, it can be difficult to directly approach your manager if you are experiencing symptoms. That's why a lot of workers choose to stay silent and "work through it" instead. This can have severe emotional and mental effects on their health and well-being.
ICAS Switzerland is trying to change that. By putting the Userlike chat on their website, they make it easy for managers to reach out about their Employee Assistance Program (EAP). This is a program ICAS created to plan out healthier working conditions and contribute to the better overall well-being of employees everywhere.
In addition, ICAS also implements Userlike's "pre-survey" feature. This allows the organization to gather information on their chat partner before a conversation has even started. With these details, ICAS can stay organized with their information and get background of the chatter's business right from the start. This makes it easy to provide targeted help right from the beginning. It also makes it more likely that the company's employees receive the customized program that's right for them.
Provides help of all kinds to people with disabilities and the service providers that help them.
Life is more difficult for people with disabilities. Not only must they live with a disability, but it can be difficult (if not impossible) to find people that can provide services to them. The Non-Profit Society For Inclusive Services aims to fill this gap.
This organization pairs people with disabilities with the workers and caregivers that can help them the most. This is amazing work, and with so many services on offer, it's natural that questions are bound to pop up for site visitors.
Userlike makes it easy for the organization's site visitors to get their questions answered directly and efficiently. Because many of these services are needed urgently, live chat is a much better option than the slower option of email. Plus, with Userlike's option for the chatter to leave their email at the beginning, gathering alternative methods of communication is easy for The Non-Profit Society For Inclusive Services. This means the organization can reach out to their clients on the platforms they prefer.
Gives support and services to all people living with multiple sclerosis (MS) and their relatives in Switzerland.
Living with MS, or having a loved one who does, is often a lifelong struggle. It's a disease that is often debilitating and can make independent movement next to impossible. If you or somebody in your family is affected by it, convenient online communication with your service provider is a must. Going to a location in-person for information simply isn't realistic.
Thankfully, the Userlike chat makes the barrier to entry low for people reaching out on The Swiss MS Society's website. This makes it both easier and quicker for them to get the care and information that they need.
Plus, with sticky chat, Userlike also gives people the option to go straight back to a previous conversation. Because of this, Swiss MS Society's site visitors have their entire conversation history in one convenient place and can see what they've already about. This makes it easy to build the type of long-term relationships the site visitors find the most value in.
Helps people with addictive behavior as well as the caregivers of children.
Addiction is almost always a struggle for everybody involved. Not only the ones directly affected, but their friends and family as well. While Berner Health offers a variety of services, help with addiction is one of their most prominent. This means they are often dealing with confidential client information.
Thankfully, implementing Userlike on their website means they can confidently and securely help their clientele through chat. Data protection is one of our top priorities at Userlike, and our solution is completely compliant with GDPR. Plus, with Userlike, you have the possibility to erase your chat history after a certain amount of time.
This means Berner Health can offer counseling services without worrying about potential privacy concerns. They are thus able to provide the help and information their clients need.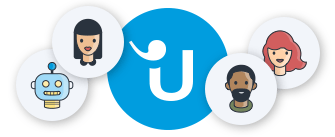 Looking for better customer relationships?
Test Userlike for free and chat with your customers on your website, WhatsApp, Facebook Messenger, Telegram and SMS.
Read more
Provides people of old age and with disabilities with a variety of services, including health, errands and caregiving.
Often, the need for long-term care happens unexpectedly. Maybe there is an accident or a sudden drop in health of a family member. In these delicate situations, the people in need of care and their loved ones must act quickly - often without expertise or prior experience with the situation at hand.
Pflegestützpunkte Berlin advises people on all questions regarding care support in Berlin. Because the organization also focuses on developing assistance plans with their clientele, reliable communication is a must. They depend on Userlike to fill this need and visitors are able to reach out for a quick chat because of it.
In addition, the organization also has the option to take advantage of Userlike's routing feature. This ensures their site visitors are directed to the workers and professionals most qualified to help them with their unique case.
Supports working people in crises, for example conflicts at work, struggle with addiction or problems with their partner.
The services provided by this organization include workshops and seminars as well as information for people in crisis situations. To provide this information, PFE Family Service offers Userlike to its site visitors. This is a convenient service because chat is easy to use and low-barrier - exactly the kind of channel that people need who require help as fast as possible.
Plus, PME Family Service also offers proactive chat on their website. With this Userlike feature, the organization sets their chat option to appear only on certain pages after a specific amount of time spent on the site. This ensures a quality user experience for everyone while still providing the option for a quick chat to the people that most need it.
Get started with your free trial of Userlike
It's amazing that we are able to help so many wonderful organizations. By making personal online chats easy to set up, we bring these non-profits closer to their audience. Getting in touch with the people that need their counseling services the most has never been easier.
If you are interested in trying the Userlike product for your own business or organization, getting started with a free trial is simple. Plus, Userlike offers a ton of features that to make communication with your audience quick and easy:
You've already read about the many organizations using Userlike to help with their wonderful work - maybe your organization is next? Regardless of the industry you are in, Userlike helps bring you closer to the people that need you.