6 Challenges of Remote Customer Service + Solution Ideas
Your cat is walking over your keyboard, your two-year-old is crying and your spouse is having a call in the next room. Meanwhile three customer chats are blinking on your screen. #QuarantineLife
This is just one of the many realities customer support representatives are now facing during the pandemic.
To get a clearer idea of this world catastrophe's effect on customer service, we talked to support representatives around the world. There are a few main challenges these reps have noticed when it comes to requests, customer attitudes and their home office setup.
Here are those challenges, plus tips on how to overcome them:
1

Increased workload/support requests

Customers and clients may be in the process of saving the ship. They want to make sure your company is still running smoothly to limit their setbacks.

This means an increase in support requests, even if it's to make sure you're still fulfilling orders or offering troubleshooting.

Luis, a tech support agent for a gaming PC company in the U.S., shared that his support requests increased from 5-7 troubleshootings a day to 10+. Work times are also getting longer (from 38+ hours a week to 46+) and the company recently adopted live chat in addition to phone support and remote assist.

Kristina from our customer success team at Userlike shared that she sometimes has to simultaneously respond to chats and take calls. These situations can obviously be overwhelming for agents.

Solution ideas:

Create canned responses to explain your company's status. Customers may be curious about any changes to your service. These types of questions can be tiresome if you're asked multiple times a day, but creating canned messages and email templates means you never have to type the same response multiple times.

Use a chatbot to help answer FAQs and fulfill simple requests. Chatbots help greet customers and can answer simple questions for your agents. If you don't have one, here's a good place to get started . It's also time to beef up those FAQ pages. Customers like self-service , so using these tools is ideal.
Try to not feel rushed to respond. Customers are likely feeling less pressure than you to keep the conversation moving. If your attention is being pulled in multiple directions, try to avoid hurried, blunt responses. It can sound unempathetic and quickly escalate non issues. Support over messaging apps like WhatsApp and FB Messenger is especially suited for this, as you can easily switch between synchronous and asynchronous support.
Promote and prioritize chat/messaging. Online messages are a lot easier to organize and manage than phone calls, benefiting your customers as well as your service team. To guide your customers to your preferred channels, you could mention in your phone selection menu that their issues will be resolved quicker if they reach out to you via website chat or messaging.
2

Stressed customers

How the crisis is affecting the customers' stress levels seems to vary significantly among countries and industries.

Jose, a customer service representative for Tamarit Motorcycles in Spain, said customers are more understanding and sympathetic because of the global situation. At Userlike, Jörn from our sales team said customers are worried and dealing with the hardships of having their hours cut.

At an administration services startup in the U.S., Lauren, who oversees a customer service and an agent management team, said they've had an increase in cancellations, refund requests and payment deferments. Customers also seem more stressed when they call in:
Our agents are well-versed in dealing with difficult situations and our team does the best they can to accommodate member requests within the guidelines of the program. In the current environment, members are definitely more stressed when they call in. Since these are insurance programs, most members make changes to their accounts due to financial reasons. We try to work with them so that cancellations happen only as a last resort.
Customers have many reasons to be on edge these days, which means problems can escalate quickly. It's up to you to keep the peace and maintain composure when your customer is under stress or being uncooperative, which can be tough.
Solution ideas:
Apologize on behalf of the company, but then let it go. This advice rings true even despite the pandemic, but it's now more important than ever to accept that tension is high. It's better for your personal health to let bad conversations go when they're done.
Vent your frustrations out loud. You're at home, keep your written response diplomatic but say what you wish you could say out loud — assuming no kids are around. If that doesn't help, exercise works well for getting stress out of your system. Do ten lunges, squats, push-ups, jumping jacks or whatever you're physically capable of to let off a little steam.
Watch our video for more tips:
3

Using new software

Since unessential outings are forbidden or limited for the foreseeable future, many people have moved their social lives online. Video chatting companies are thriving at the moment, and businesses are still making online sales.

As a live chat solution , we've seen a spike in sign-ups since more and more businesses are moving their customer service online. Chat makes it easier to remotely assist customers on your website, and canned messages and chatbots help with the peak in incoming requests.

Chat support is also easier to manage than phone support when you have background distractions like kids, pets or a spouse.

This does mean, however, that customer service reps who were formerly unfamiliar with live chat now have to learn a whole new product. Agents start off with a learning curve, and the team has to adjust itself, and customers, to a new channel.

Solution ideas:

Limit your chat slots to three at a time. Chances are you're still taking calls and responding to emails at home. Chatting with any more than three people at a time would be too overwhelming.

Communicate your new channel options on your social media and email subscribers. Give your customers a heads-up about your new channel in your next newsletter or tweet. Include an image or GIF of your chat button so customers know where to find it.

Get acquainted with tutorials and blog posts about chat tips . There are many clever ways to use live chat. For example, you can use proactive messaging to target customers on your home page and introduce them to your live chat widget.
4

Uncomfortable working space

The world was still adjusting to the home office concept well before the virus hit. Suddenly, businesses had to adapt all at once, even the ones with a staunch opposition to the idea.

This means many employees around the world, including Userlike, were sent home with their desktops or were issued older laptops if they weren't already equipped for home office.

When asked about his home office setup, Jose from Tamarit said it's "nothing to write home about."
It's just the work computer embedded into my personal computer and the TV. In the meantime, I'm using my personal printer to print some docs that I leave at the postbox for my boss to pick up.
For many, even this simple setup is not possible. Not everyone has a proper desk to work from at home, so employees are chatting with customers from the kitchen table or couch.
Other reps are adjusting to new — or rather, old — equipment that is slower, smaller and on its last breath.
Solution ideas:
Designate a space that is strictly for working. This can be a corner of the kitchen table, a lawn chair and a bedside table, you name it. Try to resist the novelty of working from the couch – or worse – in bed.
According to the Division of Sleep Medicine at Harvard , separating work from your bedroom will help improve your sleep: "Keeping computers, TVs, and work materials out of the room will strengthen the mental association between your bedroom and sleep."
Meaning if you work from bed, it'll be more difficult to fall asleep since your brain associates it as a place of work.
Use personal equipment if it's preferable. Using your personal computer may be a data privacy issue. However, if you were temporarily issued older equipment that is too slow or breaking down, it may be in the customers' and company's interest to have you work from your own PC. Ask your IT if this is possible for the time being.
Connect laptops to your personal monitor or TV. Your posture and eyesight will thank you for the bigger screen.
Take frequent short breaks to move around. Working from home allows little personal freedoms, so take advantage. Stretch, water your plants, make a pot of tea, play with your cat or check in with your spouse.
Adults need at least 150 minutes of moderate physical activity a week. Moving regularly will keep you alert, your mood up and your blood flowing. At Userlike, we have regular active lunch breaks led via video call by our sales representative, Tessa.
Try to resist watching a quick YouTube video or playing video games during these breaks.
5

Mental and physical distractions

During the first official week of quarantine, I noticed a lot of Facebook posts from parent friends sharing the activity plans they created for their children. After two weeks, many of those same people confessed that they'd given up on it already.

Remote customer service and parenting is not a good mix, but parents have to make it work somehow even if the end result is not what they had in mind.

Mentally, the pandemic is also distracting. Many are suffocating from the uncertainty, cabin fever and fear.

Not to mention the change in communication among your team. Slack, instant messaging and video calls replaced in-person interactions. When you add in live chat, phone calls and emails from customers, you might as well glue your hands to your computer.

Solution ideas:

Try background noise-canceling software for calls. Krisp mutes background noise in any communication app. If muting your microphone isn't possible during meetings, then Krisp can help keep the focus on you and not your surroundings. It's free for up to 120 minutes a week.
Create a schedule with your partner. This will vary among families and may be difficult to stick to on some days. If you have children under the age of 10, try separating the day into two to three hours shifts so each of you get some deep focus time in. When it's your shift, try to take on work that can easily be dropped, such as updating the knowledge base.
Create a schedule with your colleagues. For your parent shift to work, coordinate with your coworkers to schedule the times you will each be on support duty. To minimize online distractions, set your status to away or offline on Slack or in instant messengers. There's no point in appearing available if you're really not.
Use your former commute time to bond with your kids or pets. A long walk or intense play in the morning and evening will help tire out your little ones and help everyone get fresh air. Try saving TV, tablet or video game time until later in the day when you need some quiet time to make calls.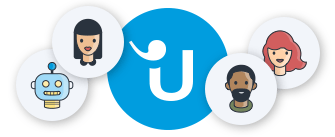 Looking for better customer relationships?
Test Userlike for free and chat with your customers on your website, WhatsApp, Facebook Messenger, Telegram and SMS.
Read more
6

Trouble staying positive and motivated

Keeping a good attitude toward customers can be difficult if your mental health is suffering. It may feel artificial and forced.

Personal problems can also cloud your judgement at times, and those mood changes can reflect in your responses. For example, you may feel less empathy toward "sob stories." If you have to take a call after disciplining your kid or getting into a spat with your partner, your anger may still be obvious in your voice.

You may also have trouble separating work life from home life. When your colleagues aren't physically around, it can feel like the work rests on your shoulders and you need to stay online longer.

Solution ideas:

Keep your work area out of sight once you've logged off. Shut down your computer, collect your materials in a neat pile and put it out of sight. If possible, break down your workstation completely. Work should be a guest, not a roommate, in your home.

Avoid working overtime if it's not necessary. Even just staying on Slack to talk to coworkers after a shift can make your free time feel shorter. If your time is up and there are no important chats or calls to take, shut everything down.
Move. If possible, go for a quick walk around your apartment complex or neighborhood to keep your cortisol levels in check and reduce stress.
Regularly "meet" with your team. If you're not already, start having daily stand-ups with your team to share hurdles, struggles and victories.
Make a list of positives. It sounds cliché, but make a list of the things you're thankful for in this time and keep it at your work space as a reminder.
Remote customer service takes adjusting
Everyone is adapting to their new norm and no department is going unscathed. Customer service is especially personal and direct, so it's understandable that it's tough to maintain your former composure during this emotional time.
Harvard Business Review suggests creating daily rituals to replace your former schedule. This, and adopting some of the tips above, will give your days structure. Even just a little organization to your days can make the weeks feel more manageable.
Ask yourself: How will I protect myself from feeling lonely or isolated and stay healthy, productive, and vibrant? Create that for yourself.
No matter your coping methods, it's also important to maintain communication with your colleagues and loved ones. There's no telling how long this pandemic will last, so let the people in your life know when something can be improved.