10 Ways to Control Customer Perception of Your Business
Customer perception is how existing and potential customers view your business and its offerings. It can easily tip the scale in favor of or against purchasing from your company.
Successful businesses like Starbucks understand the importance of customer perception. The coffee giant is committed to giving back to the people and places that aided its success, and showcases this on its website to instill trust in its customers' minds. Starbucks takes a community-conscious approach to positive perception by ethically sourcing its coffee, funding college programs and hiring refugees across 75 countries.
This global approach is possible for a company of its caliber, but how do smaller businesses find their niche? A business that is unique and influential is more likely to stick in a customer's mind and build a good reputation. To achieve this, there are several steps you should take.
How we do anything is how we do everything.

Martha Beck
Whether you're in the process of growing your brand or fixing it, our tips will put you in control of how customers think of you.
Marketing
Maybe we're biased (you're reading a blog run by marketers after all), but a solid marketing strategy is the foundation of a successful brand.
Marketing's all-encompassing goal is to position a product or service in the best light for customers. Selective Perception Marketing (SPM) is one way to achieve this. By simplifying advertising messages to be consistent with what the consumer wants and playing to your unique selling points, you're more likely to stick in a potential customer's mind.
In addition to SPM, here are four ways you can use marketing to control your customer perception:
#1 Develop an emotional connection with your customer
This evokes a sense of group affiliation, making a customer feel connected to your brand on the basis of social identity. That's why Userlike's homepage shows you how you can build lasting customer relationships; the appeal of live chat is that it lets you speak to your customers directly and makes them feel taken care of instantly. This message resonates with companies that understand the lasting benefits of personalized customer support, and makes them think, "Hey, they value what I value. We should work together."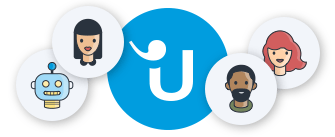 Looking for better customer relationships?
Test Userlike for free and chat with your customers on your website, Facebook Messenger, and Telegram.
Read more
If your product or service solves a problem, use that to your advantage in your advertising or on your homepage. Let your customers know that you're aware of the challenges they face, and you know exactly how to help them.
#2 Target your brand's message to a specific customer
Depending on your product or service, you likely have a specific customer base that would benefit from your company.
Ava Women sells a bracelet that helps women track their fertility, and their message is, "Finally understand your body." Ava targets women who are likely fed up with expensive ovulation tests and want to take matters into their own hands.
Positive language and empathetic statements show the customer that your brand goes beyond satisfactory service.
Companies like Ava Women show that you have to play to your company's strengths, especially if you can't appeal to everyone. If your company offers a product or service that serves a wider audience, then your message could take a rational approach. Dropbox uses logical reasoning to sell their service, appealing to those in need of a secure way to share files.
Also, don't be afraid to mention the issues people are too afraid to talk about. The more disarmingly honest you are, the more authentic you are, and the more likely a customer will trust you.
#3 Use the right colors
Colors have a major impact on your brand's perception. Extensive research about Color Psychology exists across the web, but we'll break it down for you.
Perceptions of color are subjective, but some color effects have a universal meaning. Red, orange and yellow are considered "warm" colors that can ignite a range of feelings from warmth to anger. "Cool" colors like blue, green and purple have a calming effect, but can also create feelings of sadness or indifference.
However, many websites keep things minimal with black and white. White is the color of purity and new beginnings, while black signifies sophistication and strength. Black and white designs with a color accent "leads to powerful messaging" by making certain objects or visuals "pop," which is why it permeates many e-commerce sites.
Because we are affected by colors across the spectrum, brands use this to their advantage:
A pink color scheme may drive away male customers, but neutral colors like green or blue will attract both. Look at the logos of your favorite brands and try to find a color pattern. Do they all seem to fall into the same color scheme?
Userlike's color palette is minimal, but our leading color is sky blue. According to the chart above, we agree that we want customers to know we're trustworthy, dependable and secure.
If you don't know where to begin, use the brand color chart to decide which attributes you want to convey. Customers already associate these colors with specific products and services and may therefore trust your brand.
#4 Have strategic pricing
A hundred dollars doesn't go a long way in Sephora , the luxury cosmetics shop chain. Even though the ingredients in high-end brand makeup are often identical to those in drugstore products, it takes maybe two, three items max to completely blow your budget.
With high prices come high expectations. Consumers pay for the prestige and vanity appeal of designer products, which often have better packaging, applicators and pigmentation. There's a reason why Sephora rarely has sales; If luxury beauty brands routinely priced their products below market value, they would be seen as cheap.
Customers want a deal, but they also want quality. Lowering your prices across the board to outmatch competitors is the fastest way to make yourself look cheap. A better approach is to improve your customer's price perception by identifying the products and product categories that make up most of your sales (key value items) and pricing them competitively while keeping other prices high. Make sure to promote your price reductions on all your social channels so customers can jump on your deal.
Customer experience & knowledge
You'll likely have customers who will be cautious of your company if they've been bitten by a competitor in the past.
You also may have customers who are very knowledgeable about your type of product or service and are therefore extra critical of your company before learning more about it.
Here's how you can earn a customer's trust and leave a positive impression:
#5 Acknowledge customer baggage
Bad customer service experiences create emotional baggage. I have to take a deep breath before calling my bank because my past aggravating conversations negatively skewed my perception of their service. It slightly improves with each successful call I have, but the conversation quality is inconsistent.
Customers want to be heard, so acknowledging their baggage will show that you understand their position. Instill customer confidence by clearly outlining the steps your company will take to avoid making the same mistakes.
#6 Make promises you can keep
Overselling a product is dishonest and customers will quickly see through it and leave. Dissatisfied customers are often the loudest, so you're at risk of quickly diminishing your company's reputation.
Marketing pulls in your customers, but customer interaction is what boosts brand loyalty and trust. Replace automated, scripted and impersonal calls and messages for personalized communication. This is as simple as repeating your customer's name, explaining your actions (such as, "One moment, I'm checking your account"), or making product or service suggestions that suit the customer's needs. Check out our post, "Chat Support 101: How to Avoid the 7 Most Common Mistakes" for more tips.
Don't deploy your product or service without ironing out its visible flaws first. And if your offer is too costly and requires too many employees, chances are high that you drop out of the commitment. Make fewer promises that your company can manage.
#7 Perfect your user experience
You could have the most handsome website in the world, but if it's a pain to navigate, your customers will ditch it after only a few seconds.
User experience immediately affects a potential customer's perception of your company. When a website is efficient, attractive and satisfying to use, customers will keep coming back.
Here are three ecommerce sites with flawless UX design:
Standout features: A video catwalk, item "quick view" function and obvious yet unobtrusive sale ads.
Standout features: Size visualization photos, installation and "making of" videos on product pages, and artwork featured on additional products.
Standout features: Professional templates, intuitive interface, drag-and-drop layout and free storage space.
You can't expect customers to trust your product or service if their user experience is hindered by slow loading times, unfamiliar icons and overwhelmingly long texts. For starters, keep customers interested with short texts, recognizable icons and high-quality images.
Once a visitor becomes a customer, make sure your product or service has clear instructions to ease her into the experience. If she has questions, a well-trained customer service crew should be able to back her up.
Some simple ways you can ensure a good user onboarding experience is by including:
A friendly welcome message. Not only does a welcome message set the tone for your company, but it's a good segue into a product tour or additional info about the software or service.
A quick product tour. In 3-5 steps, highlight tips and tricks that a customer might miss. Make sure you give an easy option to skip or close the tour.
Interactive on-screen guides. Segment your tour into interactive tasks so the user can efficiently learn how to use your product. It's the next best thing (and preferred by users) to in-person training.
Persona-based category options. If your product allows for it, let your user pick from persona-based choices (like hobbies, goals, etc.) to tailor the experience.
For more onboarding tips, check out our post "The Best (and Worst) Practices in User Onboarding."
#8 Talk to customers like humans, not like a deal to win
Anonymous internet conversations tend to be unfiltered, especially when heated. Dehumanizing your chat partner is easy if you can't see their face.
Unfortunately, this can also happen between customers and businesses. A business driven by link clicks, impressions and site visitors may see dollar signs instead of people. This often reflects in their customer chats, which sound more like an elevator pitch than a conversation between two people.
This is something we strive to avoid in live chat at Userlike. We've learned that using real photos of our team, cutting waiting times, tailoring canned responses and being transparent shows the customer respect and gives him a positive impression of us.
#9 Invest in customer retention
Keeping customers is arguably more important than earning them. Neglecting your customers is an easy way to create a negative customer perception. Don't turn into Comcast .
According to Forbes , investing in your existing customers leads to positive customer perception, and in return, brand loyalty.
It's also a lot more profitable. An analysis of 2.5 million e-commerce sessions in 2017 found that customers who made multiple purchases from a brand had a higher add-to-cart rate than new customers.
Ask customers if they're satisfied with your service or product without waiting for them to come to you. Consider creating a Customer Health Score to monitor their relationship with your business or a Net Promoter Score to learn how willing they are to recommend you. For more suggestions, check out our post "6 Customer Retention Tips that Beat Last-Minute Churn Prevention" .
The customers you engage with are more likely to leave positive reviews of your brand and promote you on their social media or through word-of-mouth.
Media Influence
Do you know what people are saying about your company? If you're no longer in the beginning stages of your company, chances are people have opinions about you! And they're not always kind. Taylor Swift sums it up best :
Big reputation, big reputation, ooh you and me we got big reputations aah.
Here are our tips for controlling customer perception on social media.
#10 Monitor and respond to what's said about your company
A negative review on social media isn't an end game. Sharing your opinion with the masses is as simple as a 280 character tweet, but keeping up with what's said about your business is the fastest way to mold or change what a customer thinks.
Respond in a timely manner to avoid letting issues sit and stew. If it fits your company's brand, inject humor into your responses. And most importantly, avoid over-automating. It makes your company sound like it's completely run by robots. Take a leaf out of JetBlue's book:
Giving your social media replies a human touch is an easy way to show you're in touch with your customers. Don't be afraid to use the occasional GIF or emoji to sweeten your interactions. Using images can even boost retweets by 150%.
If people are saying good things about your brand because they had a positive experience, this will draw attention to your company and influence others to trust you.
Customer perception is a company effort
If you've been unlucky in love, chances are you've heard the phrase, "You can't have a happy relationship until you're happy with yourself."
Before you roll your eyes, consider this advice for your company. Gallup reported that highly engaged employees achieved a 10% increase in customer metrics and a 20% increase in sales. Upping your office party game won't create an attitude shift though; it starts with performance assessments, trust, empowerment and job security.
If a workplace is too competitive or has a high turnover rate, customers will notice the desperation or hostility. When you prioritize employee happiness, your customers will feel well-taken care of too.