5 Quick Tips for Building a Customer Health Score
We all know that keeping customers is cheaper than acquiring new ones.
Still, in most reports it's the metrics about new customers that receive all of the limelight, not the metrics about the existing customer base. Getting started with a Customer Health Score (CHS) could focus your team on what truly matters.
Tracking customer health helps you extend your average customer lifetime value. It allows for proactive intervention, before a simple flu escalates into a deadly virus. At Userlike, we thought a CHS could be a valuable tool to guide our Customer Success activities – helping us prioritize customers who are in greatest need of support.
This is what we learned.
"Customer Health Score" in a nutshell
A CHS helps you monitor your customer's relationship with your business. It follows the principle of One Metric That Matters , which makes you focus on one comparative metric that significantly changes your behavior to produce a desired result.
Unlike lagging metrics like revenue and costs, a CHS shows your team which customers need extra attention – before their poor health is reflected in your churn rates (lagging metric).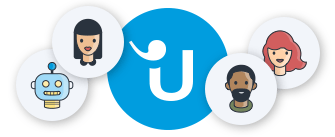 Looking for better customer relationships?
Test Userlike for free and chat with your customers on your website, Facebook Messenger, and Telegram.
Read more
A CHS is ideal for online companies because customer behavior is relatively easy to track. And it's especially deployed by Customer Success departments of SaaS subscription businesses like our own, because of the dominant role that customer lifetime plays. But even a bakery could benefit from a simple CHS to track orders, waiting times and returning customers.
Whether you decide to use customer success management software or develop your own in-house system, here are some tips to get you started.
1

Define what makes a customer "healthy"

A common misconception in customer health tracking is that a customer is "unhealthy" if they're only using part of your service or product. Truthfully, it's unreasonable to expect a customer to use every feature.

Health scores should be configured based on a variety of metrics proven to be strong indicators of customer lifetime value. For example, an online clothing retailer may want to track the following metrics:
Account loyalty - The return rate of customers who create an account to make a purchase
Saved billing info - Customers who agreed to having their payment and shipping info saved in your system
Return/Exchange rate - How often a customer returns or exchanges products
Customer support interaction - Customers who have contacted support and generated tickets
Newsletter subscription - Customer accounts linked to a newsletter subscription
A customer in perfect health would have an account with their billing info saved, a newsletter subscription, no returns or exchanges and has potentially interacted with customer support. An "unhealthy" customer may have a saved account, but they returned the two items they bought, never contacted customer service and haven't logged in for months.
2

Decide which metrics you'll track

A cookie cutter framework for customer health scores doesn't exist, so you have to carefully consider which metrics are valuable.

For example, Asana uses an Account Health Score metric that measures how well a team is doing, as well as their geographical location and payment reliability. Meanwhile, Pendo observes their number of visitors, time spent on the app and key feature usage.

We chose four key metrics that will determine a client's health score:
Activity: Amount of chats + active operators
Product Usage: Offline messages + operator license usage
Loyalty: Account creation date + renewal cycle
Touchpoints: Support tickets
Since "user" is in our name and chatting is our game, our customer success spotlight is on client chat activity. The more agents there are happily chatting away with customers, the more we're assured that our product is being put to good use.
3

Differentiate between your customers

Your customer base is diverse, so your scoring needs to be as well. You wouldn't compare the strength of a 15-year-old to a 3-year-old, so it's unwise to compare your customers on the same grid.

Userlike has a variety of account types, so not every customer has access to the same features. Some clients also have larger support teams and have been using Userlike for several years.
To make this differentiation, we created a different CHS model for each plan type: Team, Corporate, Business and Flex. If you also sell separate plans, use this division as a starting point. If your customer base is less defined, divide them by anything that can be measured, such as subscriptions or site accounts.
4

Create a formula

Give your CHS a backbone by developing a metric scoring system. For example, Userlike's leading metrics have a percentage rate that decides the final score:
Activity - 60 %
Product Usage - 20 %
Loyalty - 15 %
TouchPoints - 5 %
Each leading metric has sub-metrics (like active operators, renewal cycle, etc.), which are given number weights to help calculate the metric's score.
Health Score = (Activity * 0.6) + (ProductUsage * 0.2) + (Loyalty * 0.15) + (TouchPoints * 0.05))
Customers will receive an overall score between 0-100. A potential health score range could look like the following:
Green: 71-100
Yellow: 41-70
Red: 0 - 40
A score and color only tells half the story of your customer's health. A customer who has a score of 45 means they're in yellow, but if their score was 35 the previous week, then this is a good development.
9 Practical Communication Techniques Everyone Should Know About
These communication techniques to apply today – whether you're writing an email to a customer, making a sale over the chat, or trying to win an argument with your spouse.
Read more
This works the same for customers in green; if a customer had a score of 85 last week, but 72 this week, there is some cause for concern that they will continue to slip. So it's best to visualize your CHS in a time-based graph.
5

Tackle low health scores

At the moment, our CHS is completely manual. The goal is to automate notifications for users who match a certain criteria for upselling, or if they need help getting the most out of the product. Automating the process makes it easier to track performance, and is especially ideal if you have a large clientele.
Create a playbook that explains the actions your team needs to take when a customer's score drops. Some of our actions at Userlike include:
Contacting your customer via phone or email to ask about any issues and offer help.
Scheduling a visit with your client's customer success team.
Creating a webinar and "how-to" videos to send to clients when they're struggling to use features.
Setting up an onboarding process for new customers so they get the most out of your product from the start.
Taking care of your customer is just as important as acquiring new ones. People are often lured into a business through perks and discounts, but once they've opened an account, they're suddenly nonexistent. Customer Health Score alerts prevent this from happening.
Your Customer Health Score can't be built in a day
A CHS takes effort to develop but the benefits are well worth it. Our framework is still a work in progress, but it advances every month. At the moment, the formula is being fine-tuned so that the values are as meaningful as possible. Our customer success crew has expressed their excitement about using the tool, which keeps us motivated to create one perfectly suited for Userlike.