Introducing the Website Messenger – Bringing Modern Messaging to Your Website
How often does a first-time visitor land on a website and proceed with a purchase within the same session?
Real-life consumer behavior is chaotic. A visitor will enter your site, leave, be reminded, come back, leave again, come back, and then, perhaps, make a purchase – all while switching between devices. And if they're happy, the cycle repeats.
Our old live chat widget allowed for instant, standalone chats only. We realized that a communication solution that supports long-lived messaging would connect much better to consumer behavior. A solution in which your customers can easily jump back into previous conversations.
That's why we've developed an entirely new website widget. Without further ado, let me introduce the widget that brings modern messaging to your website: the Website Messenger. We'll run through it screen by screen.
1

New chat button

The first difference is the new chat button. Besides some design tweaks, its behavior changed in that when a user opens your website, the chat button appears first, and a few seconds later a subtle welcome message shows up.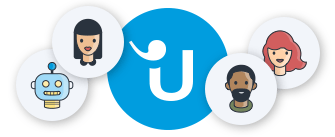 Looking for better customer relationships?
Test Userlike for free and chat with your customers on your website, Facebook Messenger, and Telegram.
Read more
What's more, we fixed an overlay issue that plagued our previous chat buttons. This issue caused for website content positioned closely around the button to be unclickable. With our new button, every element only takes up the space it needs.
2

Messenger Board
A big difference in moving from chat to messaging is that conversations can be new or returning.
To reflect this choice in our Messenger, we added an entrance screen: the Messenger Board. When a web visitor clicks the chat button, this view opens up and the visitor can choose to start a new conversation, or resume an old one.
If you have a privacy policy or similar link, you can also add it here.
3

Conversation history and verification

From the Messenger Board, your Contacts can choose to start a new Conversation, or jump back into a previous one.
If your Contacts haven't cleared their cookies, they can rejoin from the available Conversations. If it concerns a Conversation they had from a different device or before clearing their cookies, then your Contacts have to go through an identity verification process. This works by leaving your email address and then entering the token received in your inbox.
A customer can also close the Messenger explicitly from the chat input menu, which logs them out of all their previous Conversations.
You can define the default cookie timeout for your company, from ten years to one day.
When the Contact is verified, they can choose a Conversation to jump back into. Your Contacts can have multiple Conversations, which is useful for separating topics and issues.
4

Goodbye to the contact form
The offline contact form is no more. Instead, a Conversation can be live (synchronous) or asynchronous, just like e.g. WhatsApp.
When Contacts start a Conversation while no Operators are available, they see a default message asking them to leave their question/feedback, as well as their contact information so they can receive a reply as soon as possible.
If an Operator happens to come online while the Contact is leaving their info, they will be connected right away.
5

Modern messaging features

With our new widget we bring modern messaging to your website. The Website Messenger has all the features that you'd expect from an advanced messaging app, plus some specifically for website sales and support:

Full choice of emoji. In our old live chat widget, the number of emoji was limited. Now, you and your Contacts have the full browser emoji library at your disposal.

Multimedia support. Easily transfer files up and down. Share images and watch videos within the Messenger.

Voice messaging. Voice messaging has made a big comeback through the big messaging apps, and you can now also add this medium to your service mix.
Since communication is now ongoing, certain actions that in the old live chat widget only pertained to the end of a session can now be taken throughout the conversation. This includes rating the Conversation or requesting a transcript, which can now be done at any time from the chat input field.
6

Other design considerations

Here are a few other design changes that are worth mentioning:
Effortless color design. We've limited the number of colors you can choose for your chat widget, for a couple of reasons. First, this makes it much easier to settle on a professional design. Second, it mirrors the minimalistic design your customers are used to in their private messaging apps.
Vertical and spacious orientation. Compared to our old chat widget, you'll notice that the Website Messenger is longer and thinner. This allows us to offer a coherent experience between desktop and mobile use, and it gives conversational content more space. What's more, the Messenger doesn't "stick" to the bottom of the screen as the old widget did, giving it a more spacious character.
Minimal branding. We've moved to a more quiet branding setup. We've refrained from bloated terms like "Powered by..." or "We run on..." We figured that if one of your Contacts is interested in a customer messaging solution like Userlike, a subtle U is noticeable enough. For the great majority of your users who have no use for it, it's small enough to miss.
We hope you enjoy the new Website Messenger. Happy chatting!