What's New: WhatsApp, SMS, Media, Voice, and More
The Unified Messaging beta is running hot. Thanks for all the great feedback so far and please keep it coming! Most messages are very positive, but we also realize we still have a lot of work ahead of us.
Speaking of work – we've just released some fresh features for Unified Messaging. The highlights:
1

WhatsApp Business Channel

You can now connect Unified Messaging to our most highly requested messaging channel to date: WhatsApp! For this you will, however, need to go through a verification process by Facebook – the company that owns WhatsApp.
This process is necessary because the Channel connection requires access to the official WhatsApp Business API. At Userlike we don't have control over who is granted access to its limited public preview.
The first step to get started is to be verified as a business by WhatsApp. Please get in touch with your Facebook account manager.
Once you've received the approval, just start a chat with us to discuss the next steps.
2

SMS Channel

SMS, are people still using that? Well yes they are! And for good reason: It's platform-independent and runs on every mobile phone. It also doesn't rely on an internet connection, giving your customer communication a global reach. With this Channel, you can send and receive SMS and MMS right in your Message Center.
To establish our new SMS Channel we've teamed up with Twilio , an API platform for communication channels. This means you will need a Twilio account and – while our integration is free to use – each SMS you send and receive is operated and charged by Twilio.
Check out the SMS tutorial here .
And if you haven't done so yet, make sure to connect your FB Messenger and Telegram Channels as well :)
3

Media files

Another win: Userlike now supports media file transfer on all Channels. In our live chat product this was mostly limited to download macros that could only be sent from the Operator to the customer. But now files of practically any type can be sent up and down: from the Message Center to your Contacts, and from the Website Messenger, WhatsApp, Facebook Messenger and Telegram to your Operators.

Via SMS, the types of media files are limited to images (jpeg, png, gif) only.
4

Voice support

Hate them, love them, but you can't deny them: voicemail messages have made a remarkable comeback. Apps like WhatsApp, FB Messenger and Telegram have re-accustomed your customers to sending and receiving voice messages.

Unified Messaging now brings voice messaging to customer support. Whether through your Website Messenger, WhatsApp, FB Messenger or Telegram Channels – your Contacts can send their questions to you in sound clips. Only the SMS Channel doesn't support this.
Operators can default to text messaging, or reply in kind with voice messages. So you can finally pull out your Operator headset!
5

Auto-translate

If you're offering web support, Conversations could come in from anywhere around the globe. That's why we've released a feature with which you can auto-translate a Conversation – both the messages you receive and the messages you send out.

Now when you get a Contact sending you, say, Spanish messages, you can simply toggle on the translate function. The messages from your Contact will appear in your chosen dashboard language. Contact Messages that have been translated are shown in italics .

As an Operator, you can simply type in your own language and the auto-translated version of your message will appear above the input field. When you send the message, your Contact will receive the translated version in whatever Channel they are using. Note that in your Message Center, however, it will appear in your own native language as well.
To build this feature, we teamed up with DeepL , a fellow Cologne tech company . Compared to Google Translate, they offer fewer languages (currently nine), but wholly better translations. Also their honest, straightforward business model fits our focus on data privacy more than Google's get-free-stuff-in-exchange-for-your-data business model.
Be aware that, although they are rapidly improving, translation machines are still imperfect for the foreseeable future because one word can carry multiple meanings.
During my first try using my limited Spanish, I ran into this reality when I used the words "chulo función" to indicate "cool feature." "Chulo" can also mean "pimp," however, and that's what DeepL chose to translate it to.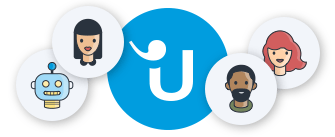 Looking for better customer relationships?
Test Userlike for free and chat with your customers on your website, Facebook Messenger, and Telegram.
Read more
To prevent misunderstandings between you and your Contacts about the nature of your business, we recommend setting up a chat macro to clarify when you're using the translation function. Something like this:
My native language is X, but I will help you using an auto-translate function. This works fine 90% of the time, but sometimes it can also produce strange results. Just so you're aware :)
Your chat macros are automatically translated as well.
6

Improved Conversation Assignment

We have also reworked the Conversation Assignment menu to include the Groups and to order their Operators by their online status. This should make it easier to find the right match.
Easy Widget Migration
7
As a final touch, we've made it easier to make the switch to Unified Messaging in two ways:
Clone as Unified Messaging Widget. Instead of starting all over again with building new Widgets, you can now clone your old Chat Widgets as Unified Messaging Widgets. Just check in your Live Chat Widget overview for the new magic wand icon. When you click it, it will appear in your Unified Messaging Widget section .
Replace Live Chat Widget. Addidionally, you can also set up a brand new Unified Messaging Widget, and then select to have it replace one of your Live Chat Widgets currently active on one of your website pages.
You can also combine these approaches: First clone your Chat Widget as a Unified Messaging Widget, and then inject it into the old Chat Widget already on your site. Two clicks, and you're up and running with Unified Messaging!
How to join the Unified Messaging beta
If you're on the Free, Team or Corporate plan, you can dive right into Unified Messaging in your dashboard. If you're not, just reach out to support@userlike.com to ask for your account to be unlocked.
Under Unified Messaging, head to Config > Widgets, and select a UM Widget or create a new one.
Implement the Widget on your website or webpage. You could use a test environment for that. Follow the clone-replace approach described above, or check out the tutorials for website implementation here.
To use the new Channels, follow their tutorials here. WhatsApp isn't included yet, because the process is more cumbersome.
The Conversations from your UM Widgets won't land in your Chat Panel, but in your Message Center. So just enter there to start offering your messaging support! Check out the Message Center tutorial here.
And last but not least, send your improvement suggestions to support@userlike.com :)
By the time of this writing, we're already well underway with our next batch of new features and improvements. Let us know how all the new stuff is working out for you!