What's New: WhatsApp Channel, Professional Services, Messenger Preview and More
It's been six months since we released our new software and the beta will soon come to a close. If you haven't made the switch from live chat yet, here's why you should.
1

WhatsApp Channel

With more than 1.5 billion users , WhatsApp is the world's most popular messaging app for private communication. And now, you can use it to reach your customers as well.

Connect the WhatsApp Business API to Userlike and meet your customers on their preferred mode of communication. Userlike stacks a business layer on top of WhatsApp, providing you with the professional support and sales features you know from web chat, such as routing, tags and more.
This equips you for delivering omni-messenger support on a scalable level. Learn more about what the new WhatsApp Channel can do for you here .
We know WhatsApp support is something that's been on the wish list for many of you, but there's an important caveat. At this point, Facebook (the company that owns WhatsApp) is still limiting access to the WhatsApp Business API to medium and large businesses. What's more, setting up the WhatsApp Channel for you requires heavy involvement on our end, as we will be taking over the complete technical implementation and communication with Facebook.
That's why the WhatsApp Channel is currently available on our Flex plan only. Take a look at our tutorial to learn more about the requirements.
If you're interested in getting started with the WhatsApp Channel, contact us via chat.
2

New Message Center features

We improved the technical foundations of our new product so you'll have a smoother experience when working with it. You'll also find some UX tweaks in the Message Center, which will help you navigate more intuitively and get things done.

Action bar

Time is a scarce resource in customer support. That's why we bundled the most relevant actions right above your conversations. Assign topic tags to a chat, forward it to another Operator or change the chat status, all with one click.
Message colors
You can now clearly distinguish the messages you and your customer sent. Both in the Message Center (Operator view) and the Website Messenger (customer view), your messages are displayed in a blue color while your customer messages are gray.
Improved customer information
Having customer data at hand is important for efficient customer interactions, but sometimes you just want to focus on the conversation.
Put what matters most to you in the center. In the menu on the right, conveniently hide customer detail cards while keeping others open. Also, you can now add custom fields that fit your use case best.
And while we were at it, we changed the customer location map to a more subtle grayscale design.
New icons
Notifications are important for staying on top of things in chat support . They can, however, also be quite distracting.
Besides redesigning our icons in the left panel, we took the chance to rearrange them; moving notifications further down and giving your Contacts and Conversations a more prominent position.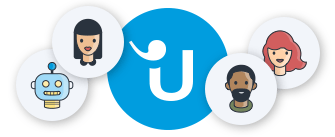 Looking for better customer relationships?
Test Userlike for free and chat with your customers on your website, Facebook Messenger, and Telegram.
Read more
Bulk actions on conversations
Live chat is a one-on-one communication channel but you still need to perform bulk actions at times. Now you can select multiple conversations and carry out one action, like sending multiple transcripts to a contact or deleting all their conversations.
Macro groups
Canned messages are one of the most popular chat tools because they speed up the service interaction significantly. You can now organize macros in groups so using them becomes even more efficient.
Are you curious to learn more about our new customer messaging solution? We're excited to share that you can now get a detailed insight without having to take the step to switch just yet.
In this webinar, you'll see the Web Messenger and Message Center in action, learn how file sharing and automatic translations work and everything else you need to know.
The video is available in German at this time but we're working on an English version, which will be published soon.
3

Widget tweaks

In this release, we mainly focused on the Message Center. But there are also some noteworthy updates on your Widget settings.

Widget preview

When adjusting the look of your Widget such as its texts or color, you'll want to see how this looks before publishing it to your website. We added a live preview feature to the Widget editor so you can see all changes instantly.
Default Widget & Operator pictures
Messaging is a personal mode of communication and as such, customer messaging should transport that feeling as well. We recommend adding a human touch whenever possible, for example, by using real pictures of your team in the chat.
If you haven't uploaded your own image yet, our characters in popular Belgium comic style will be the new default both for Widget and Operator pictures. This sets a more friendly and engaging environment than the previous anonymous silhouette icon.
Besides uploading your own picture, you can of course still choose one of our stock photo options. Edit your Widget picture in the Appearance tab under add operator Widget configuration and your individual Operator picture in your profile settings .
Media and file sharing
Exchanging media and files is a great addition to chat when words aren't enough. Depending on your use case and industry, however, it might not be a viable option. You can now flexibly enable or restrict file sharing such as screenshots and voice messages for your customers and/or support team.
Go to the "Chat > Behavior" tab in your Widget Editor to adjust your setup.
4

Professional services

We share best practices about customer communication on our blog and YouTube channel . Of course, you can always reach us through the chat on our website as well. But sometimes, a personal, one-on-one consultation can go a long way for solving questions and setting your Userlike account up for success.

Did you know you can schedule support calls with us for free, meet us at our office or book advanced training workshops for your team?
We've been implementing live chat as a support channel for nearly ten years, fueling over 11 million conversations to date. So we decided it was about time to share this knowledge with you!
Take a look at our updated services page and find the right one for you.
5

Digital Conversation League

Last year, we started organizing small events to exchange ideas with our customers and business partners (see impressions here). This was so well received that we decided to turn it into a regular meetup concept. The Digital Conversation League was born.
Join an exclusive network of decision makers in the digital customer communication sector. We keep the meetups small and personal so you'll get the chance to build a connection with everyone in the room. A quick keynote kicks off the event and sparks inspiration for later discussions and a pleasant evening of interesting conversation.
See what previous attendees from companies such as Hermes and Trusted Shops are saying about the Digital Conversation League and save your date for our next meetup here .
---
I hope you'll enjoy these fresh new features and tweaks. If you're ready to make the switch from live chat to customer messaging, follow our quick instructions and get started in no time or sign up for a new account.
Happy chatting!