The 12 Best Startup Deals For Business Tools
Business software can be expensive. Ensuring the most efficient workflows in all departments is hard when you've just started your company and you're running on a tight budget.
We know how that feels. But we also know that startups are often moving fast. Discounts today can give you the time to get your business off the ground tomorrow.
Luckily, there are some great deals out there supporting starting businesses. We reached out to popular software providers and collected the best startup deals for you.
1

Segment – 6 months for free
Segment makes collecting and leveraging your customer data simple. With Segment as your customer data hub, you can focus on building incredible products and attracting more customers.
With their deal, startups that belong to Segment's accelerator partners (accelerator/incubator programs like YC or 500Startups, etc.) get the first 10,000 MTUs tracked for free for 6 months on the Team plan. That saves you a value of $120 each month. Reach out to Segment to apply for this deal.
2

InVision – 3 months for free
InVision is the world's leading platform for design prototyping, collaboration, and workflow. Designers from companies like AirBnB and Netflix rely on it. Our designers love it, too, and personally, I'm a great fan of their witty newsletter.
InVision's startup deal gives new users 3 months free use of their Professional and Team plan. You can access this with the code INV-Userlike at this link .
3

CrazyEgg – Free account for life
Want to find out what people are doing on your website and what's making them leave? CrazyEgg is an essential business tool if you're serious about conversion rate optimization.
Their deal is the cherry on the pie: a free CrazyEgg account for life. Harness the power of heatmaps, without the high costs. Follow this link and get your account.
4

Userlike – 95% discount for 12 months
Yep. That's us. Userlike is live chat software for web and mobile support. Integrate a Chat Window in your website and chat with your web visitors, or support your customers via Facebook Messenger and Telegram.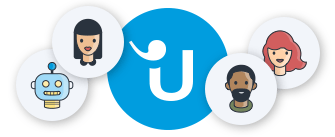 Looking for better customer relationships?
Test Userlike for free and chat with your customers on your website, Facebook Messenger, and Telegram.
Read more
We value our own startup roots. Which is why we'd like to support fellow young businesses with a darn good offer: 12 months of our Live Chat Software for only $20. This deal includes all benefits of the Team plan. Reach out to the Userlike team via chat to get it.
5

Polymail – 1 month for free
Polymail is the email and sales productivity platform specialized in growing businesses. Product Hunt named Polymail the Mac app of the year 2015 and companies like Ideo und Omni work with this solution.
Get 1 free month of any tier with the code SH585Q . You can create your account here .
6

Ninja Outreach – 20% discount on Blogger plan for lifetime
Influencer marketing has long earned its place in modern marketing. Professionalize your process with Ninja Outreach, the all purpose influencer marketing tool.
Ninja Outreach's deal gives you a 20% for life discount on the monthly Solo plan which is perfect for starting businesses. Follow this link to set up your account and use the coupon LIFETIME20 .
7

Commando.io – 15% off any plan for life
Commando.io is a simpler way to manage servers online. Execute commands on groups of servers from a user-friendly web interface. Solve all your server-related issues like server provisioning, upgrades, maintenance, and deployments with Commando.io.
Commando.io offers startups 15% off any plan for life. Use the promo code USERLIKE when signing up .
8

monday – 15% discount on any plan
monday is a visual project management tool. Keep track of your team's activities in one board, manage time, and plan ahead visually. Companies like Philips, DHL and Discovery Channel use monday.
On top of their discounts for yearly or two-yearly accounts, they offer a special deal for our readers. Get an extra 15% discount on any plan by using this promo code mondayB2Bdeal . Follow this link to sign up.
9

FullContact – 20% off for one year
FullContact is a fully-connected contact management platform that gives you 360-degree insights, while keeping your contacts organized, in-sync, up-to-date, and safe. With a premium subscription, you can sync more accounts to your unified address book, store more contacts, and scan more business carts.
Enjoy 20% off your first year of the Scaling Business Plan with their startup deal. Create your FullContact account here and use the code FOUNDERSPERKS .
10

Cyfe – 50% off for one year
Cyfe is an all-in-one business dashboard solution that helps you easily monitor all your business data from one place. Whether it's sales, social media, marketing, support, or development – Cyfe allows you to import and make sense of your data.
Sign up and use the coupon code TA5017 on the upgrade page to only pay half the price for Premium for one year.
11

Shopify – 30-day free trial
Whether you sell online, on social media, in store, or out of the trunk of your car, Shopify is the way to go. Start your business and build your dream store, no design skills needed. The leading cloud-based ecommerce platform is designed for small and medium-sized businesses and has more than 1 million active users worldwide.
With the extended 30-day free trial, you get a chance to try out all the benefits that Shopify offers – no strings attached. Follow this link and create your account.
12

ProofHub - 41% off on Ultimate Control Plan for lifetime
ProofHub is a well-known project management and online collaboration software. With their Ultimate Control plan you can easily manage projects, remote teams, and clients effortlessly. Companies like NASA, Disney, and Netflix love ProofHub.
Pay just $89/month instead of $150 for the Ultimate Control Plan. Reach out to ProofHub to grab the deal.
Are you missing your hot startup deal in this post? I'd be happy to add it, just send me an email .