The 11 Best Sales Articles For Financial and Personal Growth
Most companies fail not because of a bad product or insufficient market fit, but because they don't know how to sell.
We've spent a fair bit of time thinking and writing about fixes for that. About making you a better seller, and, at once, handing you a counternarrative to that of the opportunistic fortune hunter.
Since wisdom lies in taking different points of view, here's a roundup of our best sales articles.
We often associate training with hardship and dull exercises. This post encourages you to look at the playful side of it. Games make education experiential. They allow us to interact, make choices, and reinforce application in an enjoyable setting. In other words, they spice up your sales training.
This post is likely as close as we'll get to an old world door-to-door selling toolkit. Now, we don't condone selling people stuff they don't need. However, these hands-on techniques work best if your customers have genuine use for your product. On that note: yes, you may sell me this pen .
Whereas sales training games are, figuratively speaking, exercises for the different muscle groups used in sales situations, sales role plays are like sparring with different types of customers.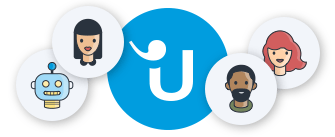 Looking for better customer relationships?
Test Userlike for free and chat with your customers on your website, Facebook Messenger, and Telegram.
Read more
This post features seven role plays that will enhance familiarity with commonly faced customer types, build empathy for both staff and customer, and improve your conflict resolution skills.
The car salesman is a classic cultural trope, combining virtually every possible bad quality we dread in a seller. He's sneaky, dishonest, greedy, fake-nice, and manipulative.
The cliché is so well-known that even the slightest suspicion of resemblance to the guy can ruin your sell. In this post, we dissect his most notorious tactics, infer key learnings, and offer superior alternatives.
Today's consumers are both more sceptical and more demanding businesses' motivations than their predecessors. This post explains why ethical selling is not so much an idealistic vision as an economic necessity. We draw a line between good and bad influence. Go create happy customers whom you can always look in the eye.
Free Guide to Sales Training
Download our free guide to get a full-body workout for your sales skills.
Get your guide
You're cold-calling, bidding, and closing deals on a daily basis. But did you ever wonder, which basic skills these abilities depend on? Train your emotional intelligence, rejection resistance, listening ability, and more. Exercise what holds the greatest benefits.
Working with metrics is a lot like handling microscopes. If you zoom in too much or too few, you'll miss something essential. This post helps you find your perfect sales KPIs and zoom level, at the spots of greatest leverage in your sales funnel.
What really tells decent sellers from great ones is a small number of platform-independent core skills that are built over years – and which this article examines.
Many conventional sales tactics don't work for startups. Their products are often innovative and their resources scarce. This post shows you how to do a lot with a little by following principles often overlooked in traditional businesses.
Regularly dealing with inevitable rejection requires an extra portion of willpower. No wonder few professions depend as much on motivation as that of the salesman. Quotes can be a nice reminder that someone's been right where you are now. They can teach, motivate, and inspire.
Sales execution is not the craft of sealing the unlikeliest of deals with witty talk and trickery. It's the ability to identify and remove the various last concerns of a suitable, genuinely interested prospect. This post is a blueprint for success in the endgame.