25 Sales Quotes to Paint on Your Office Walls
Few professions depend as much on motivation as that of the salesman. Dealing with the inevitable rejection requires an extra portion of willpower.
Monetary incentives and tweaks to working conditions help, but you can't apply them on a weekly basis. So, often times, the most effective motivator is a powerful one-liner. Over the years, successful salesmen and women have compressed their professional wisdom in powerful quotes.
There are different types of sales quotes to set you up for success: The sober and instructive ones, characterized by the belief in elaborate sales techniques and a deep understanding of the prospect's needs and expectations ; or the noisy kickstarters, often rich in superlatives, incentivizing endurance and determination; personified by the self-assured wind-up power seller in a growth-mindset .
As your team goes through ups and downs, a stock of various motivation types will come in handy. Here are 25 sales quotes to teach, motivate and inspire.
Make a customer, not a sale.

Katherine Barchetti
All things being equal, people will do business with, and refer business to, those people they know, like, and trust.

Bob Burg
Don't sell life insurance. Sell what life insurance can do.

Ben Feldman
It's about listening first, then selling.

Erik Qualman
Treat objections as requests for further information.

Brian Tracy
Selling is something we do for our clients – not to our clients.

Zig Ziglar
Whoever best describes the problem is the one most likely to solve it.

Josh Kaufman
The way you position yourself at the beginning of a relationship has profound impact on where you end up.

Ron Karr
Prospecting – find the man with the problem.

Ben Friedman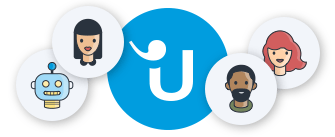 Looking for better customer relationships?
Test Userlike for free and chat with your customers on your website, Facebook Messenger, and Telegram.
Read more
Value the relationship more than the quota.

Jeffrey Gitomer
I like to think of sales as the ability to gracefully persuade, not manipulate, a person or persons into a win–win situation.

Bo Bennett
A person's success in life can usually be measured by the number of uncomfortable conversations he or she is willing to have.

Tim Ferriss
Every sale has five obstacles: no need, no money, no hurry, no desire, no trust.

Zig Ziglar
Big shots are only little shots who keep shooting.

Christopher Morely
Success is the ability to go from failure to failure without losing your enthusiasm.

Winston Churchill
The secret of man's success resides in his insight into the moods of people, and his tact in dealing with them.

J.G. Holland
Today is always the most productive day of your week.

Mark Hunter
The secret of getting ahead is getting started.

Mark Twain
Managing objections head on is dead on.

Kraig Kleeman
Nothing happens until someone sells something.

Peter Drucker
To sell well is to convince someone else to part with resources—not to deprive that person, but to leave him better off in the end.

Daniel H. Pink
Free Guide to Sales Training
Download our free guide to get a full-body workout for your sales skills.
Get your guide
"Every time your customers purchase from you, they're deciding that they value what you have to offer more than they value anything else their money could buy at that moment."

Josh Kaufman
Keep your sales pipeline full by prospecting continuously. Always have more people to see than you have time to see them.

Brian Tracy
Selling is a natural skill. It's developed as a child. You may know it as persuasion.

Jeffrey Gitomer
It's easier to explain price once than to apologize for quality forever.

Zig Ziglar
Spread these sales quotes in your Monday's kick-off meeting, at the end of your circular week-starting email, or via Post-it notes around your office to give your team food for thought and inspiration to approach their leads with confidence.