How to Use Live Chat to Boost Real Estate Sales
Buying a home or property can take longer than most people expect. Real estate agents understand the reality, but modern developments in customer service are making this process a little quicker and easier for all.
Online real estate is a convenient method for people to browse properties. It gives a company an edge over traditional agencies by providing instant support in a competitive market. The best way to achieve this is through live chat messaging. Live chat allows a potential customer to ask questions and connect with an agent directly from the website or mobile messaging app .
Live chat is paving the way for better customer interactions and increased sales across industries. This post will cover the multiple ways businesses can take advantage of their customer conversations.
Turn website traffic into a sale opportunity
In 2015, Real Trends studied over 100,000 real estate sales leads and discovered that 49 percent were generated from live chat leads that were passed to sales agents. Respondents had the best results when a chat was triggered after a customer spent a certain amount of time on the site.
Open houses and in-person consultations still exist and have significant value, but making that first connection is crucial to the sale. Here's how live chat improves the process:
1

Answer common and not-so-common questions instantly

Many of today's homebuyers are doing their research online since listings, photos, and neighborhood crime statistics are just a few clicks away. For more specific information, a buyer may contact the page's customer support. With live chat, businesses can immediately answer questions that are not covered on the website. For example:
Property condition - "When was the property built? How is the energy performance, and water pressure? Has it received any renovations?"
Price comparisons - "What do the other properties in the area cost and what is the price of the home based on? What is included in the sale?"
Hidden costs - "How much will I have to pay in utility bills and taxes?"
Visual materials also help increase interest in a property and builds rapport with prospective buyers. Live chat allows an agent to send files, which is helpful if a visitor requests a floor plan, additional photos or a downloadable version of the listing, for example.
2

Make contractual conditions clear early on

Since it's common for real estate agents and agencies to earn a commission on a sale or rental, it's helpful to let the customer know about the conditions and fees early in the process.
This gives the customer the opportunity to ask about the down payment, terms, a warranty and how long the property has been on the market, for example.
Sellers can use live chat to establish this knowledge sooner rather than later to determine if the interested customer is a qualifying lead.
3

Schedule visits for properties your customer is interested in

Live messaging can secure a customer's interest, but real estate still heavily depends on property visits before making a sale. Chat makes it simple to invite a prospective buyer to an open house or scheduled visit.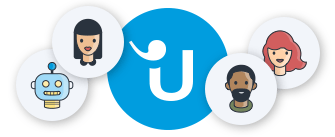 Looking for better customer relationships?
Test Userlike for free and chat with your customers on your website, Facebook Messenger, and Telegram.
Read more
Many live chat services, like ours , have a registration form visitors can fill out with their name, email address and question or inquiry. It's often completed before the start of the chat, so an agent just has to schedule a date.
The more effortless the process is for customers, the more likely they are to rate the business highly and walk away satisfied.
4

Improve customer experience with chat tools and analytics

Real estate businesses have a global reach when using live chat. For those wishing to relocate, messaging may be their only option for communication leading up to the big move. Live chat can show which country visitors are contacting a business from, if they're already known by name and if they have an email address assigned.

Live chat can also track unique visits and the time and days it most often receives chat requests. These analytics and chat tools are vital for multiple reasons:
Personalized greetings - Addressing a visitor by name and communicating with them based on previous conversations helps establish trust.
Canned responses - Create custom responses to common questions to save time and maintain consistency.
Chatbots - A business may not always operate at the time customers are most active on the website, but chatbots makes it possible for visitors to submit their inquiries. Set up a friendly chatbot to establish a connection and forward messages when an agent is not available.
Multilingual support - Userlike's live chat is available in seven languages. Chat reps can use the Dashboard and Chat Panel in English, German, Dutch, Spanish, French, Italian and Portuguese to better assist international customers.
Live message preview - See what a customer is typing before they hit send. Agents can start writing their response to cut time.
These details can help make the search process pleasant for customers and they come at little to no cost to the agency.
Use live chat to stay ahead of the game in real estate
Live chat is the ideal customer support channel for real estate agents who want to stay competitive in a cutthroat industry. Real estate involves a lot of planning and plenty of customers want as much information as they can get beforehand. Manage these requests with a sophisticated chat system and turn curious visitors into property owners.
If you're interested in experimenting with live chat on your real estate website, try our 14-day free trial and start chatting today!