Live Chat in the Manufacturing Industry: 7 Boosters for Better Business
Landing new, generous clients can be hard, especially when it involves long-term commitments, high order volumes or premium products.
Manufacturing products don't always fly off the shelves. You might need to invest a lot of time explaining your goods, customizing offers and building trust – with both your clients and your subcontractors.
Live chat doesn't change the process, but it improves the way you do it.
1

Signal open and easy communication

Big organizations easily appear intangible and impersonal. A chat button on your website signals exactly the opposite: easy availability and real-time support. According to eDigital's Customer Service Benchmark , 79% of customers say they prefer live chat purely because of the immediacy it offers.
A case study with Virgin Airlines showed a 3.5 times higher conversion rate as well as a 15% higher average order value for customers who chatted compared to those who didn't.
Hygiena , a company selling hygiene testing kits for professional use, had a similar experience. From 2013 to 2014, Hygiena saw an increase of 38% in new inbound leads from their website after implementing live chat.
A majority of our business comes from people searching for our product categories online, so we know that once we attract traffic to our website, capturing the leads there is critical to gaining business.

Lauren Roady, Marketing Manager at Hygiena
Customers simply trust your website more because they know that your personal assistance is just a click away.
2

Share your expertise

Technical products require explanation. That's why your expertise is your power. But a potential client doesn't usually visit your website intending to reach out to you right away. He'll probably visit to compare options.

A live chat button lowers the contact barrier between you and the web visitor. It takes just a click to contact your service team, which means it won't disrupt the visitor's research process or work schedule. Providing an easy and quick wire to your company can be the decisive factor in your favor.

In 2017, Hunter Engineering found that though many of their workers had years and years of experience, it didn't translate online immediately. In order to communicate their expertise, they had to overcome their traditional foundation.
We realized that a vast majority of our customers were going to Hunter.com before they picked up the phone to call a salesman or call a service rep. So digital assets quickly became important for us to meet the need of where people are going first and foremost to get information.

Madeline Triplett, Hunter Marketing Development Manager
You can also offer your support proactively when the visitor seems to be in doubt or stuck in his research. Userlike's Proactive Chat feature triggers a chat invitation after a defined amount of time and lets them know you are here to help. The opening lines are customizable to the page: Approach your clients differently if they surf on your homepage or your shipping page.
3

Assist in the use of online configurators or tutorials

Configurators or tutorials give your potential client a good idea about what is possible, but all too often personal preferences or requirements divert from the possibilities of your online tools.

Instead of canceling the whole configuration and leaving frustrated about the invested time, live chat allows your customers to quickly connect to a chat agent who can clarify the options – like a personal assistant.

Villeroy & Boch, a traditional manufacturer for ceramics, offers a bathroom planner that lets web visitors create installations according to their individual bathroom layout. Live chat is there to help in case customer's bathrooms differ from the online options or for other questions that arise during the design process.
4

Communicate with your subcontractors

Manufacturing companies not only deal with clients, but with a slew of suppliers. Problems can arise if the communication is not fast, fluid and open.

Live chat can support your supply chain management. Balluff – which manufactures smart sensors for factories – uses live chat in the supply management log-in area of their webpage. Here, subcontractors can contact Balluff immediately. The chat is then forwarded to the right team member.

With Userlike, you can directly integrate live chat into your preferred team chat tool , so that new chat messages run into group threads and allow your team to react quickly.
5

Stay connected with your customers

The best sales strategy in the manufacturing industry is to build a lasting relationship with your client. Trust will not only encourage your customer to place more orders, but motivate him to refer you to other companies or friends.
Live chat offers a handful of bonding tools to personalize the service experience. Userlike's Sticky Chat feature , for instance, will connect the client to the same assistant right away whenever he returns to your page. This gives your brand a face and ensures that the agent is "on topic" without the need to read former transcripts.
You may also ask your visitors for their email address before the chat starts. Userlike can then provide you with social media profiles so you can familiarize yourself with the customer's background.
6

Understand your target group better

Honest feedback from your customers is incredibly insightful. You can learn their problems and pain points, as well as how best to serve them.

Unfortunately, it can be difficult to receive feedback. Email or phone surveys are widely disliked and rarely completed. Live chat allows you to approach your client with one or two questions that prey on your mind.
If phrased smartly, customers may feel that you are interested in their opinion and expertise and will happily use the multiple choice menu.
The survey can be implemented both before or after chatting.
7

Grow your business internationally

Language barriers are one of the main reasons why expansion can be difficult. Live chat allows you to communicate with international clients if you have a multilingual team. Canned responses can even be prepared in multiple languages. In contrast to phone support, your employees have more time and options for translating.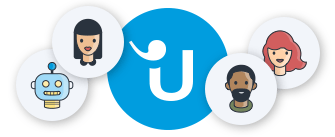 Looking for better customer relationships?
Test Userlike for free and chat with your customers on your website, Facebook Messenger, and Telegram.
Read more
Because of time differences, your employees might not be online during service hours in other areas. During your offline time, your chat window can turn into an easily accessible contact form that invites both your national and international clients to leave you a quick inquiry.
Final Thoughts: Live Chat in the manufacturing industry
Buying manufacturing products is rarely a snap decision. Many potential customers will connect with you multiple times before making a final choice. Simplify the process by making it easy for them to get in touch with you any time during their day. You'll be able to provide state-of-the-art customer service all while saving on service costs.
Ready to chat? Userlike offers you a 14 -day free trial plus reasonable plans that meet your needs.