Live Chat in the Energy Industry: 6 Accelerators for Success
Energy industry businesses often appear anonymous and untouchable. If suppliers want their sustainable energy solutions and smart living tools to be trusted and known, this needs to change.
Today's energy providers are evolving into somewhat of a hub for multiple everyday needs, such as green energy, smart homes, e-mobility, communication and internet – which customers approve of according to a 2016 study conducted by Deloitte.
This new role as a competent service partner has evolved due to high competitiveness and new trends in the field. And it requires better – and more – connection with your clients.
But people are busy, don't enjoy phone queues and give up quickly if they don't find the info they need right away. Fifty-seven percent of users will even leave your website if they can't solve their question right away, revealed a 2010 Forrester study .
This is where live chat comes into play.
Live chat is quick, low-barrier and meets your customers right where they have the first contact with your company: your website.
Christian Minks, customer service manager at energy provider e-regio , explains how Userlike's live chat helps their business meet the new demand for seamless interactions:
People often tell us that they love the chat and think it's modern – something they wouldn't have expected from a municipal utility company. I think that's a big differentiator on the market.

Christian Minks, e-regio
But how can you best benefit from live chat in the energy sector? Here are six possible use cases.
1

Provide energy expertise on-site

Consumers, especially Millennials and Generation X, are more conscious about new energy sources, a 2016 Deloitte Resources study found. But there is a lot of confusion about it, too.

Since these younger demographics are more messenger-oriented, live chat is a familiar type of channel for clarifying doubts about new and traditional sources of energy, or possibilities of energy harvesting.

Which introduces another advantage for you.

To save time and service costs, you can use message templates ( Chat Macros ) for frequently asked questions and definitions. These help you explain complicated terms and answer questions about smart storage systems and charging cycles with just a few clicks.

Once your visitors figure out the best-suited solution, you can directly guide them to the dedicated sub-page or application form.
2

Cater to different customer groups

Your private and business clients have different resources, concerns and needs. It makes sense to connect certain customer groups to specialized service agents right away to avoid time-consuming handovers.

You can offer chatters a selection menu before the chat begins or connect B2B page visitors to chat agents of your business account management team. At Userlike, we call this feature Chat Routing .

Another use case for Chat Routing is to place a special chat window ( Chat Widget ) in your community or log-in area, which connects customers to service agents who are familiar with your company's bonus programs and promotions. This guarantees that your faithful clients receive the best treatment possible.
To tailor your offers to different customer groups, include a survey at the end of the chat. This will help you find out what they are really concerned about or how they rate your customer service.
3

Pick low hanging fruit

When a customer uses your electrical usage calculator on your website, she is obviously highly interested in you as a provider.

Calculators are pretty simple and straightforward, but they don't cover every individual scenario. The customer also isn't always sure if she is choosing the right pre-settings for the calculation.

With Userlike , use proactive chat to message customers who use your online calculator after a certain period of time. Since it's clear that the visitor is interested in your service, this is the best time to jump in and help.
Live chat is a user-friendly service channel. This is your chance for an easy lead.
4

Send files and maps with a fingertip

You can only describe products, terms and conditions superficially on your website. Live chat allows you to provide additional info via PDF files, charts or images.

Say you offer e-mobility services. You can send sheets outlining compatible wallboxes or e-cars. Or you can send a map showing your network of charging stations on the road.

If your conversation contains info that may be useful as a later reference for your chat partner, offer to send a transcript to a specified email once the chat has ended.
5

Strut your stuff

Besides your core energy options, you may offer cellphone plans, smart home systems, insurance, vacation deals or magazine promotions – for the public or your customers only.

Your web visitors need direction to figure out how they can best benefit from your offers.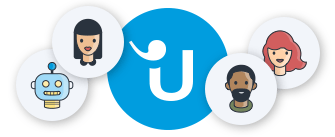 Looking for better customer relationships?
Test Userlike for free and chat with your customers on your website, Facebook Messenger, and Telegram.
Read more
More so, they want to make sure that they haven't missed a catch. They wonder if this really is a good deal. Or how long the contract runs. Or if they can cancel the booking.
This is another good opportunity for proactive chat . Approach your customers with a specific greeting depending on which page they're currently visiting, e.g., "Hey there! We offer a discount on all of our insurance plans when you purchase one of our energy efficient systems. Chat to learn more?"
6

Advice for real estate owners

An interesting target group in the energy sector are future and present real estate owners. They eventually need new heating systems, roof insulation, photovoltaic systems and more.

They might also need a competent partner to detect fallacies in the construction. Or even someone who is able to create a whole concept for rehabilitation.

Live chat lets business owners and real estate agents ask questions about your services on the fly without needing to schedule a consultation or make a phone call.

In just seconds, customers can request a service professional to visit the property. No calls, emails or online forms needed.

Real estate clients are bound to have questions throughout the process, but live chat lets you connect them to the same service agent each time they return to your page: "Hello Almar, welcome back. Let me guide you to the plan overview. How is the construction going?"

We call this bonding feature Sticky Chat . It's ideal for developing a personal relationship with customers and clients.
Live chat in the energy industry: Userlike customer examples
Sonnen , which offers solar energy solutions, integrates a subtle chat button in the bottom left corner of their homepage.
Energy network provider EWEnetz casually greets their customers on the homepage and adds a personal flavor with a private picture of their service employee. They also tailored the colors of the widget to their website design.
EVO , which offers affordable electricity and gas, integrated their live chat button into their general contact bar, fitting it seamlessly into the webpage design.
Longtime energy provider, MAINGAU Energie , includes a disclaimer before the chat starts, explaining to customers what can be handled over live chat.
After hours, the chat widget of Stadtwerke Cottbus , which offers energy solutions to private and business customers, turns into a simple contact form. This allows web visitors to quickly leave a message without searching for a contact form or email address.
Tailor Userlike to fit your needs in the energy industry
The live chat use cases and examples above show that the Userlike Chat Widget can be tailored to specific subpages, branches and target groups of your energy business.
Individual settings can be easily configured within the Userlike Dashboard. Here you can also connect Userlike to team tools like Slack and your favorite CRM system to be notified about incoming chats and collect the written data efficiently.
Christian Minks from e-regio is convinced of the concept: " We wanted a live chat software that was easy to handle – both for our users and our service team. We also wanted to be able to tailor the setup exactly to our needs without any help. Userlike had all that. Plus their support team was amazing, we could always reach out to them and they'd get back with answers in no time. "
Read the complete case study with e-regio here .