Introducing Unified Messaging – Leaving the Beta
What if you could start all over again? It's a common question, but mostly without practical implications. At Userlike, however, this question has defined our product development over the past two years.
We are approaching the end of the Unified Messaging (UM) beta – a complete overhaul of our product. I'd like to give you an updated overview of the new Userlike and how it differs from our "old" live chat product.
But first, let me TL;DR:
Userlike's UM beta is coming to a close.
This means it will be the default for new signups and free users. Paying customers can still make use of the old Userlike.
UM marks the biggest product change since Userlike's inception.
Besides website chat, UM enables you to message with your customers via WhatsApp, Facebook Messenger, SMS, Telegram and other messaging channels.
Why Unified Messaging?
Userlike has been a live chat solution since starting out in 2011 . But over the years, we saw that the future of customer communication was in messaging. Messaging grew as the default mode of private communication over the past decade.
Customer-focused businesses go where their customers go. But besides this massive trend, we also realized that rebuilding Userlike into a messaging solution for websites and messaging apps would allow us to offer some unique benefits for businesses and their customers.
For customers , the main benefit of messaging support is its convenience. Everybody's messaging all the time, so it takes little effort and is already a part of their existing daily habits. Messaging apps also aren't cluttered like the average email inbox.
For businesses , messaging offers all the benefits of classic chat and more. When both sides are online, it works just like live chat. But there is reduced pressure to be online, as you can also answer at a later point and the customer will be conveniently notified. This means that service peaks will be much less of an issue and it makes it easier to offer chat support in a small team.
We believe the combination of website chat and mobile messaging is powerful. In the 2020s, your website continues to be your most valuable piece of digital real estate. It's the perfect place to start the conversation with your customers. Messaging apps, then, are the perfect channels for staying in touch – and nurturing the customer relationship .
Meet the Channels
While it's clear that the mode of messaging is dominant, people are actually divided among the different messaging apps . To not exclude a significant share of your customer base, it makes sense to offer multiple channels. That's why the new Userlike unifies all the most important messaging channels and allows you to communicate through them from one central place.
Without further ado, let's meet the channels!
1

The Website Messenger

The first and most important channel is the new version of our old website chat widget: The Website Messenger. This is where most of your customer relationships start.

The idea behind the Website Messenger is that it brings modern messaging to your website. Besides its classic messaging features like emoji, multimedia support and voice messaging, its online-offline nature gives it that messaging feel.
Like the messaging apps you're familiar with (WhatsApp, FB Messenger), the Website Messenger supports synchronous chats when both sides are online, but also asynchronous messaging when one side is not.
For e-commerce, there is tremendous potential in the instant nature of chat. Many of our customers use Userlike to boost conversions. This means taking web visitors by the hand and guiding them from initial request to checkout – all live while they are on the website.
But besides this live chat mode, the new Website Messenger can also be used for asynchronous messaging. When a visitor leaves a question when your agents are offline, you can respond at a later time and they will be notified of your answer via email. This email contains a unique link to your website and the relevant chat conversation. In this way, UM functions as a lasso to bring people back to your site :)
The customer can also jump back into previous conversations by going through a verification process. That's how Userlike now supports long-lived messaging on your website.
Read a full introduction of the Website Messenger here .
2

The WhatsApp Channel

WhatsApp is the world's leading messaging app. It has over 1.6 billion active users.

Userlike's WhatsApp Channel allows you to connect to the WhatsApp Business API – which was built for larger businesses and enterprises to use for professional customer communication.
Unlike the WhatsApp Business App, which was built for small businesses, the API allows you to communicate in teams. It was designed to be connected to business software like Userlike.
WhatsApp's end-to-end encryption plays well together with Userlike's vow for data security . When you choose Userlike as your WhatsApp business solution, all of your data will be hosted on German servers.
If you are interested in connecting to the WhatsApp Channel, just fill out this form .
3

The Facebook Messenger Channel

Facebook Messenger is the world's second largest messaging app. Although it has slightly fewer active users at 1.3 billion , it's more geographically distributed than WhatsApp.

The unique advantage of Messenger is its direct connection to the Facebook platform. This creates a happy marriage between your Facebook business page and your customers' private accounts.

Connecting Messenger to your Userlike account is quite easy. Here is the tutorial .
4

The Telegram Channel

Telegram doesn't dominate any single market, but is still pretty widespread. With over 200 million users, it's an "underground" alternative to Messenger and WhatsApp.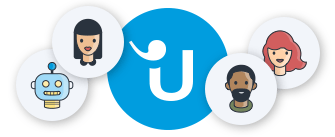 Looking for better customer relationships?
Test Userlike for free and chat with your customers on your website, Facebook Messenger, and Telegram.
Read more
Telegram's open chatbot ecosystem makes it easy to connect Userlike. Here's how .
5

The SMS Channel

Short Message Service (SMS) or text messaging is the mother of all messaging apps.

It lacks many of the features of other messaging apps, but as a one-on-one customer communication channel it has some unique advantages:
It's platform independent. Everybody with a mobile phone already has SMS.
It's internet independent. When the internet connection drops , a customer connection is still possible.
It's almost free of charge. I remember the days when texting was expensive. But nowadays, most mobile phone subscriptions offer unlimited text.
Customers are already used to texting businesses via SMS. Mostly through codes, two-factor authentication, etc.
To realize this SMS Channel, we teamed up with Twilio , an API platform for communication channels. This means you will need a Twilio account and – while the channel itself is free – each SMS you send and receive is operated and charged by Twilio.
Check out the full SMS Channel tutorial here .
Other Channels
It's also possible to connect Userlike to a custom channel, like your own SMS gateway or email server. Check out our custom channel tutorial to learn more.
We will also expand the number of channels Userlike will be available on over the coming year.
Meet the Message Center
The Message Center is the new agent-facing interface. It's where the messages from all the abovementioned channels come in.
The Message Center feels similar to the browser versions of messaging apps you're already familiar with, but with a business layer on top tailored toward service and support.
New features. The Message Center has all the features of the old Chat Panel , like chat macros (canned messages) and team collaboration. But it also offers various brand-new features, like multimedia support , voice messaging and Live Translation – useful if you're serving customers across countries.
Inbox. Instead of the Chat Panel's "buddy list," the Message Center has an Inbox. Conversations appear here, which are either assigned to you or are waiting to be assigned to you or a colleague. So unlike the Chat Panel, the Message Center works with a shared inbox system .
All Conversations. Here you see an overview of all the conversations you and your team have had – past and current. Depending on your permission settings, you can reassign these conversations and pick them up.
Contacts. You'll also notice a brand new section within the Message Center: The Contact List. Contacts are a new concept within UM. Its development resulted from reconsidering the customer's position. In the end, your customers are the real heroes in this story, so we wanted to give them more prominence while also making them easier to manage.
One Contact can have multiple ongoing Conversations with your company. While the Conversation list is the default view for your support agents, the Contact list allows you to go through all your Contact profiles. It showcases all connected Conversations and an expanding area of customer information. In short, it's a digital representation of your customer relationships.
Improved UX. Overall, we've intensively improved the overall user experience in parts of the software where you'll be spending most of your time. The Action Bar is one example of a UX improvement, making it much easier to assign conversations to agents, assign a topic or status, or create follow-up tickets out of them.
Although, now that we're talking about follow-up tickets, Unified Messaging should strongly reduce the need for most of you to create such external tickets. With our live chat product, you would have to switch to another application to answer offline messages. With Unified Messaging, you can answer offline – or asynchronous – messages right from the Message Center.
Check out the full tutorial on the Message Center .
Looking to the future
The road to Unified Messaging has been a long one, so we are excited to finally approach the end of the beta. More than ever, our product reflects our ideal for customer communication.
Messaging is the future of communication. It's already the case in our private lives. With UM, we believe we can offer you a solution that brings the intuitive convenience of messaging to your customer relationships – allowing conversations to seamlessly transition between synchronous and asynchronous, messaging apps and your website.
Together with the whole Userlike team I'd like to thank all of you who have participated in our beta and provided us with invaluable tips and insights. And if this is your first encounter with Userlike, then I sincerely hope you will give Unified Messaging a try!