10 Surefire Tips on How to Get More Chats
Live chat without customers is like a birthday party without guests – sad.
You've done the research, compared different solutions and chosen the one that's right for you. The implementation was simple, the team is onboarded, you're ready to start connecting with your website visitors. Now, any minute, a chat must come in!
Only...
...nobody shows up.
If that sounds familiar, we got you covered. Taken that you already have a decent amount of website visits, I'm certain you'll get chats as well. Sometimes it takes just a few tweaks to ultimately propel the chat's acceptance.
Why there's no "one size fits all" in live chat
People value the myriad benefits live chat offers in support. Boosting conversion rates, minimizing costs, nurturing customer relationships.
Still, businesses often underestimate chat's full potential. The little box your visitors see is only the tip of the iceberg. The larger part happens in the solution's backend, below the surface.
A live chat like Userlike allows you to realize advanced setups tailored to your exact use case. Finding the right setup can have a major impact on the number of chats you'll receive.
Which setup is ideal for you depends on factors like your industry and target group. What works for an insurance company , for example, doesn't have to work for a streetwear fashion shop . Just ask the folks over at your marketing department. But while following market-specific strategies is obvious in most business units, it often isn't for customer service .
Here's how you can tweak your chat settings to get more messages and increase customer engagement.
1

Be more proactive

Enabling proactive mode is the most obvious way to instantly increase chats. If your visitors don't actively click on the chat box on your website, you need to level up your game. With proactive chat, you show you're there for them – even at a point where they haven't considered reaching out themselves.
However, this chat mode has a major red flag, which is why some businesses prefer avoiding it. Their concern: "Isn't proactive chat too intrusive?" The internet is already crammed with pop-ups so it's understandable you would want to spare your visitors the agony of yet another jack-in-the-box.
It sure is a thin line between coming across as helpful or annoying. But while your intentions may be noble, the reality in the online world is this: When browsing a site, customers won't acknowledge they have a question. Instead of reaching out, they'll just swipe your business to the left and move on to the next search result.
So don't be shy to start the conversation. And if you're still worried about bothering your visitors with proactive chat, have a look at this post to learn how to make it not annoying.
2

Remove all hurdles

Live chat is a great tool for lead generation. Place a registration form before the chat and voilà, everyone that wants to talk to you will have to leave their information first.
For companies hitting a lot of website traffic, the registration mode is a life-saving feature to filter incoming messages. If you don't get a lot of chats, however, it's the first thing to kill.
Often, customers have small (yet important) questions, for example concerning your shipping costs. Nobody likes filling out a detailed registration form just to get a quick answer.
But the registration form isn't the only hurdle your customers might face. Another is having to search your site for the chat. The easiest fix is to implement your Widget on all pages so your visitors always have the option to reach out to you.
3

Customize your chat

You've spent time and money on building a website that looks great. Why stop at chat?

Use your custom font and colors to tailor the Widget to your corporate identity, or get inspired by our color kit presets. A common pitfall you'd want to avoid is disguising the chat by aligning it too strongly with the website's colors. Using complementary colors often works best to create a Widget that blends into your website naturally while still popping enough for your visitors to notice.
Aside from the design, you can also fully adjust your Widget's texts to your wishes. How do you want to approach your visitors? The texts should be friendly, inviting and not overly formal so your visitors feel encouraged to ask their question in the chat.
4

Align support shifts with peak traffic times

Are you online when your customers are?

Most e-commerce shops experience traffic peaks on the weekends, consumers' preferred online shopping days . But since the traditional working week stops at Friday, many businesses don't staff their live chat outside of their service hours. A major mismatch of availability and (potential) support requests.
Same goes for when you're selling your product or service in different markets and time zones. If you notice a discrepancy between your service hours and traffic highs, consider adding additional support shifts. As an internationally operating company with headquarters in Germany, we experienced exactly that a few years ago, so we extended our service times accordingly.
You can track these Missed Opportunities (live chats you've missed because your service wasn't available) in the Analytics section of your Dashboard .
5

Set expectations for offline times

Of course, expanding support shifts to later hours isn't an option for every business. Consequently, there will be times when the chat isn't staffed, for example after 5 p.m. or on weekends.

Most businesses choose to hide their chat button outside of these times. But again, what a missed chance! Some of your customers will never even get to see that you offer chat.

Show a notification instead of hiding your chat. When a customer clicks on the chat bubble, they will see your service hours and next availability. This gives them the chance to come back to your site at a later point. Lufthansa uses this notification on their career site, where they offer monthly chat sessions to discuss specific vacancies.
Customers will understand that you can't be online 24/7 but they need to know when they can reach you. Being transparent and setting the right expectations is key.
6

Staff live chat with real people
When done right, chatbot support can be fantastic. Robo buddies are great for repetitive tasks in the support process that, frankly, most agents are happy to do without.
However, businesses are often trying to cut costs* in customer service by replacing real agents with chatbots. Not only for simple service scenarios but for all customer interactions. The result is chatbot support that's... well, not done so right.
Understandably, customers find talking to bots oftentimes irritating . A few reasons:
Tiring path-dependency decision trees
Having to speak in a language the A.I. understands
Handling of individual cases not possible
Lack of emotional understanding and customer empathy
Altogether, this can create a poor user experience – which might even reflect negatively on your business. A customer that has gone through a frustrating chatbot experience will think twice before stepping foot into your chat again. Whereas, when they know a well-trained support crew is at their fingertips, they will be more likely to reach out to you when questions arise.
*Quick excursion: It's a common misconception that bots are cheaper than human agents. While training bots to act smart is possible, it's also highly expensive. The initial investment will only pay off in the long-run and when you shuffle thousands of support requests daily. I know chatbots are a hot buzzword right now. But for the sake of all stakeholders involved, I can only urge you to question whether you really need one and have the resources to master chatbot support .
7

Show yourself

When you're staffing your chat with a great support crew, you're already an exception in this ever-automated world. Why not use that to your advantage? Show your visitors that an actual human being is on the other side of the chat with real profile photos and names of your agents.

This simple step relieves your customer's fear of whether they're chatting with a real person or a bot. Stock images, logos or bot icons are impersonal and may lead to fewer chats, hindering customer relationships from building.

The anonymous silhouette or plain company logo fail to set the ambiance necessary for establishing a personal connection with your visitors. Like I said earlier, chat is a lot more powerful than it's often given credit for. In the highly competitive online market, connecting with web visitors is crucial for success.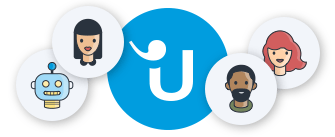 Looking for better customer relationships?
Test Userlike for free and chat with your customers on your website, Facebook Messenger, and Telegram.
Read more
Of course, there are valid reasons for not wanting to show real pictures of your team. Let's be real, customer service and the online world bring out the worst in people – and live chat combines the two.
Building customer relationships is important, but your team should come first. If working with real photos creates problems in your industry or makes your agents uncomfortable, react to it. We've had some bad experiences with trolls recently, so we decided to only display first names in the chat. To protect your agents' identities further, you can also set an alias or stock photo. But this should be a last resort, not standard procedure.
8

Vanquish data privacy concerns

People might not want to start a chat because of data privacy concerns. This insecurity could be one reason why you're not getting as many chats as you'd expected.

While it's a negligible concern in some countries, it is a crucial topic in others. Take Germany. It's not only Europe's largest national economy, but also home to citizens who are by nature especially suspicious of discretion over their data . If you don't offer any information on your stand on data privacy, you'll likely have a hard time gaining enough trust for live chat interactions.

You can easily take those concerns away by placing a disclaimer before the chat that explains how personal data is handled. This increases transparency and sets you apart as a business that cares about data privacy.
Learn more about how to make your chat data privacy proof – so even ze Germans will accept it – in this post .
9

Spread the word

Existing customers might not be aware that you offer a new contact channel. Consequently, they will stick to the channels they know from previous interactions with your business.

A successful, holistic live chat launch does not only include your IT and customer service department. Plan accompanying marketing activities, such as a newsletter mention or social media posts, like the Jewish Forum did on Twitter to promote their live chat start.
Your customers and followers will likely appreciate this new channel and might be curious to try it out the next time they have a question.
10

Switch to Unified Messaging

Until recently, you knew Userlike as a live chat solution. But with the latest changes to our product, it became more than just chat. Inspired by how messaging apps have transformed our private communication , we believe messaging is the future of how businesses will talk to their customers.

The greatest difference between messaging and traditional live chat is its asynchronous nature. This allows you to create a support experience that is synchronous when both you and your customers are online but can also be asynchronous when only one side is.

That is why Unified Messaging has the power to solve the biggest pain points businesses have been facing with live chat: the need to always be online. And as we've seen above, availability highly affects the number of chats you'll receive.
Here's why switching to UM will increase your number of chats.
Engagement. Whether you're online or not, with UM, your Chat Widget will always be visible on your site. Say goodbye to the antiquated offline form or to hiding your chat outside of your service times. The messaging experience will be more engaging for your visitors to leave their message.
Channels. With our Channels feature, you can integrate messaging apps into Userlike, like Messenger or WhatsApp. This expands your reach from only web chat to your customer's preferred channel, putting your business right into their pockets.
Expectations. Without having given it much thought, we've already internalized the asynchronous nature of messaging - and it reflects on our expectations in communication. When messaging your friends, you don't expect an immediate response. You know they'll get back to you as soon as they have time. Translated to the service environment, this mindset will relieve your service agents of the pressure of having to respond within seconds to incoming message.
A customer messaging solution like Unified Messaging can be more effective than traditional live chat, especially for small businesses without a dedicated support team.
And if you need some more help in setting your chat up for success, reach out to our Customer Success evangelists in the chat or visit us in our Cologne office for an individual consultation.