6 Funny Customer Service Stories to Restore Your Faith in Humanity
It's often one extreme or the other when it comes to customer service. You'll either get a fantastic experience that you'll want to brag about to your friends – or a nightmare of an experience you will just want to forget.
We place huge emphasis on delivering great customer support at Userlike and to helping you deliver the best experience for your customers. Making sure your customers are happy is essential for building a sustainable business and attracting referrals through word of mouth.
According to American Express a happy customer tells nine people about their experiences with a company.
In a previous post, we looked at what you could learn from bad customer service examples . But today we'll highlight some funny customer service stories to show you how it's done right.
1

Skyscanner's Response to a 47-year Layover

What started out as a minor glitch by Skyscanner, turned into one of the best social media brand responses in recent years.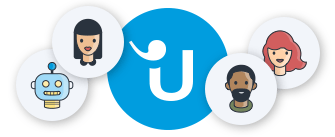 Looking for better customer relationships?
Test Userlike for free and chat with your customers on your website, Facebook Messenger, and Telegram.
Read more
James Lloyd was looking to book flights through Skyscanner (UK-based travel application) when he suddenly stumbled upon an unusual flight suggestion. Lloyd took to Facebook to ask Skyscanner what they would recommend doing during his 413 786 (approx. 47 years) hours wait in between flights.
Obviously they could have come out with the usual corporate jargon about how it was just a bug in their system and how it would be fixed. But that would have been way too simple.
What followed was a series of witty responses, travel recommendations and pop culture references. Eventually turning Skyscanner's Jen into an Internet sensation overnight.
2

Netflix Responds to a Distress Call

Netflix subscriber Norm got in touch with the movie streaming app about an issue he was experiencing with his video player. During an episode of Parks and Recreation the player kept on repeating the last three seconds.

Customer service rep Michael started the chat by introducing himself as "Captain Mike of the good ship Netflix", and then asked which member of the crew he was speaking with. "Lieutenant" Norm joined in the playful role play by replying as if he was an officer from Star Trek.

Aside from the first two lines in the beginning, Mick and Norm stayed true to their Star Trek characters for the entire length of the conversation.
3

Amazon Chat With Thor and Odin

Marvel fans will appreciate this chat between an Amazon customer service rep and a customer whose book wasn't delivered on time.

Instead of going the normal route of simply replying to the customer's request, this Amazon rep took it up a level by introducing himself as Thor with the customer responding in kind by asking to be Odin.

You can read the whole chat below.
The act went on until the book issue was resolved, where they went back to modern-day pleasantries. In the end, Amazon's Thor responded to Odin's gratitude with a simple, "Anytime, bro".
4

Spotify's Special Thank You

For a great example of how to incorporate your product into your customer support communication, you may want to take a leaf out of Spotify's book.

When experiencing an issue with the "Discover" feature, Jelena Woehr contacted Spotify's customer support team for help.

After receiving feedback from a user, they decided to reward her by sending over a custom playlist.

Once the two resolved the issue, Woehr complemented Spotify on how they handled her request. In response to the positive feedback, someone at Spotify created a custom playlist.
As you can see, the playlist came with a hidden message, the titles of the songs spelling out: "Jelena/You Are Awesome/Thanks a Lot/For These Words/It Helps Me/Impress/The Management."
5

Making Zappos Your Personal Assistant for a Week

Famed for their world class customer service, Zappos has a reputation for going above and beyond for their customers.

Their values were put to the test by Haley Nahman in an apparent attempt to troll the online retailer, to see whether they actually do answer every question which comes their way.

Her plan: to make Zappos her personal assistant for a week.

At the start of this seven day experiment, Nahman asked for fashion advice from Zappos before moving onto more unrelated topics such as an opinion on what's wrong with her cat.
NAHMAN: "My cat has been acting standoffish lately. Do you think I did something wrong or am I just being dramatic?"

ZAPPOS: "I'm Helen and you got the dog lover here at Zappos. I thought standoffish was one of the attributes of cats. :)"

ZAPPOS: "You sparked my curiosity. I found the following on Google, and thought the feedback people had was pretty good!"
Most companies would try to dismiss these questions and get the focus back to product-related questions people may have – but not Zappos!
The online retailer answered every question thrown at them by Nahman, who later had nothing but good words to say about Zappos' customer experience.
6

Google UK Responds to Greggs' Plea for Help

Back in 2014, UK-based bakery chain Greggs fell victim to Google's latest algorithm change at the time. Instead of Gregg's official logo and slogan being displayed on Google search results – an alternative logo appeared which featured an offensive slogan.
After receiving thousands of messages from amused tweeters, the bakery's communications team showed how to take a potential social media nightmare and turn it into a positive.
Greggs addressed the error quickly by reaching out to Google UK on Twitter asking them to fix it with the help of a sweet incentive.
Hey @GoogleUK , fix it and they're yours!!! #FixGreggs pic.twitter.com/d5Ub7qtrLG

— Greggs (@GreggsOfficial) August 19, 2014
Sorry @GreggstheBakers, we're on it. Throw in a sausage roll and we'll get it done ASAP. #fixgreggs pic.twitter.com/THXuMubrQq

— Google UK (@GoogleUK) August 19, 2014
At the sight of free donuts, Google UK responded positively with a humorous tweet featuring Homer Simpson and asking for sausage roll to be added.
Google UK did indeed fix the error for Greggs. Both companies can be commended for how they handled the issue together and showed us how to deal with it like a pro.
By delivering great customer support, all the companies above attracted a gulf of media attention and earned the admiration of many on the Internet. They're showing us you don't need to have to spend a substantial marketing budget on advertising and PR to create a buzz.
Customer support doesn't need to suck, and these stories highlight a few examples of how you can approach it so you can deliver an exceptional customer experience.