5 Painful Examples of Bad Customer Service
For every example of great customer service, you'll easily find a bad example too. You've probably already dealt with your fair share of customer service fails - I know I have.
At Userlike we like to focus on the positives and how you can deliver the best service with the best tools and practices. But it's also useful to look at some negative experiences and the lessons one can learn from them.
An infographic by Help Scout shows that while 80% of companies believe they deliver superior customer support, only 8% of customers thought that was the case. If that statistic is anything to go by, most companies are delivering poor customer service and have significant room for improvement.
But while we want to learn from the best , there's a lot to learn from the worst too.
We'll look at five bad customer service examples and what you can learn from them.
1

The Comcast rep who was never gonna give you up

If you want to cancel your contract with your cable provider, you probably don't want an over-enthusiastic customer rep trying everything he can to prevent you from cancelling your contract.

That's exactly what happened when writer Veronica Belmont and Ryan Block called Comcast – a company notorious for bad customer service.

As you can hear from Block's recording of the call, the customer service rep from Comcast was never going to let them go. You can also sense Block's frustration at not being able to simply disconnect his service, despite explaining he's already signed up with another cable provider.

Even though it's good to know why a customer decided to leave your service, the support rep from Comcast approached it the wrong way and caused bad press for the company.

When a customer decides he wants to discontinue their relationship with you, they've already made up their mind. The smart thing to do is to keep things professional and comply with their request. The last thing you want to do is to make the person feel as if they're being held hostage by dragging on the conversation and trying to convince them to change their mind.
8 Causes of Miscommunication and Misunderstanding
The first step in fixing miscommunication is understanding where things go wrong.
Understand misunderstanding
In the end, this incident attracted a lot of media attention and forced Comcast to release a statement apologizing for the ordeal.
2

Bank closes customer's account, just because they can?

Ever get the feeling someone is pranking you? We'd expect that occasionally from friends, family or children – but from a bank with 170 branches across Tennessee?

That's exactly what happened when Redditor gofordrew got in touch with his bank to find out why his card was not working at the ATM. After going into the branch, you would expect the customer service rep to tell him exactly what happened and how to resolve it.

Instead, they recommend him to call the service hotline where he was told (after an hour of waiting and jumping through hoops) that the department who handled these issues did not accept phone calls from customers and that he'd get a letter per mail instead. When he went to their main office the next day he was told the same thing, to wait for the letter in the mail.

It arrived a few days later, and it only stated that the account had been closed. Surprisingly, there was no explanation – just the account officer to contact for questions: Elvis Pelvis.
That's right, Elvis Pelvis was the person to ask about why the account had been closed and why gofordrew wasn't able to access nor withdraw money from his account.
Now there may have been some valid reason why his account got closed, or perhaps it was a mistake by the bank. But you simply don't joke around when someone's personal finances are on the line, which this bank failed to understand.
Their lack of transparency and the process of getting an explanation also added to the painful experience. All of which could have been easily solved by giving a reason in person at one of the branches.
3

British Airways: Sorry, that won't fly

Following a trip made from Chicago to Paris, Hasan Syed grew increasingly frustrated at British Airways' (BA) ability to handle the issue of his father's lost luggage. What followed was Syed turning to Twitter express his annoyance towards the airline.

However, instead of just tweeting about the ordeal, he took it up a notch by going the paid advertising route to promote his tweet.
Now you would expect an airline such as British Airways to swiftly response to the promoted tweet. But as it turned out, it took them an astonishing eight hours to respond - by which time it had been seen by 76,000 users and featured on Mashable . To make matters worse, when BA finally reacted their reply was something straight out of "things you should never say on Twitter" handbook.
Their response prompted the public to question the logic why an airline that operates around the clock, only provides limited hours for responding on Twitter. When an airline has lost the customer's luggage, the expectation is that the issue is resolved as soon as possible.
Proactiveness is essential here, which is why Hasan turned to Twitter to escalate the issue as he probably felt BA wasn't taking his request seriously enough.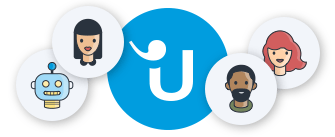 Looking for better customer relationships?
Test Userlike for free and chat with your customers on your website, Facebook Messenger, and Telegram.
Read more
Response time is one of the most important key performance indicators for customer service. What's more, Twitter found that people were willing to spend $20 more when an airline would respond within six minutes.
4

Amazon just doesn't get it

Don't you just hate it when something takes much longer than necessary? That's what happened to Chris Williams when he feared he may have been a target for a phishing scam and got in touch with Amazon's live chat support to get an email disassociated from his Amazon account.

A simple enough request, but in this case, Williams spent almost an hour trying to explain what he wanted from the customer support rep. During the exchange, the rep repeatedly called Chris 'Brittni' and demonstrated difficulty understanding what appeared to be a simple request.
As you can see from the entire transcript , the agent's poor English and canned responses also didn't help matters which led to even more confusion.
Even though the customer support rep remained calm despite Williams' venting his anger. The incident led to some negative press for Amazon with Business Insider highlighting their practice of copy and pasting pre-written responses.
During any interaction with a customer, you want to reassure them that you understand their problem and that you know how to solve it for them.
5

With a post to Smucker's it has to be censored

There will always be people expressing complaints and concerns. While we all prefer to hear positive remarks, the worst thing you can do is ignore the negative ones – or even worse, delete the messages entirely!

Food manufacturer Smucker's came under fire when it decided to delete social post questions and comments on their use genetic modified organisms (GMOs) in their products. Naturally, people were upset that their posts were being censored.

So what happened next could hardly be described as a surprise. People flocked to other channels to express their complaints and annoyance for Smucker's lack of concern.

The moral of the story is to never ignore any customer requests and to always acknowledge and address their questions.

Obviously you can't please everyone, but that's no reason to neglect (potential) customers through lousy support.

Customer support should not be like what we've seen in this post. It's about building rapport and trust with anybody who interacts with your company. After all, customer support is a very important part of the face of your company. It's the voice of your company – the one that reaches the public.
Why does bad customer service happen?
According to customer service and experience expert Shep Hyken , "Customer service; it is common sense. You may know how to deliver an excellent customer service experience, but do you?"
Often times companies know what is required to deliver exceptional customer service but fail in its execution. There are a lot of reasons why this happens and we'll focus on three most important here.
Wrong people: Finding people with the perfect customer service mindset can be tough. Hiring based on skill and competence is one thing, but you'll also want people with an ability to learn and a cultural fit.
Culture: Sometimes the company culture is contributing to a bad customer experience, whereby the standard or vision for delivering customer support isn't set.
Inadequate training: Training your service reps is crucial to reach a high standard of support. And it doesn't end at that. It requires continuous personal and professional development to maintain and nurture the ideal mindset for customer support.
Those are obviously not the only reasons for companies failing at customer support, but they give a good impression. And if you ever find that you failed at customer service, perhaps the above examples can bring you comfort. You're not alone.