How Apple, Tesla, and Disney Provide Excellent Customer Service
For businesses in any industry, good customer service is common sense. But often, it's not common practice. Why is that?
It's definitely not because there are no role models to follow. Much rather it's because we don't understand just what it is that the best are doing so much better. We looked at three icons of customer service - Apple, Disney, and Tesla - and found striking resemblances in how they are providing excellent customer service.
Apple
Apple has cultivated the idea to win over people by taking control over their desires . Mark Gurman's fantastic article for 9to5Mac showed to what lengths they are willing to go for that. Behind the scenes, that is.
If you've ever been to an Apple Store, you might have noted the high level of knowledge of weirdly convincing sales and service reps. What you might have not noticed is how, behind the smiles and know-how, these reps are building a purposeful customer experience for you.
In doing so, five points guide any Apple employee, selling any product:

A pproach customers with a personalized warm welcome
P robe politely to understand all the customer's needs
P resent a solution for the customer to take home today
L isten for and resolve any issues or concerns
E nd with a fond farewell and an invitation to return
Unsurprisingly, that's only the tip of the iceberg. So, when Apple's Genius Training Student Workbook was leaked by Gizmodo in 2012, its content merely confirmed everyone's guess: the tech giant trains their staff to find backdoors into the customer's mind.
As Gizmodo's Sam Biddle summed up, the leaked workbook for Apple reps contains "psychological mastery, banned words, roleplaying." In short, he said, "this is psychological training."
The manual could easily serve as the Humanity 101 textbook for a robot university, but at Apple, it's an exhaustive manual to understanding customers and making them happy.

Sam Biddle, Gizmodo
A central term in Apple's guide is empathy. In fact, it appears all over it, as Biddle noted. Thinking back on famous psychological treatment techniques, this reminds me of humanistic psychologist Carl Rogers' person-centered approach. Rogers successfully used the display of empathy to clients as a key element in his attempt to empower them to alter their views.
Apple seeks the same understanding of a customer that Rogers sought of his clients (surely with different objectives). A quote from an older Apple service training manual goes like this: "Your job is to understand all of your customers' needs - some of which they may not even realize they have."
Rogers wanted to help clients see a path and walk it down themselves. At that point, his technique is somewhat hijacked, since as an Apple Genius you are supposed to "empathize your way to a sale," so, to take action. Apple calls this the "Feel. Felt. Found."-technique. It reads:

"Feel: Empathize with how the customer feels in that moment, and let them know that you understand."
"Felt: Explain that you, too, once felt that way in the past."
"Found: Tell the customer how you found that your concern was actually incorrect."
With these steps, the customer is meant to be made confident enough to make an own decision. At which point Apple obviously wants their reps to be able to control what that decision will be.
For instance, take a customer who is concerned about a product's low compatibility with non-Apple products. The rep would first signalize their understanding of that concern - "Yeah, I know" - then how he felt the same - "I used to worry about how much even simple equipment would cost me, too" - and finally find a good reason for why it's all different, like the "great longevity and refund options of Apple equipment."
In fact, all of the strategies in Apple's playbook aim at decoding signifiers of what the customer feels and thinks, and at finding the triggers in communication to take control of that.
Among the techniques are those to lead the customer, watch the language, interpret body communication and give fearless feedback. Explicitly, as Sam Biddle quotes, "it is not sympathy." But also it's not simply sales. Apple doesn't hand out commissions or sales goals to their shop employees; their mind is set on the customer's overall great experience.
Apple's approach is certainly full of calculation. But as Steve Jobs explained , it was great service and a memorable customer experience that helped them to spread the word when business was far from profitable. Also, it resulted in lasting customer relationships and granted them a loyal fan-base early on.
Disney
Hundreds of demotivational posters and how-to-deal-with-it-posts echo the longing of guests for their next trip to one of Disney's parks. 'Disney withdrawal' seems to actually exist, if not as a pathological finding. The historic brand's self-reported 70% return rate of first-time-visitors account for something special going on in those parks.
How does Disney create that magical feel, whose absence seems to make people feel alienated in the real world outside the park? Quite un-magically, by putting fastidious attention to detail, the optimization of processes, and infinite repetition of both.
Like Apple, Disney "fanatically" applies guidelines to make outstanding customer experience their trademark. Unlike Apple, they mostly use observable actions as delight-techniques, seldomly backdoor-entries into the customer's mind.
To comprehend Disney's complex experience-making approach, take these three features:
1. Everything's a process
The Disney Institute has several times mentioned their key belief that there is nothing, which doesn't consciously or subconsciously influence a customer's experience. Simply put, "everything speaks."
Then, two years ago, Gregory Ciotti wrote about Walt Disney's obsession with processes and perfection to detail . For Walt, everything that could influence the customer experience had to be made scalable in a process. That's why in today's Disney cosmos, everything is a process. Often these consist of tiered sub-processes, and eventually, of actionable steps.
For example, Disney's process log for generally any process includes "Four Key Basics": safety, courtesy, showmanship and efficiency . Each of these are then followed up by two or three key behaviors to stick to, these are again followed up by specific actions to perform:
Safety → "I practice safe behaviors in everything I do" → "Be aware of surroundings and the hazards that may be present"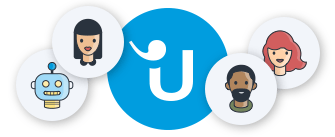 Looking for better customer relationships?
Test Userlike for free and chat with your customers on your website, Facebook Messenger, and Telegram.
Read more
Disney's "HEARD"-process log for recovery from a service failure goes "hear", "empathize", "apologize", "resolve", "diagnose". Their process log for defining the organizational culture consists of the sub-processes "employee selection, training, care and communication." Their process log for successful teamwork includes various ways to "be nice" . They have mathematical equations behind their queue management processes .
Walt Disney even had a refined process for brainstorming . His principles and process-affinity have manifested in astounding ways after his death.
For instance, in a park sound system of 15,000 speakers "using complex algorithms to ensure that the sound plays within a range of just a couple decibels throughout the entire park." This system can "slowly change the style of the music across a distance without the visitor noticing."
Many organizations would care about the right musical accompaniment for every presented theme in order to improve the customer's experience. But getting rid of even the most subtle irritations, like two melodies interfering on the lowest volume, that's typically Disney. A perfected, scalable solution for a problem most guests wouldn't even know exists.
2. Every employee is an actor
Every Disney employee, no matter if dressed as Mickey Mouse or custodian in all-whites, has to memorize answers to an FAQ, her role's lines if you will, to promptly and confidently react to any customer enquiry. As described in the point above, Disney is very clear about how "Cast Members" must appear and behave whenever they're outside the break room - "on stage." Don't be surprised to see that those cleaning up the park are artists, too .
Disney ensures the application of their rules through even more guidelines for their upper tier employees, the "Disney Leader Basics." These are told to "lead with a positive attitude and demonstrate commitment to Cast Members," know and manage their operation, "teach it to Cast Members," and "recognise and hold Cast Members accountable for delivering The Four Keys Basics." So, all leading personnel is basically supposed to stay in a role at all times as well, the one of a leader and role model.
A fitting anecdote: Walt Disney used to stroll through his own park in disguise to get an uncensored look at his employees and his guests.
3. Zero tolerance for inconsistency
Disney seek to present themselves in their best shape to all guests at all times, not only to the majority who streams in in the mornings. To maintain consistency, custodians are "constantly cleaning, sweeping and picking up," communications specialist Carmine Gallo reports .
Former Disney-employee Daniel Davey wrote about "strictly enforced rules on appearance that include facial hair, jewellery, footwear and hair styles." In other words, no individual employee in the park is supposed to be more or less special than the other, nor to ever deviate from perfection, so that any customer can feel special at any place and time.
Tesla
At the level of innovation at which Tesla Motors' technology ranks, it's naturally error-prone, just as Consumer Reports implied after pulling their recommendation for Model S. Also, a boss as outspoken as Elon Musk doesn't make it easier to slip under the covers when something goes wrong .
Consumer Reports reliability survey includes a lot of early production cars. Already addressed in new cars.

— Elon Musk (@elonmusk) October 21, 2015
Accordingly, one could assume that the Silicon Valley offspring is a company at constant danger to get in trouble with customers. But despite the frequent reliability issues discovered in Consumer Reports' survey, 97% of the interviewed stated they would buy the Model S once more.
Looking at an earlier example, we see that extreme customer loyalty is firmly established in Tesla's history. After they had presented their first model, the "Roadster", in 2006, Tesla failed to deliver the vehicles in time. Also, once handed over, many owners reported faults. As startup expert Ashlee Vance wrote in his Elon Musk-biography , this could have destroyed the company early on, or at the least repulse lots of customers. But it didn't.
On the contrary, Tesla raised a pack of cult-like followers who are willing to wait as long as three years for the newest model. Elon Musk knew from the beginning that Tesla's cars could be faulty for some time, while mass media and the industry would be critical. The solution: making up for it with exceptional service.
In practice, this means great responsiveness and speed, as you'll frequently hear from Tesla customers in need of support . Tesla keeps all people in sales or service on their own payroll. In Tesla's exclusive showrooms, customers can experience the cars right away, being walked through the technology by trained representatives. To not distract sales reps from their actual target, providing a great customer experience, they don't get commissions. Both strongly reminds of how things are done in Apple's Store.
"The Product Specialists are also trained to answer questions about electric vehicles in general, not just ours. They are not on commission and they will never pressure you to buy a car. Their goal and the sole metric of their success is to have you enjoy the experience of visiting so much that you look forward to returning again."
Elon Musk, 2012
Tesla's determination to keep everything in their own hands instead of outsourcing highlights their focus on great customer service as the brand's trademark. It's an expensive endeavor that also causes Tesla continuous trouble with car dealer associations . Tellingly, these seem to be scared that Tesla is paving a path for many other car manufacturers to follow, one that could eventually ruin the car dealer's business foundation.
In 2012, George Blankenship, at that time Tesla's VP in sales, gave insight into that part of the business' service approach that doesn't cost them extra:

"At Tesla, we have a goal that is painted on the wall in every new store we open around the world, and every day we aim to achieve it... Our goal is to deliver the most innovative cars in the world, to as many people as possible, while making them smile...everyday. We hope everything we do brings a smile."
While this sounds a bit obvious, Tesla takes smiles very seriously. Taking the scientific perspective, that makes sense. Making someone smile is an effective way to create a lasting, even symbiotic , relationship. Smiling relieves us from stress, grants relaxation, and lifts our mood. Our mood, then again, has a huge influence on consumer decisions and our opinion on a purchase.
As a former Tesla retail executive told Forbes , Tesla's product specialist "has a single job—to make sure that when you leave, you're smiling." That strong focus on customer satisfaction makes the company "intimately engaged with its customers, who act very similar to the old Apple fans in the 90s and aggressively defend the Tesla brand and cars," Rob enderle from TechNewsWorld analyzed . Maybe, we are yet to see an Apple-like customer service guide leaked in the case of Tesla.
Lessons learned
We looked at three companies famous for their amazing customer service. Amazing happened when a visionary approach was paired with detail-obsession.
The CX pioneers fiddled with logical frameworks in order to turn ideas into actionable steps. All of their approaches seek to make any customer contact situation fully controllable, to find equations for them. Then, to eliminate chance from that equation. One could say they invented 'hacks' for customer service.
All of the businesses featured in this post used their customer service reputation as an anchor when they were little in size and still vulnerable. It provided them with a foundation of customers to realize their risky ideas on.
Essentially, for these companies, what they sell and the way they sell it are the same thing. Everything surrounding the purchase is the purchase, its benefit, and part of the whole customer experience.
Another striking observation was the way in which the innovators communicated their ideas internally. If you look at the strict guides of Apple and Disney, the vision behind it speaks out of every line, sometimes coming within a whisker of sect-like jargon. Even though it's the foundation that their outstanding customer experience is built up upon, you won't sense those uncanny instructions when stepping into a disney park or Tesla/Apple store.
The leader has to be practical and a realist, yet must talk the language of the visionary and the idealist.

Eric Hoffer
Apple, Disney and Tesla don't only train their employees but also introduced a whole mindset to everyone in their companies, rigidly reviewing its constant realization.
Now, as an eCommerce company, you'll most likely not have a theme park nor even a stationary shop. But you can develop your own, precise guidelines and hacks for every person representing your business to apply.
---
This post contains affiliate links. As an Amazon Associate, Userlike earns from qualifying purchases. We donate all of these proceeds to our non-profit cause, the Atefa Girl's School .