7 Principles to Follow in E-Commerce Customer Service
Over the past eight years, we've worked on customer service projects with over 20,000 eCommerce businesses .
We've seen a lot of support setups. Combined with a steady information diet of digital service best practices and industry news, one can't help but develop a strong sense about what does and doesn't work.
Here are the seven customer service practices that we see the best eCommerce businesses have in common.
1

Focus on reducing effort

When people go shopping in the offline world, it's about social interactions as much as it is about the product.
Whether they're dragging their friends round stores to ask them what they think about an outfit or stopping for a coffee in-between, shopping is a social activity.
But when shopping online, people are really only guided by convenience. They want things to work as expected — and without any effort on their part. If they have to contact support at all, there's usually a problem that they want to be resolved quickly and easily.
For companies, this means shifting the focus from delighting the customers to eliminating high-effort customer experiences. This involves:
Making getting in touch as frictionless as possible
Minimizing channel-switching and customer forwarding
'Forward-resolving' issues to avoid repeated effort
Simple, clear and jargon-free website copy
Empowering frontline employees to resolve as many issues on first contact as possible
2

Prioritize digital contact channels

Many businesses hold on to the traditional contact channels: phone, email – sometimes even fax. The thought is that different customers prefer different channels.
But as Cynthia Grimm explains in When to Offer Fewer Customer Service Channels, few customers actually care about the means they use to reach out to companies. They only care about the outcome.
And in a digital environment, digital contact channels simply produce better outcomes and help you avoid common pitfalls in e-commerce. For your customers as well as your business.
Their features are much more in line with customer behavior. And a channel like phone support is expensive, too. You need the staff to keep up with the volume of calls at peak times, but they might be sitting idle at other times.
That's why, instead of simply adding digital channels, it makes sense to phase out old-fashioned channels like phone support.
For this reason, companies like Wistia and Squarespace decided to remove their numbers from their websites. They realized they could better serve customers online — where their customers are.
Online customers are looking for quick answers to their questions, so it makes sense to offer channels which allow them to contact you easily:
Live chat. When a customer has a problem online, they don't want to have to leave their computer to contact support. With live chat, you can help customers at the source of problems. As it lives on your website, you can also spot issues and reach out to customers before they contact you.
In our own live chat solution Userlike , we offer a real-time preview feature which lets the agent see what the customer is typing before they click 'Send'. This gives agents extra time to come up with an answer that will thoroughly resolve the customer's question. More speed, less effort.
Chatbots. For your customers who are active out of business hours, chatbots can provide instant, real-time support to customers. They can answer simple questions or direct customers to pages, blog articles or tutorials. As they won't be able to handle complicated issues, they should work in coordination with human agents.
To reduce frustration, always give the customer the option to escalate from a chatbot to a human – either through a forward or through the creation of a ticket.
3

Extend support beyond your online shop

Your influence does not have to end at the borders of your online shop. Instead, it pays to think comprehensively about your customers' entire digital experience:

Social media platforms. Since digital natives spend most of their time on social media, they also expect to see companies there and to have their questions on the likes of Twitter, Facebook, etc. without needing to contact support.

Customers don't have to follow the relevant company's profiles to complain about a bad experience on social media, so it pays to have a social media presence and proactively monitor mentions of your company with monitoring tools ( Hootsuite , Mention , to name but a few). You won't be able to avoid complaints entirely, but you will be able to lessen potential damage to your reputation by replying to every tweet, post or @mention.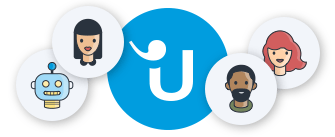 Looking for better customer relationships?
Test Userlike for free and chat with your customers on your website, Facebook Messenger, and Telegram.
Read more
Review platforms. Just as your customers talk about you on social media, they also talk about their experiences on review platforms. These reviews have a tremendous effect on the purchase decisions of potential customers.
Responding to reviews, whether good or bad, shows that you care about what they have to say. It can be tempting to ignore negative reviews, but transparency is the best policy.
Messaging apps. Your customers are the most active on messaging apps like WhatsApp and Facebook Messenger. As smartphones allow people to receive emails and notifications, wherever they are and at any time of day or night, customers' expectations for real-time order updates and confirmations are rising.
A good example of a company that leverages these channels is KLM . When you make a booking, you have the option of receiving your boarding card and flight details via Facebook Messenger, WhatsApp or WeChat. If you have a question, you can simply follow up in the relevant app.
As a direct communication channel, mobile messaging also works well. Customers are already messaging in their private lives, so it takes little effort for them to contact businesses. Because conversations can take place in real-time and offline, they don't have to wait around for a reply — they can send their question and get notified when the answer is there.
For businesses, the same benefits apply. When both sides are online, messaging works like live chat. When offline, you can serve other customers in the meantime and get back to your customer when it's convenient.
With our software Userlike , you have the convenience of live chat and mobile messaging in one solution.
4

Build in digital transparency

Digitalization has made our world much more transparent. In customer service, that's a good thing. It has become much easier to keep customers in the loop.

Transparency means giving customers full access to their order history and status. It also means keeping them in the loop if the resolution of an issue takes longer than expected. This eliminates uncertainty, makes delays more bearable , and avoids superfluous support requests.

Since digitalization has made a whole host of tools available, it makes sense to use them to improve customer service interactions . For instance, when tracking software can not only be used to facilitate delegation between teams but also to keep customers updated with real-time status updates.
5

Enable self-service

Most people conduct research online before buying a product. So, it's no surprise that customers look to self-service options for solutions to their issues, before reaching out to support.
Instead of speaking with humans, they want to find the answers to problems themselves online, whether via an FAQ article, how-to-video or a knowledge base.
This is good news for your business. Self-service scales. Your agents won't have to spend time answering repetitive questions and can dedicate the time to handling more complex issues.
There are a couple of ways to implement self-service:
A knowledge base. This is a section of your website that may include FAQs, manuals, video tutorials, etc. The content can range from the ins and outs of your product to information about your data privacy policies.
Customer education. This approach provides your customers with the tools to help themselves. The more knowledgeable your customers are, the more successful they will be with your products. A well-known example of this is Hubspot, which has built an entire academy around its software solutions.
6

Show yourself

Human contact still has its value in e-commerce. For complex issues or unexpected situations, customers would rather talk to a human being , rather than struggle through issues themselves.

Yet, many businesses make customer interactions feel inhumane by anonymizing emails from support departments, hiding their contact details on their website or with never-ending voice menus on the phone.

Transparency is crucial for humanizing the customer experience. That's why at Userlike, we encourage our clients' chat agents to use their real name and profile picture. A name and a face make customer interactions more relatable and more human.
You can also show your team on your "Meet the Team" page . Since it's about building a connection with your visitors, steer clear of bland, corporate descriptions and inject some personality into the page by sharing photos of your work culture or bios of each team member.
7

Measure your customer service

One of the great things about online business is that it's far more measurable than its offline counterpart. All online actions leave digital fingerprints, which means that you have much better insights into customer behaviors and actions. You can't tell how many people see the billboard you've taken out, but you can see how many customers convert after clicking a banner ad.
You can also measure the quality of your customer service much better through customer feedback. For feedback to be meaningful, it's ideally provided while interactions are fresh in customers' minds. Customers will also be more willing to give feedback if it doesn't require any extra effort.
Phone support is a clumsy channel for requesting customer feedback, but a channel like live chat makes it effortless .
To truly measure the success of your actions, here are some key KPIs worth tracking:
Customer Satisfaction Score (CSAT)
Net Promoter Score (NPS)
First Response Time
Customer Retention Rate
SERVQUAL (service + quality)
In e-commerce, where the competition is always just a click away, customer service is your most powerful weapon for standing out. Make your service easy and personal with the tools and tips mentioned in this blog post to keep your customers coming back to you.