7 Customer Service Tips From SaaS Professionals
Many companies follow a creative credo in their customer service efforts. Such a catchphrase works as a reminder to employees and as a marketable claim to the public. Too often, though, I see inexpressive slogans with no real insight or takeaway – reading like they're phrased by the marketing and not the service department.
That's why we got in touch with 7 employees from SaaS companies that are great at customer service, people who are actually in contact with customers on a daily basis. We asked them to shed the slogans and let us in on their actual strategy by sharing their top tips for better customer service.
---
The best customer support professionals in any industry are those that can successfully anticipate the needs of their customers. I learned this years ago, working alongside a Ritz Carlton concierge. For example, a hotel guest might ask, "Would you recommend a restaurant on the island?" This concierge would respond, "Why, yes, X,Y,Z."
He would talk with the guests for a few more minutes to gauge their excitement, then offer to book the reservation, the taxi, the pick up for after-dinner drinks, and suggest a lovely walk on the beach back to the hotel! The elegance and simplicity of that comprehensive experience still informs my work today.
At Wootric, the first time I hear from a customer, I learn their goals and what motivates them – why do they want implement a Net Promoter Score program? To reduce churn? Get a pulse of customer sentiment? Optimize their product or service? Knowing that enables me to anticipate their needs and present them with a plan that will give them success. It's about being the expert – their expert. It's so easy to be lazy and just answer the question. The real transformative customer experience comes when you can answer the five other unasked questions. It's in that moment that you win a customer for life.
Sarang Bhatt, Customer Success Manager at Wootric
---
I like to play the game: how much "yes" can I give along with a "no" . What I mean by that is if I can't say "yes" to something outright, I try to find a creative solution to the problem a customer is having – even if what they are asking for directly isn't possible. If there's no workaround, there's typically another way to look at the problem that will solve the root of what the customer is trying to solve. Trying to actively seek how I can answer "yes" to a "no" question helps me to look at all possible ways to solve a problem before administering an answer. Obviously sometimes you need to give a hard "no", but usually there's a couple of yesses hiding under the surface!
Mo McKibbin, Customer Champion at Help Scout
Twitter: @MoMcKibbin
---
"Solve for the customer, every time." SFTC is part of our culture at HubSpot and the backbone of support.
For our team, it gives them them autonomy to go above and beyond, spending as much time as necessary to find a complete solution. For our business it means we prevent costly customer frustration, internal escalations, and repeat calls. And most importantly, it means we can offer the highest level of service delivering customer delight and long term success.
Niall Byrne, Director of Support at HubSpot
Twitter: @BoundingIn
---
Especially for those online shops whose bread and butter is a volume of small sellers, functionality and accessibility matters a lot. Which is why you have to approach their issues with the necessary amount of sensitivity and appreciate that inquiries can quickly get emotional here.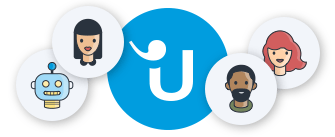 Looking for better customer relationships?
Test Userlike for free and chat with your customers on your website, Facebook Messenger, and Telegram.
Read more
Then it's not so much a question of finding a technical solution that covers all of the customers' needs, but much rather one of approaching them on a personal level and taking care of their problem. If you meet your counterpart on eye level you can de-escalate any inquiry within seconds.
Andre Vennemann, Account Executive at Shopware
---
Hoteliers are happy when they work with companies and online marketing platforms that deliver fast, qualitative, and innovative solutions. To do this, trivago's Hotelier Care team began to use an instant chat function to communicate with hoteliers in real-time. Our satisfaction rating tells us that more than 9 out of 10 hoteliers value this direct line of communication immensely. Now that we're well on our way to delivering the exceptional service that hoteliers deserve, we see the direct impact that chat has had on our customer service strategy.
Ioannis Savvidis, Head of Hotelier Care & Operations at trivago
Twitter: @js_trivago
---
As a company that builds software to measure customer satisfaction with Net Promoter, we have a great responsibility to demonstrate how to succeed with customer happiness, which we take very seriously. One of the ways we do that is to make sure customers feel like we've gone above and beyond, but also feel that they've been educated at the same time.
I've had many customers that have had issues, and instead of telling them what to do, I'll make magic happen so they don't have to touch a thing. At the same time, I try to educate them as much as possible so they're aware of what to do and where to go for success the next time around.
Caitlin Daily, Head of Customer Support at Promoter.io
Twitter: @CaitlinDaily8
---
Customer support means finding a mutual foundation for respectful, efficient communication. This means we always look for that spot on which we can meet the customer to establish a conversation on eye level. This is a lot about flexibility, too. All too strict rules of conduct can constrain you in that respect. If a customer doesn't have a great affinity for technology, it's crucial to provide the required information in a language that he understands, not one that's riddled with terminology. It doesn't matter to the customer whether these are the terms you're used to from internal communication. And why would it? Understanding and being understood is the basis of any successful customer interaction.
In customer support, we follow the old and popular philosophical rule: We want to treat customers like we would like to be treated ourselves. Before any customer interaction, it's good to swap roles and ask yourself these two questions:
What does the customer want to achieve?
Which challenge does he currently face?
If we can answer these questions we also know how to help best. After all, it's our goal to release any customer with a feeling that they've been understood, that they've been at the best place to have their questions answered, and that all possible avenues have been exhausted in order to help them.
Jörn Knauer, Customer Success Manager at Userlike
Twitter: @Nakanaro