9 Customer Responsiveness Tips With Instant Results
In the age of instant gratification, sooner is better than later. Faced between the choice of an immediate reward or a delayed reward of higher value, we'd opt for the lower-value immediate reward. This behavioral bias, known as hyperbolic discounting , also translates to customer service.
According to research from Forrester , 55% of customers would abandon an online purchase if they can't find a quick answer to their question.
While speed is important, so is the quality of the service you provide. It doesn't matter how fast you respond to customers if they have to keep contacting you to get their issues resolved.
Customer responsiveness is about speed and quality. Here are tips and tools to boost your responsiveness:
1

Optimize your website speed

When a visitor lands on your website, they form an opinion of your business based on how quickly your website loads and its usability. If you have a slow loading website, it sends a signal that you don't care about their experience or their custom. But just how fast does your website need to be?

Google recommends aiming for a three-second load time for mobile sites, and under for full sites as most websites tend to be optimized for the desktop.

Any slower and the probability of your visitors bouncing increases. What's more, the speed of your website affects your rankings in Google — if Google considers your website load speed to be too slow, it will push your website further down the search page results. Not only will you lose existing customers but future ones as well.
Google offers a helpful tool, Page Speed Insights , to determine the speed of a website page. Alongside your site speed score, the tool also offers suggestions for improving it.
2

Offer live chat

When it comes to responsiveness, live chat is the preferred channel for 46% of customers .
When a customer has a question before making a purchase, they're usually looking for an instant response. With live chat , you can clarify doubts on the spot and accelerate the decision-making process.
What's more, issues tend to be resolved more quickly in live chat sessions than with traditional channels. As conversations take place in real-time, the back-and-forth of e.g. email is avoided.
With our customer messaging solution Userlike , we offer a feature that shows the agent a real-time preview of what the customer is typing. This gives them some extra time to come up with the perfect reply for an extra fast response.
3

Use a chatbot

Live chat is fast but requires you to be online when your customers are . Having enough staff to cover peak times can be costly if they're left with nothing to do in quieter periods. That's where chatbots can help.
When your live chat tool is connected to a chatbot, your customers can be supported 24/7 no matter the time of day or night. They're also great at multitasking, unlike humans, so your customers don't have to wait long for a response.
While chatbots are effective at answering basic questions (e.g. order updates, product availability, etc.), they're less adept at handling complex questions (e.g. transaction issues).
That's why LogoEnergie , a German utility company, coordinates its chatbot efforts with humans. When a customer contacts LogoEnergie, they're first connected with Henry the chatbot. If the request is too difficult to handle, he forwards it to a human. Outside of service hours, tickets are created for complex cases that agents can pick up when they're back in the office.
Ultimately, it is left to the customer to decide if they want to be served by a chatbot or a human. This puts the customer in control and reduces the risk of customer frustration.
4

Provide mobile messaging customer support

Customers seek the same fast and convenient way to contact companies as they do friends and family which makes mobile messaging an ideal communication channel for customer service.
Like website chat, customers don't need to search for a contact option. Once you've made it into your customers' contact lists, they can send you questions as they arise, reducing effort on their part.
Because mobile messaging is asynchronous, there are no waiting lines. They can put their phone away, get on with their day, and get notified about your answer whenever it's there.
And, as past conversations are quickly visible in the window, there is no need for customers to repeat themselves which means faster resolutions all round.
For more information, check out our article on The 9 Best Messaging Apps for Customer Service.
5

Monitor social media

Social media has disrupted the way customers communicate with companies. At any given time, customers can express their dissatisfaction on Facebook and Twitter if they have a bad experience.

This means businesses no longer have time to collaborate with PR teams to prepare a carefully, worded response.

What's worse, customers don't even need to follow your business on social media to vent about you to their followers. This makes it crucial to stay on top of every tweet, post or @mention.

You could spend all day on Facebook, Twitter, Instagram, etc. but then you wouldn't have time for anything else. Instead, you'd be better off investing in social media monitoring tools that allow you to automate your responsiveness. Here are a few which you can use:
Hootsuite: Lets you monitor conversations relevant to your business, your industry, and your products. This tool includes an app for searching Reddit , one of the most popular social news platforms on the Internet.
Google Alerts: Allows you to monitor the entire web for mentions of your company. Simply type in a keyword or phrase in the relevant box and you'll get an email notification every time Google finds results related to your search term.
Mention: Mention allows you to monitor the web for topics and phrases that are of interest to you. That includes social media, but also sources like press articles, review sites, blogs, etc.
6

Set expectations for service channels

How fast you need to respond to your customers will depend on the communication channel. According to research from Statista , the expectations are high for web chat and chatbots, and from there, face-to-face, phone, apps, social media, web contact form, and email.
While you want to avoid keeping your customers waiting, it's equally important to resolve their problems thoroughly. To avoid compromising quality for speed, it's important to set the right expectations with your customers . If customers understand when to expect a response, they might have a better customer experience.
For example, you could set up auto-email responses to let customers know of your hours of availability and make that clear on your website. As a known wait is better than an unknown wait , make sure to specify a timeframe for the expected response instead of giving vague promises such as "we'll get back to you as soon as possible."
7

Use canned messages

Canned messages are another way to boost your response times. These are pre-written messages which agents can use to reply to recurring questions, saving them the effort of rewriting the same replies over and over again.

Live chat is all about speed which makes canned messages indispensable for this channel. They shorten response times while ensuring responses are accurate and consistent.

Most chat tools come with a built-in canned response functionality which we refer to as Chat macros at Userlike. Alternatively, you can use an app like TextExpander that transforms keywords into short phrases as you type, e.g. FYI becomes "For your information."
Text expansion apps work equally well in managing email overload. However, you may want to use your email provider's built-in messaging features for larger blocks of text.
For best practices on canned messages, check our post The Best Canned Responses for Business and Support .
8

Self-service

Customers prefer the path of least resistance . If they need to contact you at all, they want to do so as easily and quickly as possible. Self-service options such as FAQs or a knowledge base give your customers answers to their questions when they need them without having to wait in line.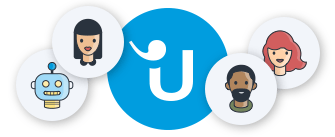 Looking for better customer relationships?
Test Userlike for free and chat with your customers on your website, Facebook Messenger, and Telegram.
Read more
Your customers are not the only ones to benefit from self-service options. Agents often waste valuable time searching for the information they need to answer customers' questions. A knowledge base makes information available at their fingertips and boosts their responsiveness.
For options to be effective, the information must be correct, clear and consistently updated.
9

Train your employees

It's not just your tools that need to be responsive, but your employees as well. The more product knowledge they have, the better equipped they are to resolve queries quickly and efficiently. Training boosts speed which has a knock-on effect on customer loyalty .

Your agents also need to be empowered to make their own decisions and bend the rules . If your agent knows the answer but has to escalate to senior management, it lowers your response times and negatively impacts the customer experience.
When it comes to people, customers expect the same quick response they are used to getting from electronic equipment and technology.

Shep Hyken
Impatience is usually considered a vice, not a virtue. However, history has shown us that there is a really strong correlation between being fast and being effective.
In customer service, moving fast has many benefits. It stops issues from escalating into bigger, more challenging problems, it enhances the customer experience and more importantly, secures your customer's trust — which is a step closer to gaining their loyalty.