Meet Chat Butler – Your Robotic Support Sidekick
Meet the new member on your team: Chat Butler. This support chatbot welcomes your web visitors when none of your operators are online, collects customer questions, and calls your operators to answer the chat.
The need to always be online is undoubtedly the biggest hurdle for offering live chat support. That's why we built Chat Butler.
How Chat Butler works
Instead of always being available in the Chat Panel, your support team can now get notified by Chat Butler about incoming chats through e.g. Slack. The fact that multiple people see the notification strongly reduces the chance of a chat being missed.
When no operator comes online in time, Chat Butler creates an offline message out of the customer request instead. You can also set the days of the week and the hours during which you'd like your Chat Butler to be available. When he's inactive, your web visitors will receive the normal contact form.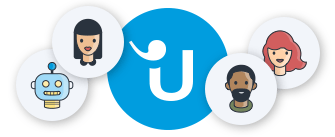 Looking for better customer relationships?
Test Userlike for free and chat with your customers on your website, Facebook Messenger, and Telegram.
Read more
Chat Butler works together with our Slack and EmailTicket integrations, which means that it's available from Team on. Slack is our favorite use case, because many on your team will already be online. Check out the tutorial for more details.
Chat Butler's personality
Chat Butler's personality has been inspired by Slack's Slackbot . It's friendly, informal, and simple. Simple bordering on dumb :)
You're free to change Chat Butler's lines and operator image in the Widget Editor, but we would like to explain why we've made him this way.
In accordance with our principles of good customer service , we want Chat Butler to create the right expectations for your customers.
The biggest risk with offering a chatbot for support is that customers will think they're talking to a real person or an AI. To avoid the uncanny valley of customer service , it should be clear from first sight that:
You're talking to a chatbot.
Its only purpose is to collect the question and connect with an operator.
So while you're free to add Chat Butler's name, lines, and image, we'd like to give you a few tips to avoid confusion:
Don't use a human picture.
Don't use a human name.
Keep the texts simple and stick to their core meaning.
Ensure that the singular purpose of Chat Butler (forwarding chats to real operators) remains clear.
Plan.io did a great job at morphing Chat Butler into their own Mister Planio:
This is Chat Butler 1.0. We're new to the chatbot game, so we expect some flaws. Try him out, tell us your thoughts , and we'll use it to optimize!