B2B Customer Service: Unique Challenges and Best Practices
Business-to-business (B2B) customer service is quite a different beast than its business-to-consumer (B2C) counterpart.
Besides playing a more prominent role in the company's value offering, B2B customer service faces a number of unique challenges.
We sat down with the support leads of various leading B2B companies to discuss these challenges and to collect their most important tips for overcoming them.
The unique challenges of B2B customer service
High stakes. B2B products have larger accounts with revenues that can run into the thousands or millions. Products are generally purchased not for individuals, but for entire divisions or companies.
What's more, if your product doesn't live up to standards, it can cost your customers a lot more than they're paying you. The more mission-critical your product is, the costlier when things go wrong. High stakes bring high pressure, and you will notice this in your customer interactions.
Product complexity. B2B customer service issues tend to be more difficult to resolve because of the complexity of the products.
B2B offerings are often tailored to the buyer's processes. Customers have very specific needs. This means that products tend to be more bespoke and require a lot more fine-tuning, which adds to the complexity.
B2B customers usually reach out to Customer Support with more complex issues compared to those that B2C support teams have to solve. Business owners are tech-savvy and eager to self-serve, so when they do contact support, it means they've come across a challenging roadblock.

Mara Vicente, Head of Customer Support at Pipedrive
Group communication. In B2C, the contact is with a single individual — the one who bought your product. In B2B, you are dealing with an organization made up of many people.
Contact often won't be limited to one person. Multiple people from the same company may call about the same issue. They may not even communicate with each other or have access to the same information.
One of the biggest differences in offering support to B2B customers is that you're often talking to users who weren't part of the decision-making process to use your product.

Rachel Brocklehurst, Customer Support Lead at Capsule
What's more, if your main contact person at your customers' company leaves, you'll need to start all over again with another stakeholder who might not have the same level of knowledge.
Politics. With multiple stakeholders involved, decisions may not always be made in the best interests of the company. Stakeholders have their own goals, priorities and interests .
Some managers may be concerned with, say, increasing productivity. Other managers may be more interested in expanding their network and advancing their career. If the project doesn't serve their interests, some of these stakeholders could completely derail a project.
Second-order empathy. In B2C, you only have to empathize with the customer in front of you. In B2B, the customer in front also has a customer to serve. So besides empathizing with your direct customer, you need to be able to empathize with the end customer (your customer's customer). We call this "second-order empathy".
Customers don't buy products, they buy solutions. To understand the problem your direct customer is trying to solve, you need to be attuned to your end customers' needs.
In building Userlike, for example, we don't only look at how the chat agents use our solution. We look as much at what their customers – their web visitors – expect from a chat support experience.
Long sales cycles. In contrast to B2C transactions, B2B products tend to have long sales cycles. Buying software or large machinery is not a decision businesses make at the drop of a hat because of the higher costs and formalized decision-making processes.
The customer who makes the initial contact is often not the one with the buying power. They will need to consult multiple stakeholders which can make for a long and drawn-out process.
---
These are the challenges of B2B customer service, but how do you tackle them? Here are eight best practices:
1

Hire right
The long-term nature of B2B makes relationships the bedrock of B2B customer service. This places the emphasis on hiring the right people to forge those relationships.
While some skills can be trained, employees should ideally come to the table with the skills and traits . These are required to "really understand your customers, read between the lines of what they're asking for, and truly empathize with any issues or frustrations they have" in the words of Rachel from Capsule.
This point about hiring was also stressed by Mara:
Set your mission and your values and hire well! Pipedrive is known for its multi-level hiring process for any position in the company. This ensures that any potential employee resonates with our mission and fits with company values.

The end goal is to gather around you bright, collaborative, and good-hearted people who understand the value of their work and the impact it has for the whole business. No matter what changes, you know you have a trustworthy team who do their best for your customers and take pride in how well they perform.

Mara Vicente, Head of Customer Support at Pipedrive
2

Invest in the right tools

The importance of the right tools is often underestimated. In B2B customer service, they help you deal with the inherent complexity.

CRM software. When dealing with multiple people at the same company, it's challenging to remember a specific conversation or the points previously discussed. Different people from your company will likely also interact with your multiple contact persons, which easily leads to mix-ups and misunderstandings.

Customer Relationship Management (CRM) software helps manage those interactions. As Anna Ignatenko, Head of Customer Support at Ahrefs points out: "If all support communication is gathered in one place, your teams won't have to go and check for information in different places. This allows issues to be resolved quickly and efficiently."

Issue tracking. B2B issues often require the service team to delegate to other individuals or teams. Without a tracking system in place, there may be confusion about the status of a ticket and who is handling it.
Organize perfect communication between support and dev/product team so that users' requests might be looked into and resolved ASAP.

Anna Ignatenko, Head of Customer Support at Ahrefs
Customers need their issues to be resolved quickly if critical business processes are impacted. That's why it pays to invest in software that can track all those issues and that speed up the process. Real-time notifications can be set up to keep customers in the loop.
Website chat and messaging. When considering a purchase, customers typically have a lot of questions because of the complexity of B2B products. They may need more in-depth explanations or more supporting content to help them make up their minds.
Website chat is well-suited to guiding customers throughout their journey due to the fact that it's real-time and on-site. To deal with more complex conversations, we've added an audio calls feature into Userlike. This allows you to escalate from a chat to a call when you need to.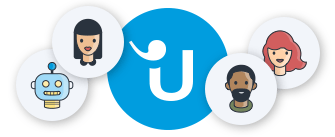 Looking for better customer relationships?
Test Userlike for free and chat with your customers on your website, Facebook Messenger, and Telegram.
Read more
Once a customer has started using your product, they'll likely have questions regarding its features and the technical aspects. Messaging support over channels like WhatsApp and SMS is ideal to sustain such long-term communication.
Live chat and messaging also both offer the benefit of instantly documenting interactions . This makes it easier to keep track of who said what and to collaborate on issues in a team.
3

Onboard and educate your customers

Because B2B products are more complex, customer education is paramount. Product knowledge boosts customer value , which is why it pays to invest in customer onboarding .
In customer onboarding, it's important to realize that users differ in their objectives and backgrounds. Someone responsible for the technical implementation needs a different onboarding than a sales executive.
What's more, new users joining an existing account tend to lack the larger perspective from those who researched and decided for the solution:
New users joining an existing Capsule account won't always have had the time or opportunity to research Capsule and might have received very little in the way of training. So even for established customers, there's an ongoing need to educate users on the product and how it fits and enhances their processes.

Rachel Brocklehurst, Customer Support Lead at Capsule
Customer onboarding and education shorten the time it takes customers to reach their goals, minimizing the risk of churn.
4

Documentation tailored to your personas

As B2B products are more complex, you'll have different types of people who will want to learn about your product from different perspectives.

With our software Userlike, for example, the chat agent needs tips and how-to's for chatting; the developer needs tutorials for website implementation and API integration; the data privacy officer needs security documentation, etc.
Start your help center early. It will be useful for onboarding new support team members as well as for educating your users.

Anna Ignatenko, Head of Customer Support at Ahrefs
A self-service solution can complement traditional support by providing customers with the tools and resources to resolve common issues themselves.
It's also really important that your support documentation not only covers the "how" of a particular feature but also why this is important for the customer and the benefits it can bring. Here at Capsule, we've recently overhauled our support site to add more context to the different areas of the system, as well as restructuring articles in line with how users use Capsule, rather than feature-specific articles.

Rachel Brocklehurst, Customer Support Lead at Capsule
A blog can also be an effective way to provide customers with in-depth and contextual information. Our blog at Userlike includes updates on product features as well as tips on best practices for customer service and sales.
5

Adopt an all-hands-support approach

In B2B, the specificity of your customers' challenges makes it hard for employees to truly empathize with their customers. If you've never maintained servers yourself, it's hard to imagine the challenges.
To mitigate this, companies such as Zapier have adopted an 'all-hands' approach to support. It's the idea that everyone in the company spends time answering support queries, whether you're an engineer, a developer or a product manager.
This benefits all teams: it lightens the load for support teams, teaches salespeople and marketers about the product they're selling, and is invaluable input for product development.
Most importantly, all-hands-support instills empathy throughout the company. When engineers experience their customers' pain, they tend to resolve problems faster, as noted by David Cancel, CEO of Drift :
Doing all company support gets engineers to solve customer problems faster. They are hearing about the problem first-hand, they can empathize with the customer. Those same engineers would be skeptical if they heard about these problems second-hand. Then the customer is blown away that they are talking to someone who actually can solve their problem.
6

Take ownership to solve complex scenarios

At times, the fastest way to resolve the customer's problem may be to carry out the required changes for them. Taking ownership is another way to demonstrate empathy and shows that you're accepting responsibility for the problem being solved.
When a customer comes to us requiring a password reset, but the account owner is no longer working at their company, I often just jump in to make the desired change for them. With their permission, of course. This is better than making them jump through hoops.

Michael, Customer Support Lead at Userlike
7

Maintain a customer health score

The average B2B sales cycle spans several stages and many interactions. Customer health scoring helps you monitor those interactions and measures the current state of your customer's relationship with your business.
Define clear goals and track your performance. It's good to know how far from the success you are and what steps you need to take to get there.

Mara Vicente, Head of Customer Support at Pipedrive
If there are customers who need extra attention, you'll be able to identify these before they churn. For example, if product adoption rates for specific features are low, you'll know you need to invest in more training, one-to-one sessions, etc.
For more tips, check out article 5 Quick Tips for Building a Customer Health Score.
8

Have a team of key account managers

In B2B, it's common to have fewer customers with large accounts. These accounts often comprise a disproportionate amount of the revenue, which means losing one of them results in significant financial losses.

That's why it makes sense to have a team of key account managers in place. Key account managers nurture the relationships with your most valuable accounts and ensure that their needs are met.

What sets them apart from other support functions in the company is their proactive approach. Rather than waiting for their customers to contact them, key account managers continually check in with them to anticipate and resolve problems before they arise.

With the involvement of multiple stakeholders, it can be difficult to gain a holistic view of your customer. Key account managers make this possible by bridging the gap between the different teams at your customer's company.
9

Forge relationships with multiple people at your customer's company

As discussed, you'll need to deal with multiple people at your customer's company.

If you invest your time in only one contact who ends up leaving the company, you risk your relationship with the entire company. To avoid this happening, it's in your best interest to build relationships with more than one person at your customer's company.

Some ways that we do this at Userlike is by connecting with our contacts on LinkedIn and by hosting dinners for our customers. These get-togethers provide an opportunity to discuss a wide range of topics and to get to know our customers better.
10

Have multiple relationship people at your company

In the same way that contacts at your customer's company could leave, key contacts in your company could also leave, taking their knowledge and relationships with them.

For important accounts, it makes sense to have multiple connections from your company to theirs to mitigate this risk.

In professional sports teams, players come and go all the time. That doesn't hurt the emotional connection that fans feel with the club, as long as this process is gradual. Similarly, it pays to always have some familiar faces in your team for your customers.
More than just challenges
Besides all the challenges, it must be said that B2B customer service is above all a highly rewarding area to work in. You have the privilege of interacting with interesting people on a daily basis – entrepreneurs, directors, and all types of people doing all kinds of interesting work.
Businesses often rely on your services to do inspiring things. It's a great thing to be helping them to get a little better, in whatever way that is.
I'd like to thank Rachel from Capsule, Mara Vicente from Pipedrive, Anna from Ahrefs, and Michael from our own support team here at Userlike for their insights.