The 11 Major Developments Over the Past Quarter
Over the last quarter, we've been adding plenty of features and improvements.
Here's an overview of the most important changes.
1

Leaving the Unified Messaging beta

In August, we left the Unified Messaging beta phase. This means that:
Unified Messaging is now the default product for new signups and our users of the Free product.
Our new product makes it possible to offer website chat and messaging support through dedicated apps such as WhatsApp and Facebook Messenger.
If you're on a paid plan, you can still use the old Live Chat product and make the switch manually.
You can read more about our journey in the article Unified Messaging or: Why We Rebuilt Our Entire Product
2

Inactivity prevention

Our new inactivity prevention options ensure that no conversation goes unanswered.

With live chat, the faster the response the better. But, it's natural you'll forget to put yourself on Away when you're on a break or miss notifications if you get caught up in another task. In those cases, it's important to define what happens to the chat, so your customer still has a good experience.

You can now set a timer and define what happens after the set time has passed, e.g.
Live: send an inactivity message after 2 minutes if no operator response
Offline: reassign to another operator after 12 hours if no response
You can learn more about this feature in our blog post What's New: Inactivity Prevention, Out-of-Office Mode and More .
3

Reassigning conversations for returning visitors

What happens if your contact returns to a conversation, but the assigned operator is no longer online?

With the 'reassign revisiting contacts to an online operator if assigned one is unavailable' setting in the Widget Editor, you can now immediately reconnect this contact with an operator who is online. If no operator is available, an automatic offline message is sent instead.
Further information on this feature can be found in our blog post What's New: Leaving the Beta Phase, Analytics Raw API, Messenger API, and More .
4

Out of office

To make sure that open chats don't go unanswered when an operator is on vacation or otherwise, we've introduced a new 'Out of office' feature.
When this box is checked, an open conversation is automatically re-routed to an available operator. That way, the customer doesn't have to wait around for a reply or open a new conversation. The out-of-office operator is also excluded from re-routing which means that no new conversations will be assigned to them in their absence.
You can read more about this feature in the blog post What's New: Inactivity Prevention, Out-of-Office Mode and More .
5

Email replies when offline

One of the main benefits of our new product is the possibility to take live conversations offline.

When a customer leaves a question while your agents are offline, you can respond at a later time and they will be notified of your answer via email.

This email contains a link which the customer can choose to follow to go back to your website, but they can also simply hit 'reply'. You can now define where your contact's answer should go: should it land in your Message Center, or should it go to a predefined email address?
You can read more about this feature in the blog post What's New: Inactivity Prevention, Out-of-Office Mode and More .
6

Analytics improvements

Chat analytics are important for measuring the performance of your service. We've now implemented a brand-new Analytics API that allows you to extract data from UM and import it into your own tracking solution.

In the Analytics area of the Dashboard, you may have noticed that many KPIs have been duplicated with a "service times considered" section.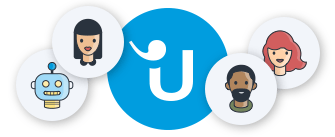 Looking for better customer relationships?
Test Userlike for free and chat with your customers on your website, Facebook Messenger, and Telegram.
Read more
This is because you'll likely have different standards for how your service performs depending on whether conversations take place within or outside of your service hours:
First response time (live and asynchronous, i.e. when no operator is available)
Response time (live and asynchronous)
Contact response time to offline operators
7

Messenger API

With our Messenger API, you have more options for controlling the behavior and integration of the Website Messenger. Some ideas on how you could use this include:
Only showing the Website Messenger after a cookie consent
Triggering the chat when your customer's shopping cart value exceeds a certain threshold
Loading/removing the Website Messenger on larger single-page applications
The Messenger API is available from the Business plan onwards. You can learn more about its functionalities in our tutorial.
8

Transcript email logo change

We've made a slight change to the email design on transcripts and the contact email notifications sent to your customer's email address.

Instead of the Userlike logo appearing at the top of the email, we've now moved it to the bottom, so that it's not so prominent.

For Business plan subscribers, there's the option to remove the Userlike logo and add your own. You can do this in the Widget Editor under 'Wording' > 'Transcripts'.
9

Configurable columns in the All Conversations area

To make Userlike more customizable for operators, we've made the conversations in the All Conversations area configurable.

Every operator can now create their optimal setup by choosing which columns they want to show or hide, and in which sequence they should be ordered.
10

Audio calls
In September, we announced an exciting new feature that combines the benefits of phone support and live chat: audio calls . Available from the Corporate plan onwards, audio calls allow your operators to escalate live conversations to in-browser audio calls when topics become too complex or you need to build up a rapport with a lead.
You can learn more about this feature in this blog post.
11

Chatbot beta

With our last release, we added chatbot features to Unified Messaging. These features offer improved options for messaging that weren't possible with our old product. They also work across your Website Messenger, WhatsApp, Facebook Messenger, Telegram, and even SMS
Note that developer experience is required to set up your chatbots. Our blog post goes further into detail and walks you through your options.
Our new chatbot features are still in beta and only available from the Business plan onwards. To join the beta phase, apply here.
We hope you enjoy the improvements to our product. Let us know how they work out for you.
Happy chatting!