WhatsApp Business API – All You Need to Know
With more than two billion users WhatsApp is not only the most popular messenger app for talking to friends and family. Businesses are increasingly turning to WhatsApp as well to connect with their customers on their favorite channel.
There are many good reasons to use WhatsApp Business – for you and your customers.
Most people open their messenger apps several times per day. WhatsApp is the easiest, most convenient way for your customers to get in touch with you because it's already part of their daily habits .
Mobile messages see open rates of 98 percent (compare that to email, which is just 20 percent ). Avoid crowded inboxes and establish a direct, long term connection with your customers.
Messaging allows you to react faster to customer requests and solve questions before they put them off the purchase. That boosts your conversion rate and increases your customer satisfaction .
Customer service has never been more convenient, efficient – and fun ! Share text messages, emoji, images and files of any kind with your customers.
WhatsApp Business API allows medium and large businesses to get in touch with their customers worldwide. But getting access to the API can be complicated. WhatsApp opens up only slowly for commercial use.
In this post you'll learn what the WhatsApp API is, the features it offers and how you can get started with the WhatsApp Business API by Userlike in three simple steps.
1

What is WhatsApp Business
Aside from the popular app you know from your personal use, WhatsApp has two options for businesses. Although they have a similar name, they're quite different from one another in their feature set, costs and the use cases they support.
The WhatsApp Business App is the right choice for small shops such as PetChef , a service that makes and delivers pet food in Brazil. It's available for free for Android and iPhone and comes with basic features for support, like fast replies, labels and a business profile.
The biggest downside is that the WhatsApp Business App was built for handling individual conversations. Customer requests need to be answered on one mobile phone where the app is installed. That's why using the app in a larger service team is not scalable. It's also controversial in terms of data privacy and might not be compliant with the GDPR, which is an issue especially for European businesses and those who operate in the EU.
To give larger businesses a scalable solution that they could tailor to their needs, Facebook introduced the WhatsApp Business API in August 2018. This application programming interface (API) allows businesses to receive and answer unlimited WhatsApp messages from their customers.
In contrast to the WhatsApp Business App, the API is not an out-of-the-box solution and doesn't come with its own front-end interface. Businesses integrate the WhatsApp API's endpoint to their customer communication software, for example the customer messaging solution by Userlike.
Choosing the right platform is crucial because the features that are available to you for WhatsApp support and how well this channel fits into your existing processes in general highly depend on it. We'll take a look at how the integration works and what you should pay attention to in section six below.
KLM, Atletico de Madrid and BMW are already successfully using the WhatsApp Business API in their customer communication.
With WhatsApp, we could boost our brand and keep customers informed about their flight details in a non-intrusive manner.

Martine van der Lee, Director of Social Media, KLM Royal Dutch Airlines
You can learn more about the differences between the WhatsApp Business App and the WhatsApp Business API – and which solution is the right fit for you – in our dedicated beginner guide .
In this post, we'll focus on the WhatsApp Business API. With features like a business profile, message tools and a high data privacy standard, it provides you with all you need for using WhatsApp at your company.
When you sign up for WhatsApp Business, your account is automatically listed as a business account . Unlike regular, private accounts, these come with a business profile for branding.
Customers starting a chat with you will be able to see your company name and logo at the top of the conversation, even when they don't have you saved as a contact.
When they click on your profile, they'll see all relevant information at one glance: a cover photo, description, address, email, website and your business hours. This clearly connects your WhatsApp profile with your brand, explains the service you offer on this channel and presents customers alternative ways to reach you or learn more.
Another type of WhatsApp business account is an "official business account" These are verified by WhatsApp and adds a green tick next to your name as proof of authenticity. A verification adds more trust in your customer communication, however, only "notable brands" tend to receive it and the application process can't be influenced.
Are you wondering why WhatsApp open rates are so much higher than for email? The app is free of spam and newsletters.
Keeping it that way is a crucial priority for WhatsApp because opening the platform for businesses carries the risk of upsetting users – and losing its pole position as the most popular messaging app.
Promotional messages, spam and broadcasting (sending bulk messages, e.g. newsletters) are generally permitted in WhatsApp Business. This includes coupon codes, gifts, upselling and cold call messages but may also apply to certain words or phrases that make a message sound too promotional.
But there are some more rules in place that ensure customers have an experience that's relevant and provides value.
Opt-in
You can only send messages to people who (1) have already sent you a message or (2) have actively consented to receiving WhatsApp messages from your business (e.g. by entering their phone number or checking a box to indicate consent).
Reaching out to people who have opted-in works through template messages (more on that below).
Session Messages
Communication with Whatsapp Business works just like you know it from talking to your friends and family on the app. You can easily send text messages, emoji and stickers and share weblinks, images, videos and attachments such as PDFs.
What's unique to the WhatsApp Business API, however, is the "service window." You only have 24 hours to answer an incoming request. Customer messaging should create a direct mode of communication and this rule incentivizes resolving requests fast.
If you miss this window after 24 hours pass you'll need to ask your customer for permission to contact them again with a predefined message template.
Automation (i.e. chatbots ) is allowed during the service window when a handover to a human service agent is available.
Template Messages
Template Messages play a major role in communication over the WhatsApp Business API. They allow you to automate large parts of your service process by sending out predefined messages in large volumes, for example order confirmations, appointment reminders or shipping updates.
These types of messages are strings of text and placeholders for automatic personalization (e.g. the name or date). WhatsApp Business provides a selection of pre-approved template messages for common service scenarios.
You can also create your own template messages for individual use cases. WhatsApp wants to prevent businesses from using templates messages to send promotional bulk content to customers outside of the 24-hour service window. That's why all template messages need to be approved by WhatsApp before you can start using them. This process typically takes one to two weeks.
Whatsapp also charges a small fee for all template messages you send after the 24 hours passed. We'll get back to that in section five where we cover costs for the WhatsApp API.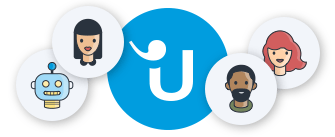 Looking for better customer relationships?
Test Userlike for free and chat with your customers on your website, Facebook Messenger, and Telegram.
Read more
To sum it up, using the WhatsApp Business API is especially interesting for use cases where users want to receive information from a business directly. Popular examples include boarding passes, return shipping labels and product brochures.
4

End-to-end encryption and data privacy
Data privacy is a crucial topic in customer communication and a must when introducing a new contact channel.
The WhatsApp Business API's secure setup enables companies to use WhatsApp in their customer communication. Messages are end-to-end encrypted, which means WhatsApp or other third-party providers can't read them – making this solution more secure than a conventional email.
When you're working with a provider such as Userlike, all data will be hosted in data centers in Germany . This guarantees a GDPR-compliant setup for your customer communication via WhatsApp.
5

What does the WhatsApp API cost?
Unlike the WhatsApp Business App, which is 100% free, the API is a more advanced solution that comes with a paid model. These are the different costs you can expect:
Monthly fees. Access to the API is available through business software solutions. For example, providers such as 360Dialog charge fees ranging from €399 to €1,000 per month depending on your setup.
Setup costs. Because the API integration is technically complex, many providers charge a one-time setup fee in addition to the monthly fee. The service provider Vongage, for example, charges €1,000 per number.
Costs per message. Messages sent by customers are always free, and so are the answers that you send back to them within the 24-hour service window. You can still answer requests outside of this 24-hour period but only through a predefined template message. For every template message that's sent outside of the service window, WhatsApp charges a small fee. This fee varies by country and monthly volume of messages sent. In the UK this fee is about 3 cents per message template. Check out the full message template pricing overview here . Some providers such as Tyntec also charge additional fees for message templates on top of that.
WhatsApp support sounds like a must but looking at the costs, it becomes clear that the WhatsApp Business API is only relevant for larger companies who have the financial resources and a significant volume in support requests so the investment pays off. With Userlike, you get access to the WhatsApp API in our Flex and Business plan.
Since the WhatsApp Business API is rather new on the market, however, it can be expected that prices will drop over time so it becomes more interesting for smaller businesses as well.
6

How to get access to the WhatsApp Business API
As the world's most popular messenger app and end-to-end encryption, WhatsApp is poised to become the most powerful channel for customer communication as well.
But there's a lot at stake for WhatsApp. If they open their platform too freely for business use, the app might just turn into the next crowded inbox, frustrating users who'd then switch to an alternative .
Who can use WhatsApp Business
To protect users and prevent unwanted trading on its platform, WhatsApp follows a strict commerce policy . Some of these restrictions are evident (e.g. weapons, drugs, gambling). Others are somewhat surprising (e.g. contact lenses, wigs, food supplements). So check the list carefully and make sure that your product or service is compliant.
It's complicated...
But WhatsApp's commitment to trust and security means connecting to its Business API is more burdensome than with any other messaging channel.
To maintain end-to-end encryption, as a business using the WhatsApp API you'd need to host your own "headless" version of the app in a Docker container. This process includes managing SQL databases, block storage, and adapting to the ever-changing APIs.
Sounds complicated? That's right. Maintaining such an infrastructure is a full-time job, significant cost investment and might even result in severe technical issues if it's not in your area of expertise. That's why WhatsApp only grants few, notable businesses direct access to their API. Think Apple or Procter & Gamble.
Get started in three steps
That's why for most businesses, partnering up with a customer messaging solution provider will be the way to go. You won't have to provision, monitor, maintain and update any of these API clients, and you don't have to code to a WhatsApp-specific API that keeps on developing.
These are the steps for a quick start.
Choose a solution provider. Customer messaging software such as Userlike provide easy access to the WhatsApp Business API. We support you in the complex technical integration and give you the solution you need for successful WhatsApp support so you can get started in no time. We'll look at all benefits of using the WhatsApp API with Userlike in the last section. You can also apply for access to the WhatsApp Business API through various business solution providers (BSP). Note that many of these are digital agencies who only give you access to the API but don't offer their own customer messaging interface that you can connect it to like with Userlike.
Create your Whatsapp Business Account. Once you decide on a solution provider you will need to approve a "messaging on behalf of" request and verify your business within Facebook Business Manager. Find a step-by-step manual on how to do that here .
Let your customers know they can reach you on WhatsApp. Unlike other messenger apps such as Facebook or Telegram, people can't search for your brand on WhatsApp. How your customers respond to WhatsApp Business strongly depends on your efforts to draw their attention to the new contact channel.

But how do you let your customers know that you are available on WhatsApp? Unlike live chat, WhatsApp is not integrated directly on the website.

But there are still ways for you to promote the WhatsApp channel directly on your site. For example, by using an icon in the contact bar, like BMW Zurich does. When a website visitor clicks on the button, they are navigated to a page showing the WhatsApp number they can contact.



Another option is to tie WhatsApp opt-in to a specific stage in the customer journey such as the check-out process. Customers making a purchase can actively agree to receive information about their order via WhatsApp.

Or you could use WhatsApp's feature "Click to WhatsApp" . This allows customers to connect with your business on WhatsApp after clicking the "Send Message" button on your Facebook or Instagram ad. Linking to WhatsApp through a QR code also gives people a quick and convenient way to reach you.
The easiest way to start with the WhatsApp Business API – Userlike
Connecting the WhatsApp API with Userlike offers several benefits.
We got your back. Userlike takes over the technical implementation. We handle the communication with Facebook and maintain the API so it's always up to date – and you can focus on talking to your customers on WhatsApp.
Data privacy is our top priority. As a German business, data privacy is our area of expertise. When you connect the WhatsApp API with Userlike, all data will be end-to-end encrypted and securely stored on servers in Germany.
Built for professional service. Smart routing , tags, analytics and more. Userlike was built for customer communication and offers the features you need for efficient WhatsApp support. Get your whole service team on board and engage in unlimited customer interactions. And if you're already using the live chat by Userlike, we'll just add the WhatsApp channel to your account. No need to introduce a new software or user interface.
Omni messaging in one solution. Most people are using WhatsApp but it's not the only relevant contact channel. Consolidate all your customer interactions from all channels in one place – Userlike is your platform for web chat, WhatsApp, Facebook Messenger, Telegram and SMS.
Leave your competition behind and be among the first businesses to support their customers on WhatsApp. Userlike is one of the leading customer communication solutions that brands like Lufthansa and BMW swear by .
Reach out to us through this form if you're interested. We're looking forward to hearing from you and getting you started with the WhatsApp Business API!