What's New: Design and UX Improvements in Unified Messaging
With our last release we've implemented some improvements in the design and UX of Unified Messaging – especially within the Message Center.
1

Redesign of All Conversations and Contacts areas

The Message Center's All Conversations and Contacts areas have a new design. We've created a cleaner table structure that improves the overview and moved the filtering options to the left side.
2

Live preview redesign

We've also tweaked the live preview. The text that is currently being written by the contact is now clearly distinguished from messages that have already been sent.
3

Clarified system messages

System messages within the Message Center's chat flow now contain more contextual information on who changed what from the old state to the new state.
4

Conversation actions extended

Before, you could only take actions on conversations you were already assigned to. Now, depending on your permissions, it is also possible to take actions in Conversations when you are not assigned.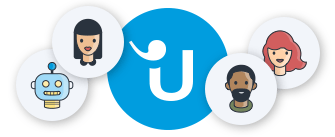 Looking for better customer relationships?
Test Userlike for free and chat with your customers on your website, Facebook Messenger, and Telegram.
Read more
This means you can add notes, edit information, send the transcript, etc. This makes your team more flexible and less dependable on its individual members.
5

WhatsApp Channel contact information

If you're using the WhatsApp Channel , the information of your contacts who reach out to you through this channel is now automatically transferred to the contact info.

What's more, two check marks are displayed to confirm when the contact has actually read the message. Before they would show as soon as the message was delivered.
6

Offline mode contact info
In offline mode, it's not mandatory to provide your contact details when you're leaving a message. This led to contacts often leaving their question without you being able to follow up with them. To prevent this, we've added a new screen in the Website Messenger.
When none of your Operators are online, and a contact closes the chat after sending a message without leaving their contact details, an extra reminder will pop up. It will explain to the contact that they can only receive an answer if they leave their name and email address.