How to Understand and Conquer Customer Inertia
Like most urbanites, I have a go-to supermarket for everyday basics. Mine has overpriced avocados that you could mistake for rocks if it wasn't for the color. I have high avocado standards, but the store is close to my place, it's cheap, and the alternatives… well, after work I'm not really up for experiments, you know? I'll stick to that store, but I'm not a loyal customer.
That difference between customer loyalty and inertia confuses businesses all the same. They measure their customer loyalty , find long-standing, moderately active entries, and file them under "loyal" – despite their low spending. But once another business comes along with a strong product, incentive, and easy switch, these 'loyals' are gone. Luckily, your competitors experience this issue too.
In this post I will show you how to identify and reactivate both your own and your competitor's inert customers.
The reasons behind customer inertia
To get inert customers back on track you need to first understand them. Why are they unsatisfied? And why haven't they switched to the competitor yet?
Everyone looks for stable conditions in basically anything, including which companies they buy from. It's only sane, and it's satisfying. But as this list by HBS professor Rosabeth Moss Kanter suggests, serious concerns – not satisfaction – are responsible for a customer's resistance to change. They might give you an idea why your inactive customers are still around:
Fear of losing control through change
Too much uncertainty about the alternatives
Too many differences in radical change can be distracting or confusing
Change means admitting that the previous setup and choices weren't optimal, which can be hard to face
Change requires effort and work: adjusting, testing, getting up to pace
Fear of the effects on their own customers, if these also need to accept changes.
Prejudices and fatalism: the other provider "is just as bad anyway", "you can't get perfect" – used as an excuse for not making an effort to improve
It's not that we actively dislike progress or change. We just don't want to be ripped off or waste our time. So we stay. Moss Kanter's factors work in our minds widely unnoticed by us. They might keep us from leaving a company completely, but they don't bind us to it. They however certainly don't stimulate purchasing or interaction either.
At heart, those inert customers are still promiscuous. So better picture them as being on the verge of departure. Remember that your competitors face the exact same challenge. Here, you have the opportunity to capitalize twice: You can reactivate your customers and motivate someone else's to switch to you.
How to reactivate inert customers
It costs between 4 and 10 times more to get a hold of a new customer than it costs to keep an existing one. But reactivating inert customers is more costly than retaining active ones because the latter have a stronger tie to your company, which makes for frequent returns.
1

Dig your data

Still, remember that your inert customers have bought from you before. You had them by the horns once. What happened back then will shine a light on what's needed to inspire repeat purchase. Also, you have their contact details and some data to make sense of their (non-)purchase patterns. Therefore, reactivation is easier than winning over new customers.

As smartinsights.com wrote in a post on customer engagement , "a brand's customer database is its most valuable asset" when it comes to waking up the dormant potential that hides within those inert customers.

Their previous purchase and website activity, their preferences in communication channels, any information you can gather about their past behavior is crucial for getting them back on board.
2

Get Your Timing Right

Obviously, it's pretty much always a good idea to approach the group of sleepy customers. The right timing for your individual customer varies though. Take seasonal buyers. If a customer bought during a clearance sale with massive discounts, your next sale might be the best time to approach her again. Same goes for a buyer that solely bought around Christmas time or in summer.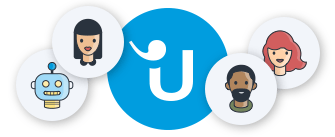 Looking for better customer relationships?
Test Userlike for free and chat with your customers on your website, Facebook Messenger, and Telegram.
Read more
For all types of customers, Smartinsights.com suggests to first identify a test group (e.g. one-time buyers) and a control group (repeat buyers) from your data and then to trial-approach them before you run an expensive large-scale reactivation campaign.
3

Email

But where and how exactly do you approach inert customers? Forrester Research identified organic search, paid search, and email as the most popular touchpoints of repeat consumers. Since it's hard to specifically target inactive folks via search (they don't search for your products), emails are your most promising option. Also, as was found in a study by SocialTwist, email still beats Social Media in overall conversions.

30% of repeat customers are brought back to the site via email. However, a significant number of your inert customers are people who have not been motivated to buy again by the content of your emails.
Amanda Ng from MageMail and Kevan Lee from Buffer have listed effective email marketing strategies that focus on generating both "cold, hard cash" and engagement by tackling the customer's inbox. One of his sub points, targeted re-engagement campaigns, is your gist. Re-engagement is what you want to achieve. Here are some key strategies in email marketing for customer reactivation:
Sending out during prime time (8pm to midnight) and on weekends
Playing with the creative and making any communication interactive
Using easy calls to action consistently
Including giveaways, preferably templates and tools
Personalizing your email without using the recipient's name
Optimizing subject line length
Deploying a responsive mobile design
Slow down the frequency of emails to reactivated customers
4

Retargeting

There's another technique that might be interesting to specifically target your own inactive customers: retargeting.

You can set up a filter in your ad manager and prepare an ad to be displayed exclusively to people who have visited your website, but haven't visited a certain URL, like your checkout page.
How to make your competitor's inert customers switch to you
When you want to turn your competitor's inert customers into your own active customers, you face four major problems:
You don't have the data to identify these customers as inert.
You don't have the contact details to reach out to them.
They are not actively looking for an alternative.
Considering what we learned from Kanter about avoidance patterns, they might reject a switch and have reservations about changing.
Your fiddly quest is to find ways to identify and reach them with content that at one go removes their resistance to change and engages them to switch.
Considering what we've learned from Kanter about avoidance patterns, they might rather suppress that topic and any thoughts about it.
1

Dirty Adwords

Let's assume that their motivation to search for alternatives is as weak as their repurchase behavior. Then, presence in search engines is still valuable. There's the dirty but legal trick to targeting on the keyword names of your competitor with Google Adwords. Another effective method is to have a presence at places online where these inert customers visit every day without a particular objective: social networks.
2

Social Ads

Audience targeting via social media publishing will bring you more awareness from all types of customers, including your competitor's inert ones. Even if they haven't bought from you, here you can target them with the right hashtags, for instance on Twitter and Instagram, or organic targeting on Facebook. The latter offers limiting criteria such as age, interests, gender, relationship status, educational status, location and language.

Business-minded LinkedIn adds criteria like company size, industry, function, seniority and you can even target followers of a certain account (hint: that of your competitor might be of interest).

In this post , Patrick Cuttica from Sproutsocial delivered some great examples of organic targeting strategies. Here are two of them:
"An entertainment media company uses a combination of interests, age and gender to target each of its articles to a segment of its readership that is most likely to engage with the content."
"A global brand produces and shares content in several different languages from its main brand Twitter handle. To avoid alienating followers to which localized content may be irrelevant, the brand uses geotargeted Tweets to reach native speakers."
Social media targeting doesn't solve the problems in identifying inert customers of competitors, but it can help to bypass it. You will have to target both active and inactive customers simultaneously.
I'm sure you have received ads promoting a switch to the provider you're already with. Take it as a collateral effect that won't alienate too many of your active customers. Worst thing that can happen is that your competitor's active customers won't switch to you because they're already someone else's loyal customers.
Luckily, engagement is an objective that you want for both inactive and active customers. And delivering content that lets a switch appear easy, quick, risk-free and beneficial will not be perceived as spammy by active customer. Look once more at Kanter's reasons of resisting change and their ideal fixes.
Fear of loss of control. Highlight how the user has full control during the setup of his new product while not overwhelming him with detail.
Too much uncertainty. Show prospects how you'll guide them through the onboarding and what exactly they will have to face. Mention your strong support-skills and highlight great availability for new users, give them an idea of how easy the switch is through tutorials and product introductions, reviews.
Differences are confusing. Offer comparison pages with brief overviews of differences and essential features for certain types of usage.
Confrontation with previously bad choice. Nobody likes to admit that they've made a mistake, more so to themselves, and even more so if they've made it for quite some time. Martin Luther King, admittedly in a different context, found the right words for those with excuses for not turning things around: "It's always the right time to do the right thing." His positive reframing is much more motivating than a reminder of what harm continued wrongdoing could cause.
Change requires effort. Take away the fear of some of the work that newbies usually face, like testing, adjusting, getting up to pace. Great case studies can be extremely convincing and give an idea of how valuable a product is. It shows users that someone just like them has tried it and what happened.
Fear of subsequent effects for end-customers. You could express something like: "Your customers won't even notice the change but you'll be twice as efficient."
Prejudices and fatalism. Think about what customers might use as an excuse not to change, famously baseless assumptions like the one that "all providers are the same" – then take apart that concern by focusing on crucial features and the benefits.
Furthermore, incentives – concrete monetary advantages – are always strong tools to outplay people's fears. You want to drag people away from their arbitrary worries to the path of rationality, and there are few things people are more rational about than money .
Great opportunity, great challenge
Compared to retaining active customers, reactivating inert ones is more difficult. Stealing inert customers from your competition, that's even harder. But once you've understood what is happening in the inactive customer's mind, you have a great and widely ignored potential on your hands. You don't even have to abandon your current targeting strategy. Instead, you can update it by rephrasing the way you address prospects and customers, showing them that their fears are unfounded and how a switch could result in unexpected benefits.