What's New: Conversation Filters, Unassigning and More
We've developed some new features for Unified Messaging. Not using UM yet? Then first check out this webinar for a quick tour.
Michael from our customer success team shows you around Unified Messaging, the "new" Userlike . In under 10 minutes, you'll learn how it's different from our "old" live chat solution and see some neat, UM exclusive features in action such as rich media support, auto-translation and more.
We keep on bringing you the features you need for successful digital support. Here's what's new.
1

Inbox and All Conversations filter options

The Message Center can be a busy place. It's where all your customer conversations and contacts come together. That's why good filter options are indispensable for an efficient support setup.

In the Inbox , your assigned chats are now organized by their state (live, new, open, pending) so you can see at one glance which chat needs your attention.
To learn more about what the different states mean and more best practices, I recommend our extensive Message Center tutorial .
Likewise, you can now break through the clutter in All Conversations as well. This is the section where, well, all your conversations go. So naturally, things can quickly pile up and conversations might drown in the quantity of customer interactions.
Apply several filters that make sure you find the conversations you're looking for in no time, for example by operator, skills or rating.
2

Unassign conversations

When a new conversation comes in, you let your team know you'll be taking care of it by assigning it to yourself. But does that mean you're stuck with the chat then?

Unassigning a conversation might be necessary in some scenarios. For example, when you're leaving for a vacation and don't want to risk leaving the contact hanging until you're back to reply. Or when you need to reassign the request to a colleague but aren't sure who would be best suited.
Unassigning a conversation is now a one-click action. It works just like forwarding the chat to another operator. You'll find it in the same menu in the top action bar. The chat will immediately disappear from your inbox and be organized in the "Unassigned" section.
3

Reworked contact profile

In the contact details, you can see all relevant information about your customer such as their name, email address and city. Many of you told us it was still missing an important field, the customer ID. So we added it!
Customer ID is now a default field in the contact details, which you can fill out if you like.
4

Blocking a contact

Instant messaging and live chat are a great way to offer your customer an easy way to reach you. Unfortunately, the low contact barrier sometimes attracts internet trolls, people who are just trying to steal your time or will even insult you.
To make this inconvenient situation easier for you, you can now block a contact with just one switch in the contact details. Once they're blocked, they can't reach out to you again. If you wish to unblock a contact, that's possible at any time too.
5

Easy contact delete and transcript download (GDPR)

The General Data Protection Regulation has given users more power over their data, like the "right to be forgotten." Individuals can reach out to you and request that you erase all their personal data.

Data privacy is a keystone of our software. We're always working on ways to make sure Userlike is both easy to use and fulfills the highest data privacy standards.

When a contact reaches out to you and wants their data erased, you can do that with the click of a button. Under Contacts, you can delete individual or multiple contacts with all their conversations. This can't be undone so be sure about deleting the contact forever.
Note that this action will only delete the data stored on Userlike servers. If you have another business solution integrated with Userlike, e.g. a CRM or Help Desk tool, you will need to delete the data there as well.
Similarly to deleting a contact, you can now also download both individual and bulk transcripts under All Conversations.
7

Analytics tutorial

To say it with business pionier Peter Drucker: "You can't manage what you don't measure."

But the many options for tracking can lead to an information overload. Which KPIs should you pay attention to and what do they actually measure?
Our new tutorial breaks down every KPI in Userlike's built-in Analytics for Unified Messaging. So you can focus on identifying critical areas and zoom right in.
7

Offline conversations behavior

As I mentioned above, chat is a fast, convenient contact channel that people enjoy using. It's more casual than email and comes with less obligations than a phone call. That's cool because these characteristics are part of why chat is breaking down the frontiers, bringing you closer to your customers. But another side of it is that people might reach out to you with requests that may quickly dissolve on its own.

If a contact sends you a message outside of your service hours or when your team is busy, their request might not be relevant later, for example, because they don't want to buy the product anymore or because they've ordered it elsewhere (ouch).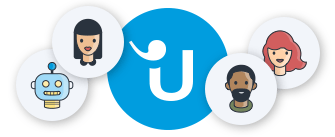 Looking for better customer relationships?
Test Userlike for free and chat with your customers on your website, Facebook Messenger, and Telegram.
Read more
The question is how you want to treat requests that come in when no chat agent is available. With our last release , we added a reminder that asks people to leave their contact information when they close the website messenger. By leaving their email address, they'll receive an email notification to pick up the chat once you're available again.
If they don't leave their contact info, you can't be sure they'll ever receive your reply since they won't get an email notification. You can only hope they'll happen to come back to your website to check for it.
We wanted to make your support more efficient and eliminate the time wasted on inquiries where you don't have any contact information. That's why we added a new option in the widget configuration that allows you to filter out these requests in your inbox.
By default, you'll still receive all conversations but you can now choose to show only web chat conversations where the contact has left their email address. Giving their contact information generally creates more commitment and helps filter out spam and less serious messages.
8

Increased account security

When you first signed up for Userlike, you had the option to use your Facebook or Google logins instead of creating a dedicated account. These single sign-on systems (SSO) are convenient but may also pose security risks : If your Facebook account gets hacked, the hacker might also get access to numerous other software with that one login.

To make sure your Userlike account is always safe, we removed these social login options. If you've been using this login method, you will still have access to your account, but you might have to create a new password to log in.