What's New: Analytics, WhatsApp Template, Media Preview [and COVID-19 Update]
Before we take a look at this month's new features, we wanted to share with you a quick update on how we at Userlike are approaching the unprecedented COVID-19 situation.
To keep our staff, their families and the communities we work in safe, we decided to switch to remote work two weeks ago. Being a tech company, we're in a fortunate position because we already lean on digital tools and processes in our daily work. Userlike's product, infrastructure and operations are running as usual, and we can assure you that your business is safe with us.
Our first priority now is to focus on your new needs, challenges and questions. In times of social distancing and closed stores, chat and messaging become even more relevant as means for personal communication. We see it as our responsibility to ensure that your customers can still easily contact you, even in these difficult times.
If you have any questions about our product, you can reach out to our support team at any time. We're happy to assist you through the chat on our website or via WhatsApp .
Speaking of WhatsApp, we also released some fresh features last week. Let's dive right in.
1

WhatsApp re-engage

As we announced in our last update , you can now connect Userlike with the WhatsApp Business API and welcome your customers on their favorite messaging app.

When it comes to customer communication, however, WhatsApp is more restrictive than most other messaging apps in order to prevent spam. One limitation is the 24-hour service window that requires you to reply to customer messages within that time frame. The clock starts ticking after your customer sends their last message. You can still connect with your customers after the window has passed but you'll need to ask them for their consent first.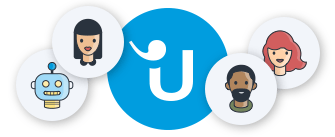 Looking for better customer relationships?
Test Userlike for free and chat with your customers on your website, Facebook Messenger, and Telegram.
Read more
Twenty-four hours can pass quickly in support, like when you're having a busy day or if the message comes in over the weekend. So you'll probably experience the situation where you want to get back to the customer but the service window has expired.
If you're using our WhatsApp Channel, you'll now see an icon informing you once that window has passed and if your message couldn't get through anymore. To make things easier in these common scenarios, we created a template that you can use.
All the customer needs to do is reply to the template message and you can pick up the chat again. This starts another 24-hour service window.
2

Analytics

Unified Messaging is still in beta phase but we're getting closer to feature parity by the day.

One major feature that had been missing so far was Analytics. We know that many of you want to track your chat's performance.

We have to admit that our Analytics section was never our strongest suit. So we took this chance of building a new product to question which KPIs really matter, improve and clarify existing ones and remove those we found no longer useful.
If you're on our Corporate plan or higher, you can find the Analytics section in the Dashboard . This will give you a good overview of the most important KPIs in messaging support. Please note that we're in beta, however, and might still need to make further adjustments to Analytics, which is why we don't recommend relying on it too heavily for now.
3

Media preview

People love the convenience of chat but sometimes it's not enough when explaining an issue. That's why we added file sharing and media support to Unified Messaging a while ago. Let your customers choose any format to express themselves without having to switch channels.

We improved the UX for this feature by adding a full screen preview. This lets you and your customers easily look at images in detail directly in the Message Center and Website Messenger.