What's New: System Emails, Action Bar, Type Input and More
Over the past period, we've been focusing on improvements to the Message Center.
We've been getting continuous feedback from users, but it has also been extremely insightful to use Unified Messaging as our standard communication tool in our own support team.
This made us notice that the Message Center still had some way to go when it came to user experience. So here are some bigger improvements, together with some smaller tweaks.
1

New action bar

We've introduced a Conversation action bar in the Message Center. Found at the top of your Conversation view, it allows you to:
Set a topic (e.g. "sales")
Set a status (Open, Pending, Ended)
Assign an Operator
Create a ticket for one of your integrations
Send a transcript to the Contact
Change the language
End the Conversation
We've chosen for this action bar because there were too many actions concentrated in the type input area. The action bar covers Conversation-wide actions, while the type input area is now limited only to actual messaging actions.
2

New type input area

You'll see that the Message Center's type input area has also gone through some changes.
We've arranged a more prominent position for the Note. Instead of reaching it through the side, you now have two tabs below the text input field: Message or Note .
On the right side below the text input field, we've added dedicated action icons for your chat macros, chat commands, attaching a file and for translating the Conversation.
3

UM system emails

We've updated the layout of the Unified Messaging-specific emails to reflect its new design and the new features. If you're using Unified Messaging, you and your customers will now receive system emails, including transcripts, in the new style.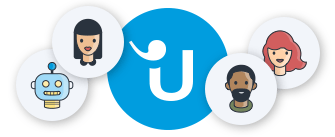 Looking for better customer relationships?
Test Userlike for free and chat with your customers on your website, Facebook Messenger, and Telegram.
Read more
4

Smaller tweaks

Then we've made some smaller tweaks, including:
No more live tag for Channel Conversations. Because the nature of messengers is mostly asynchronous, and because the information Userlike received from these Messengers was unreliable, we've chosen to remove the "live" tag for Channel Conversations like those from Facebook Messenger and WhatsApp. This tag is now only available for website chats.
Updated Website Messenger Operator Bio. The Operator bio that is accessible at the top of the Website Messenger now contains the Operator's time and time zone, job title and a short "about me" description.
To avoid confusion, we've renamed some areas of the Message Center. Archive is now called All Conversations . Message Center in the Dashboard is now called Inbox .
We're approaching the holiday season, which means many of us will be going on a nice break. Our next update will be in approximately six weeks. Merry Christmas, Happy New Year and happy chatting!