The Benefits of Live Chat for the Hotel Industry
A wide range of online businesses makes use of live chat as a support channel for different reasons. Online shops are the most frequent users of this support channel, using it to increase their conversion rates by answering questions on the spot before a sale is aborted. Next to online shops however, live chat is also trending on hotel websites. In this industry live chat is used more as a tool to extend a hotel's service offering into its online presence and as a weapon to win the fierce online competition for hotel visitors. Let's take a more close look at how live chat software can benefit the hotel industry.
1. Add Human and Personal Touch to your Online Presence
Picture this situation: A group of guests enters your hotel only to be welcomed by an empty front office and main hall: a hotel fully deserted from employees. This is probably a worst-case scenario most hotel managers will try to avoid. Then why is it that the websites of so many hotels offer exactly this experience? The website is the first point of contact with your hotel for most guests, so it makes sense to have someone to open the door for them - with live chat!
2. Answer Specific or Tailored Questions about a Stay
Live chat allows potential guests to ask you specific questions on which they cannot find an answer elsewhere. Imagine a light-sleeper guest who is in town just to make a presentation the next day. She doesn't care about the view, all she cares about is to have a room with a sufficient level of calmness so she can sleep well and be fit for the big day tomorrow. Most websites don't have 'noise level' as a parameter on their site. Yet by indicating this need over the chat, your service employees can tailor her stay by giving her the most quiet room in the building.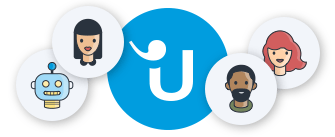 Looking for better customer relationships?
Test Userlike for free and chat with your customers on your website, Facebook Messenger, and Telegram.
Read more
During their stay, guests want to take the most from your services. With live chat software you can make personal recommendations or provide vital information which can't be communicated through your general website. It's possible to tailor your message to a specific guest, making personalised suggestions or discounts.
3. Integrate on Comparison Websites to capture guests
Most people buy their hotel stays via comparison platforms. They use comparison websites not only to book their accommodation at the lowest price possible, but also to compare your hotel with your competitor's units. In some comparison websites it is possible to create and manage your own profile page or satellite website with your hotel information. On such pages, adding live chat can improve your bookings as you can engage directly with your website visitors and provide them all necessary information to stand from your competitors.
Other General Benefits of Live Chat
1. On-Site Presence - First thing we would like to highlight is the fact that, unlike other support channels such as e-mail or call-centre, live chat allows website visitors or potential guests to get in touch with you directly from their current page. Live chat is a tool that doesn't require any media or device switch. This simple fact encourages more people to interact with you, a unique opportunity for extra sales and happy guests.
2. Real-time support - For some people timing is everything. They pose a question and expect to be answered immediately about their issues. There is no better tool than live chat to provide instant real-time support at a lower cost. Also, for urgent and last-minute issues, live chat presents itself as a user-favourite tool to get quick answers at the time they need them the most.
3. Efficiency Of course, you can always provide real-time support through your call-centre, yet not with the side benefits of live chat, such as the possibility of agent multitasking (answering several clients at the same time), operator co-operation in solving a single issue or with the amount of information you retrieve from the guest from the first moment he starts chatting with you.
4. Anonymous - People have different personalities and therefore different expectations about the way they wish to be served. With live chat, customers can reach you anonymously which means that this is a non-invasive customer support tool which gives them the necessary privacy for them to feel respected. Also, other potential guests prefer to chat more than calling you as it requires some exposure and some people are just too shy for it.
Do you have any interesting experiences with live chat in hotel websites? Share them with us in the comment section below!