The 11 Gurus of Customer Service
"meta name="robots" content="noindex"/>

Every field or industry has its influencers. When these people talk the room goes quiet, as everyone tries to catch as much of of their expertise as possible. Following and keeping in contact with these people can be extremely beneficial for your personal/business career, or for the profitability of your company.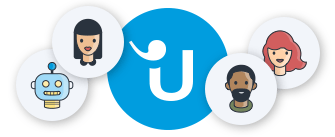 Looking for better customer relationships?
Test Userlike for free and chat with your customers on your website, Facebook Messenger, and Telegram.
Read more
Influencers are also crucial in the field of customer service and user experience, which have become increasingly dynamic over the past years due to technical advancements that have opened the doors for entire new ways of offer customer support. Here are the ones that everyone with a professional relation to customer service should follow:
Twitter: @ Hyken
Klout Score: 79
Main Topics: #Customer Service, #Business, #Customer Experience
Twitter Followers: 54 K
Special Achievements: Author of Moments of Magic, The Loyal Customer, The Cult of the Customer and The Amazement Revolution.
Blog: hyken.com
Short Bio: Hyken is a customer service expert as well as a professional speaker and bestselling author. Consultant for many Fortune 100 size organizations such as American Airlines, AAA, Anheuser-Busch, AT&T, American Express and many others. Shep is an energizing influencer which mixes humour and motivational quotes into a successful combination of good hints on how to excel on customer service.
Twitter: @ JMSpool
Klout Score: 78
Main Topics: #User Experience Design, #Information Architecture, #Web Design
Twitter Followers : 42.2 K
Special Achievements: Member of SIGCHI, the Usability Professionals Association, the Association for Computing Machinery and IEEE. Regular speaker at the annual CHI Conference and for conferences around the world.
Short Bio: Jared is CEO and principal founder of User Interface Engineering. With more than 15 years of experience in conducting usability evaluations, Jared Spool is currently a writer, researcher, speaker an expert and an amateur magician. If you're looking for top hints on optimizing your user's experience don't miss following this amazing influencer.
Twitter: @ knowledgebishop
Klout Score : 67
Main Topics: #Customer Service, #Social Media, #Leadership, #Marketing
Twitter Followers: 31.1 K
Special Achievements: Top Kred 1% Influencers, Top 25 CRM influencers (Zoho Blogs), Top 100 Social Customer Pros on Twitter (Huffington Post). Tristan is currently Senior Director of Social Media Marketing at Informatica
Blog: Knowledgebishop.com
Short Bio: Tristan Bishop is one of the major digital strategists in the globe. His favourite tools to improve customer experience are close social media monitoring and innovative social CRM tools. A passionate one which has captured eyes and hearts of people all over the world.
Twitter: @ royatkinson
Klout Score: #65
Main Topics: #Customer Service, #Social Media, #Business, #Management, #IT Service
Twitter Followers: 11.2 K
Special Achievements: Roy is member of HDI International Certification Standards Committee and a popular speaker in HDI conferences.
Blog: RoyAtkinson.blogspot.com
Short Bio: Roy Atkinson is an american support and service industry analyst and writer for SupportWorld and white papers. With wide experience in customer service and a background experience in service desk, desktop support and small-businesses consulting.
Twitter: @ billquiseng
Klout Score: #65
Main Topics: #Customer Service, #Customer Experience
Twitter Followers: 21.1K
Special Achievements: Among his personal achievements, Bill collected the Renaissance Hotels General Manager of the Year, Marriott International Leadership and Sales Excellence Awards, the American Hotel & Motel Association Pearson Award for Excellence in Lodging Journalism among others.
Blog: BillQuiseng.com
Short Bio: Bill is a Customer Service award-winning blogger and writer with a main aspiration to improve corporate customer service in every company. Bill Quiseng has over 30-years experience in luxury resort management and a special dedication in driving leadership to closer positions among consumers.
Twitter: @ Michael_Lytle
Klout Score: #63
Main Topics: #Customer Service, #Technology, #Business, #Social Media
Twitter Followers: 18.4 K
Special Achievements: Director Global Technology Services and Operations for the award winning organization Extreme Networks.
Newsletter: Customer Service and Support Daily
Short Bio: Mike is one of worldwide's most solid consumer service advocates. A passionate about consumers and finding the best practices to support them using latest technology available. Michael Lytle also broadly inspires practitioners in the fields of social media and cloud computing.
Twitter: @ BCarroll7
Klout Score: #61
Main Topics: #Social Media, #Customer Service, #Customer Experience
Twitter Followers: 12.6K
Special Achievements: Social Media Strategist for Verizon and Social Media Professor at UC San Diego for five years.
Blog: Customersrock.net
Short Bio: Becky is the Director of Social Business at PricewaterhouseCoopers, one of the world's largest corporate service companies on the field of consultancy, auditing and many others. Becky is also the author of The Hidden Power of Your Customers: Four Keys to growing your business through existing customers. Even though her involvement with social media is quite broad her main priority has always been finding the customers and placing them in the front line of importance for companies.
Twitter: @ kateleggett
Klout Score: #53
Main Topics: #Customer Service, #CRM, #Customer Experience, #Marketing
Twitter Followers: 4.598
Special Achievements: Inspiring Analyst for Customer Service from Forrest Research
Blog: Kate-Legget
Short Bio: Kate is a leading expert in customer service strategies. Her work is on market trends related with the holistic customer experience provided by companies' customer service, she has a main role in market research on demand and supply side always aiming to point out best practices and technologies. To companies, Kate aims at providing structured guidance in assessing the value of their customer service, prioritize customer service projects, facilitate customer service vendor selection and plan for future success.
Twitter: @ MikeBoysen
Klout Score: #52
Main Topics: #CRM #Customer Service #Leadership
Twitter Followers: 9.484
Blog: mikeboysen.com
Short Bio: After 10 years of leadership in commercial banking, Mike Boysen shifted his interest from risk management to customers and his now a global influencer in the field of CRM. He is the founder of Effective CRM Consulting, a consultancy company which takes CRM strategy and human factor integration as main tools for growth in the field of CRM Solutions.
Twitter: @ Matthewxdixon
Klout Score: #47
Main Topics: #CSales, #Customer Experience
Twitter Followers: 596
Special Achievements: Researcher for Harvard Business Review and writer of The Challenger Sale: Taking Control of the Customer Conversation. Matt, together with the CEB team also published the book The Effortless Experience: Conquering the New Battleground for Customer Loyalty.
Short Bio: Matt is executive director at CEB. For over 15 years Matt has been working to uncover the truth under some of what seem to be the assumed premisses for customer service and sales. Matt and his fellow team at CEB have been widely referred to as important true changemakers when it comes to assessing the main drivers of customer service overspending. Their theory represents how companies can become more efficient by providing customers with effortless experiences. Their analytical discoveries are backed up by empirical knowledge, providing a brand new light over the same-old-topics. Even though his online presence is not as assertive as some other influencers presented on this list, his fieldwork as well as his intriguing presentations might help you to rethink all you've been taking for granted.
Twitter: @ enthused
Klout Score: #51
Main Topics: #Customer Service, #Customer Experience, #Business, #Marketing
Twitter Followers: 7.754
Special Achievements: Author of Delight your Customers ( Book Review ), Area Director of Training for Marriott with excellent results in employee and customer satisfaction scores
Blog: stevecurtin.com
Short Bio: Steve Curtin has more than 20 years experience in Customer Service having worked in hotel operations, sales, marketing training and development. Through his career Steve combined professional experience in hospitality management companies with advanced training in public speaking from Cornell University and other major institutions. Since 1992, Steve delivered interactive presentations for more than 20.000 people in three continents.
Twitter: @ CRMAdvisor
Klout Score: #44
Main Topics: #CRM, #Business, #Social CRM
Twitter Followers: 1.574
Blog: Mareeba.co.uk
Short Bio: Richard Boardman is founder of Mareeba, an independent based CRM consulting firm which works with companies helping them to successfully implement CRM technology in order to add operational value to the organization. Richard was involved in more than 300 CRM implementations.
All these influencers constantly update their blogs or tweet about smart choices and approaches to benefit your customer's experience with your company. By following them you'll soon be immersed in the sea of best practices which will open opportunities for your company and yourself.
If you have any recommendation about people you think should be on this list, let us know in the comments below.