The 12 Books Every eCommerce Professional Should Read
No matter where you are in your eCommerce career, there is always something to learn from a good read.
The prospect of sitting down with a good book may sound impossible to do if you're hustling day-to-day to build your empire, but freeing up time for personal growth is a precondition to success.
I cannot remember the books I've read any more than the meals I have eaten; even so, they have made me.

Ralph Waldo Emerson
As Emerson said, books help create the person you are, which is why we've collected a mini library of must-reads for entrepreneurs. From success stories to insightful web design, these books have helped shaped bright minds.
Inspiration
1

"The Everything Store" by Brad Stone

People may have their own opinions about Amazon founder Jeff Bezos, but it's difficult to deny that the growth and customer loyalty of his business has shaken eCommerce as we know it.
"The Everything Store" gives the reader an intimate look into the world's largest internet company. This biographical evolution of the former bookstore into a one-stop-shop for the masses highlights what ambition and a long-term, customer-focused strategy can achieve.
Stone focuses on every stage of Bezos' career, from his childhood as a gifted student to his Wall Street climb to billionaire status. This book takes a firm look at how ruthless and demanding Bezos is, and how it helped push the frontier of eCommerce.
This book is an inspirational gem for the perfectionists and fiercely driven entrepreneurs who want to make customer satisfaction their end goal, but it avoids key trials and tribulations that Amazon and Bezos have faced. Stone avoids diving too deep into the criticism about how Amazon treats its employees, including the questionable mass layoffs and factory conditions of fulfillment centers. The book takes a stat-based approach and doesn't concern itself with the consequences of Bezos' decisions. His work ethic is what made him successful after all.
2

"Delivering Happiness" by Tony Hsieh

Popular online shoe and clothing retailer Zappos grossed over $1 billion in sales in less than 10 years, but not without making plenty of mistakes. CEO Tony Hsieh penned an honest account of the long yet gainful years it took to build Zappos into a game-changing authority in the shoe industry.
Hsieh discusses his early life and co-founding of LinkExchange (which was later sold to Microsoft for $265 million) that led him to investing everything he had into Zappos. His pure faith in the success of this business model and desire to build a unique company culture sets this story apart from the rest. Unlike the other sales-driven company memoirs, Hsieh emphasizes how important it is to not only take care of customers, but of employees as well.
Hsieh provides specific examples to creating a more satisfying work environment, something Zappos has become famous for. If you're in the process of securing your first office space and/or building a team, this memoir will make you consider what sort of work environment you want to create.
3

"#GIRLBOSS" by Sophia Amoruso

In a true rags to riches fashion, Sophia Amoruso went from scrounging dumpsters for food to becoming the CEO of the online clothing retailer Nasty Gal. The American clothing store specializes in fashion for young women, and was named the "Fastest Growing Retailer" in 2012 by INC Magazine.
Amoruso founded Nasty Gal during her shift as an art school lobby ID checker under the name Nasty Gal Vintage. During a time where she was trying to make ends meet, Amoruso scrounged through secondhand shops to find vintage pieces to sell on her eBay store. Within three years, Nasty Gal moved to its own website and acquired its own warehouse space in Berkeley, California.
Amoruso, once directionless in life, is living proof that success doesn't require a university diploma. She promotes the simple philosophy to just believe in yourself and use your individuality to your advantage. While most people make designations between their work persona and their home persona, Amoruso believes in the power of combining your true self with your professional life.
This isn't a book to read if you're looking for concrete business advice, but her words are motivational for aspiring business owners who wish to let their "freak flag fly."
4

"The Innovator's DNA" by Jeffrey H. Dyer, Hal B. Gregersen, Clayton M. Christensen

Highly recommended as a guide for personal and organizational development to strengthen innovative expertise, "The Innovator's DNA" deserves a spot on your bookshelf. The book is more suited for beginners with a business mindset as it offers useful advice and suggestions on how to invent and improve creativity.
The book is a result of eight years of extensive research conducted by three leading authorities in innovation. The first part of the book presents the reader with five skills, which "distinguish innovators from typical executives."
The second part analyzes these skills by putting them into practice in the business environment from three perspectives: People, process and philosophies. The book also offers successful innovation stories to show how a certain product or service was created.
The material may lack new insights for those well-versed and successful in innovation, but it does a good job of separating companies or people who just "talk" about innovation versus those who have "walked the walk." If you're curious about what famous innovators like Steve Jobs, Ratan Tata and Mark Benioff think about innovation and how they put it into practice, then you will enjoy this book.
5

"The Lean Startup" by Eric Ries

Creating a startup is not for the faint of heart. According to Small Business Trends , more than 50% of startups fail within the first four years.. But through trial and error, a new approach has been crafted to help startups build and launch their company with little to no risk.
Eric Ries discusses the creation and management of startups, and does so in a clear, articulate and humorous manner. He argues that many entrepreneurs and their enterprises are a complete waste - they make products and services nobody wants to use. "The Lean Startup" offers an intellectual framework entrepreneurs can use to avoid this pitfall.
Ries' concept is quickly explained and, frankly speaking, could possibly have been condensed to a PDF. There are helpful business cases throughout the book, but it's Ries' advice that takes the main stage. If you're tired of traditional management advice and looking for a fresh, new and well-formulated perspective, then this book is right for you.
Web Design
6

"Lean UX" by Jeff Gothelf, Josh Seiden

The Lean UX technique is incredibly useful when working on projects that use the Agile development method. This fascinating book creates an argument for making the switch to Lean UX and answers many of the tough questions people have about its development and implementation.
"Lean UX" is part of the popular Lean series, which are a collection of books written by the best in the field. If you're familiar with the Lean Startup principles and have read any of the other books in this series, then you may find some information redundant. But if approached from a design/UX angle, you will come across a lot of new and interesting insights over topics like user testing and continuous iteration.
"Lean UX" is a must-read for product design teams wishing to create and maintain a good UX Process within an Agile environment. Both new and existing companies can benefit from the ideas in this book, and it can help persuade those who are resistant to adopting lean principles.
7

"Don't Make Me Think" by Steve Krug

"Don't Make Me Think" is a short and snappy book by Steve Krug that will get you thinking like a usability expert in no time. Its message is straightforward: when people visit your website they shouldn't have to think at all. That's when you know you succeeded at navigation and webpage design.
Steve Krug is a usability expert and consultant with more than 15 years in-field experience in usability design. "Don't Make Me Think" was a great success for Krug, as it effectively explains how people really use websites, and how you can use this knowledge to your advantage.
This no-nonsense book is intended to be a quick read for busy people. Its language is easy to understand, engaging, humorous and suitable for everyone from amateurs to experts.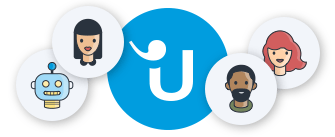 Looking for better customer relationships?
Test Userlike for free and chat with your customers on your website, Facebook Messenger, and Telegram.
Read more
8

"Hooked" by Nir Eyal

How do you make customers addicted to your product? What is the psychology behind society's addiction to their phones, Facebook, Twitter, etc.?
Nir Eyal explores the habitual consumption of products, and the morality behind manipulating consumer habits.
"Hooked" is a guide to building products people love and use again and again. This entertaining and quick read takes a close look at the Hook Model, which describes the process companies can use to encourage or manipulate user behavior.
This book is a must-read to understand the psychology behind today's most successful online businesses. Eyal asks difficult questions for a business to ponder, such as "What problems are people solving with your product?" and "What user behavior do you want to make into a habit?"
For new behaviors to really take hold, they must occur often.
Though his advice and principles could have been condensed into a much shorter read, you're sure to get a baseline understanding of how to build and reinforce habits in products.
Web Copy
9

"Everybody Writes" by Ann Handley

Now that everyone is flooded with content, having a good handle on writing is more important than ever to stand out. In "Everybody Writes" Ann Handley gives expert insight into the process and strategy of content creation that applies to businesses of any size.
If you're looking for ways to improve your website copy, then Handley's guide would be of great use to you. This book doesn't busy itself with creative writing, but instead focuses on effective content writing for brands. The bite-sized chapters are full of fun, engaging and interesting writing instructions and illustrated with real-world examples.
Experienced writers may find Handley's tips basic, and a lot of the tips and tricks in this book could be found in a few good blog posts on the subject. However, Handley's practical approach is easily digestible and perfect for writers in need of a new strategy.
Tracking
10

"Lean Analytics" by Alistair Croll, Benjamin Yoskovitz

Another book from the Lean series (they're just that good), "Lean Analytics" helps you steer your ideas in the right direction.
An advantage of eCommerce over traditional retail is that everything is a lot more trackable, which offers better insights into what does and doesn't work. This nifty guide explains how to minimize wasteful spending and maximize your profits and competitive position.
This book is ideal for those who want to create a number-driven and informed company. Croll and Yoskovitz cover the different stages of a startup, and the metrics that matter at each stage. The book spends almost as much time explaining how to build a startup as it does analytics, which may have its advantages depending on what stage in the process you are.
Instincts are experiments. Data is proof.
Practical and well-structured, "Lean Analytics" is an illuminating read that restores order to the chaos of analytics.
Running & Expanding
11

"The 4-Hour Work Week" by Timothy Ferriss

For those feeling the slow crush of inescapable and expected overtime, long meetings that don't seem to go anywhere and limited vacation time, there may be a way out. Reasonable "working hours" and traveling the world is Tim Ferriss' reality, which is detailed in his book "The 4-Hour Work Week."
The book is divided into four parts, which explore different components of what Ferriss describes as lifestyle design: Goal setting, elimination of distraction, automation of cash flows and liberation from traditional expectations.
Though his fresh ideas counter the American rat-race lifestyle, Ferriss' advice should be taken with a grain of salt. Many of his "time-saving" tips are only relevant if you already have independence in your job, and traveling and living in different parts of the world requires more planning than Ferriss lets on. As a graduate of Princeton University and successful business owner, Ferriss has plenty of financial cushion to keep himself and his lifestyle afloat.
A 4-hour workweek may seem a bit extreme, but so is working nonstop for 45 years until retiring. Ferriss pushes readers to pursue their dreams and passion, but to do so responsibly. His advice may be the wake-up call you need to slow down and start living life to its fullest.
12

"Principles" by Ray Dalio

According to Forbes magazine , Ray Dalio is one of the 100 richest people in the world. His book "Principles: Life and Work" details the path and principles that led him to creating one of the largest hedge funds in the world.
The book is divided into three parts, the first focusing on Dalio and his company, Bridgewater Associates. The second part is about his Life Principles, which are the personal principles he developed during his career that led to his success. The third part is about Work Principles, which are the management principles for working with other people.
The clear split of story and principles make the second and third part of the book a bit dry, but this makes the lessons very easy to revisit. Serial entrepreneur Mark Cuban even stated that "Principles" makes the perfect Bible for a business that aims to "learn how to learn in any situation."
Though this book is not specifically for eCommerce, it's a must-read for anyone in the process of building a business.
---
This post contains affiliate links. As an Amazon Associate, Userlike earns from qualifying purchases. We donate all of these proceeds to our non-profit cause, the Atefa Girl's School .