15 Proven Solar Lead Generation Tactics for Sustainable Sales
Solar companies often face extra barriers in their lead generation.
That's because they are involved with a relatively new and advanced technology that not everybody understands. In addition, solar is unique in that it's a high investment without much opportunity for a "test drive" before signing up.
In this post we've gathered 15 proven tactics that can help your solar company with generating more leads. These span the entire funnel, all the way from "never even thought of solar" to "about to buy," with real-life examples of each tactic in action.
Our very first tactic is inbound ads. For lead generation, we at Userlike typically recommend inbound methods for most business types. Inbound marketing consists of attracting leads to your company with the help of relevant content tailored to your target group.
Inbound strategies make it easier to become a credible source in your industry. They also make sales more predictable in the long run. That's why inbound ads can be a good tactic for solar leads at the top of your funnel . They work particularly well for leads who are interested in solar energy, but have no further insights into the details, like:
How does solar work?
How long can I use a solar panel and who maintains it?
How much does it cost? How much can I save?
How can I sell the solar energy that I don't use?
For the best results, try creating quality content (see point 5) and landing pages around these common "pain points." You can then send potential consumers to them via paid ads on Google or social media. This is an especially useful approach with how difficult it is to rank organically for competitive keywords.
Like any advertising campaign, start with fundamentals like a clear call to action and regular testing. Check out this guide to advertising in the solar industry to get started.
Our second tactic is for the very top of the funnel. These are people that usually don't have an interest in solar and have likely never heard of your company. You will typically buy a lead list from a lead generation company and conduct outreach on your own.
Buying lists will only work for some companies. For one, this tactic usually relies on cold leads (most people are on this list without knowing it). It's difficult to convince people who don't already have an interest to buy - especially with a big investment like solar. Second, buying lists isn't sustainable. Because you only "generate" solar leads while spending money, your costs will rack up quickly and leads will disappear entirely as soon as you put your wallet away. That's why we prefer inbound marketing at Userlike.
Still, list buying can indeed bring you some results, and it isn't a tactic that should be dismissed completely. If you decide to go this route, make sure the company you are working with has a track record in the solar industry. You should also be transparent to the leads you are reaching out to - tell them why you are contacting them and how you got their information. Check out this guide for more advice.
3

Property intelligence research
If you're not interested in list buying, conducting your own property intelligence research can be a good alternative. This is a method of proactively finding houses that are a good fit for solar using freely available tools.
For example, by finding houses on Google maps with good positioning relative to the sun, you can collect a targeted list of potential customers. This is a great lead generation strategy for solar because you're finding houses that are a natural fit for your offer. And here's a pro tip: focus on areas that you can see already have houses equipped with panels. As this study in The Journal of Economic Geography shows, people are more likely to invest in solar if their neighbors have first.
With a little creative thinking, there are many possible ways to approach property intelligence research. Here is just one example:
Using Google Maps, pick a street in your area and identify the houses facing south.
Use street view to find the addresses of the houses.
Enter that information into a reverse look up engine like Peoplesmart.com or Whitepages.com to acquire contact information.
Reach out to them with a customer quote.
There are two major caveats with this solar lead tactic. One, no matter how good of a fit you find, you are still reaching out to somebody that's probably never heard of your business. And cold outreach definitely has mixed results. Two, this tactic is time intensive. You are likely looking at hours of work before you contact even just a couple good fits. And even then, there's no guarantee of success.
Still, you never know what the results will be. For more information on property intelligence research, check out this article .
4

Cost savings calculator
According to Pew Research Center, the biggest draw of solar energy is the potential cost savings . However, people likely want a personalized assessment of how much they can save before making plans to purchase. This eases their fear about expenses and puts the benefit of saved costs directly in front of them.
That's why a cost savings calculator is such a good lead generation tactic. By showing someone how much money they can save with solar, you make the prospect of purchasing more realistic. This is an important step in the lead generation process, as you can move someone from "not interested" to "maybe it makes sense."
With your cost savings calculator, you might also consider what you send your new lead along with this information. This is your first touch point with a potential new customer - now's the time to provide value. Take Understand Solar as an example. Along with my savings estimate, they started sending me information to further educate me on the subject. If I were in the market, they are the first solar provider I would think of.
If you want to make your cost calculator even more valuable, pair it with a chatbot for WhatsApp. This is a bot that is able to guide your prospects through the cost calculator questions in an entertaining way. Because you are connected with your leads through their phone immediately, you can then offer further assistance with any questions they might have.
Everybody knows how important good content is in modern marketing. It's a way to build authority in your industry, gain the trust of your audience and shape the narrative in a way that makes introducing your product more natural. Content marketing also lets you naturally guide your reader to the next stage of the funnel . By offering lead magnets that your audience can sign up for, you make it easier to bring them closer to a purchase.
As for what content marketing is especially important in the solar industry? Solar is a technology most people don't fully understand, which leads to many misconceptions about it. This creates the perfect window for content that educates. Topics might include general information about solar energy, the many benefits adopters can expect or a side by side comparison of solar to other energy sources.
6

Product explainer videos
Videos allow you to explain complicated topics more effectively than text-only content. They are a way for you to quickly educate your audience and address any doubts or objections they have. That's why videos are a useful lead generation tactic for people further down the funnel: they are likely already convinced on the value of panels and are now searching for answers to more specific questions.
While all solar topics are fair game, consider product explainer videos. As I've mentioned, solar technology is often difficult to understand. Your videos serve to clear up the confusion. You can also dive deep on the installation process. How long does it take and what are some of the main points people need to plan for? Answering these questions is helpful and can influence the buying behavior of your audience.
While you can host videos on your site, there's nothing wrong with building up a Youtube channel. An added benefit of Youtube content? It's consistent with what your leads probably associate solar companies with: savvy with modern technology.
The solar industry is unique in that it's a technology most people don't fully understand and has yet to reach widespread adoption. People therefore naturally have doubts and questions.
That's where website chat comes in. This is a great tool that allows you to answer peoples' questions in real time. You can provide important details about solar prices and installation, all while building up trust with your prospect. Website chat also makes it easy to send your site visitors specific lead magnets through sign up forms. This information not only helps your prospects but also allows you to market your solar services and products to them later on.
If you're interested in trying website chat, Userlike is one option you might consider. We help big names like BMW and Decathlon take their customer service to the next level, and many of them use our product to generate leads. Sign up for a free trial to try us out.
For some leads, knowing they are going to save money with solar isn't enough to push them towards buying. They are still in the middle of the funnel and are looking for more information. From the technicalities of installation to the process of long term upkeep, these people want facts and figures.
Ebooks and whitepapers are a great opportunity to provide this education. They are an organized source of information in one place that makes it easy for your leads to get the answers they are looking for. Plus, assuming it's well-designed, a good ebook or whitepaper can demonstrate your company's professionalism.
Just like a lot of these tactics, ebooks and whitepapers give you the chance to win your lead's trust and further persuade them to buy. You are providing them an easy way to educate themselves and giving them the information they need to consider becoming a customer. Check out this guide to creating an e-book for more information.
An online course is another option for leads that are in the general "information gathering" phase. Similar to an ebook or a whitepaper, an online course compiles all the information your lead needs in one spot. The difference is that an online course is likely more in depth and can also cover a wider range of potential topics.
While creating an online course for solar can be labor-intensive, it's also great for moving leads down the funnel. By demonstrating your expertise and addressing any objections they might have, you have a unique opportunity to shape your leads' thoughts on solar. This allows you to create a natural transition from lead to customer.
Promoting your course can happen in a number of ways. For example, you might put a course signup form in the header of all your website pages so it's easy to find. You can also promote it through email, or even use a tool like live chat to proactively offer your course to website visitors you think would be especially receptive to it.
Wondering what sort of topics you should cover? While a course can be as short or in-depth as you want, the first step is making sure people actually care about the content. Check out the most common questions about solar panels for possible ideas.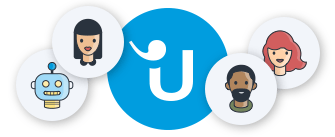 Looking for better customer relationships?
Test Userlike for free and chat with your customers on your website, WhatsApp, Facebook Messenger, Telegram and SMS.
Read more
Hosting a webinar demonstrates a deep knowledge of the topic you are presenting on. This naturally gives your business or organization a certain level of legitimacy. A webinar is also quite personal, and this allows you to put a face to your company and win your audience's trust.
Like online courses, webinars let you actively shape your audience's opinion on solar energy and offer your own services. What are some common problems with solar and how does your company provide the solution?
The difference, of course, is that webinars are live. Your influence is then naturally stronger as you are able to interact with your audience and directly answer their questions. Moving leads immediately to the next stage of the funnel is much easier.
Webinars are especially effective if you host them with a partner. The flow is dynamic and rapport becomes a natural part of the event, compared to the more static nature of a webinar you do by yourself. Insights occur that aren't possible during a solo webinar; the value to your audience increases as a result. A partner also gives you access to a new audience and grows your opportunity for lead generation.
For more information on giving webinars, check out this guide . You'll find everything from the best topics to cover, to the best strategies for marketing your webinar before it happens.
11

Get out on third party "review sites"
After gathering information on solar energy and becoming convinced that it's a good solution for them, future customers will start comparing options. They will look for clear information about providers that best fit their situation. Potential customers want to know which companies they can trust, and this will naturally lead them to authoritative sites that do the vetting for them.
That's why it's important to get your company on review sites. It establishes your credibility and wins you trust. Assuming the site's review is positive, your lead is also less likely to doubt your company's expertise at the point of reaching out to you.
This lead generation tactic is especially useful if your company is young. You haven't built up a backlog of helpful content (tactic 5) and likely don't have the testimonials to fall back on (tactic 12). Review sites can help. Sites that are worth getting an entry on include EnergySage, SolarReviews and CleanEnergy Exports.
12

Customer reviews and testimonials
Fifty-four percent of consumers read at least four product reviews before buying. Installing solar panels is a big decision for most of your leads, so they likely read even more.
This is why reviews and testimonials are important for your lead generation. They show potential customers what they can expect from doing business with you and provide you much-needed social proof. Reading reviews is also often the last step somebody takes before purchasing. This makes them essential in finally getting a lead to buy.
But how do you get these reviews? One of the best ways to gather testimonials is through creative and caring follow up. Some ideas for the solar industry include:
Thank you cards mailed to new customers after they have signed on with your company for panel installation.
A gift card mailed to their home on the one year anniversary of installation, along with information on how much money they have saved.
A handwritten note mailed to their home on the five year anniversary of installation.
While you can leave the process at that and hope a review comes from it, there's nothing wrong with directly asking for one. Mentioning in your follow up how important testimonials are to your business, as well as how much you'd appreciate one, can work wonders.
Want more information on securing reviews for your solar business, as well as the incentives you should provide customers in exchange for one? Check out this post by Aurora Solar for advice.
The process of getting your business to show up in local searches ("shoe store near me") is known as "local SEO." This is essential to solar lead generation: many of your potential customers will search something like "solar installers near me" before reaching out to whichever company they find.
While a lot of tactics can help you succeed with local SEO, one of the most important actions is simply listing your company on Google My Business. Surprising, then, that over half of businesses haven't actually done this. This not only brings less people to their store, but ignores leads with arguably the highest purchase intent . If you are looking for more information on how to succeed at local SEO, check out this guide .
Just like anything that breaks from the status quo, solar panel installation will likely bring up objections from your audience . They might reach a conclusion about the viability of solar panels before ever talking to you. This makes it less likely that they take the time for an in-person consultation.
Thankfully, video is a low commitment way for you to chat. This appeals to your lead's need for personalized solar information from an actual person. It also makes it easy for them to receive answers to their questions without ever leaving home. That's exactly why we started implementing a video calls feature at Userlike: customers want it.
During a video consultation, be ready with any information that your lead might ask about price, installation and overall benefits. You should also be sure to show the products. This comforts your lead and establishes you as a trusted partner.
And the golden rule? If you're offering a video consultation, make it easy to take the next step of an in-person visit. This is where you are most likely to win a sale.
Solar is still considered "new" by many of your potential customers, and many people can still question the effectiveness of the technology. There are also usually high upfront costs with installation. Solar leads, even when at the bottom of your funnel and close to purchasing, will naturally have doubts about investing in the technology.
This is why a referral program can be so useful: word of mouth is the most powerful marketing tactic there is. I could read a thousand reviews of a pizza place online - it still doesn't compare to the effectiveness of my friend begging me to go. The fact is, we trust people we know more than strangers on the internet. Solar leads are no different.
In fact, as this article states, social proof plays a huge role in convincing people to adopt sustainable energy habits. Concerns about the effectiveness of solar panels are less problematic when somebody you trust is using them. What this means for you is that you are missing out on potential customers by not having a referral system set up. Check out this article for advice on getting started with one.
The one tactic to instantly boost your number of leads
All of the above lead generation tactics are worth experimenting with. But if you're a fan of low-hanging fruits and instant results, then it's a good idea to first get started with website chat.
People are already on your website. Since you're selling technical and complex products, they are full of questions. Answering those questions right there and then is the easiest and most natural way to generate leads.
That's where live chat comes in. Live chat is exceptionally useful for solar businesses for several reasons:
You can qualify leads much quicker. By directly chatting with people on your website, you are able to understand which part of the solar buying process they are at. This makes it easy to pinpoint actions that would move them further down the funnel.
You can quickly give your audience the information they need. This happens through the real-time communication that live chat makes possible. Instant information is especially important for solar, an industry that consumers naturally have a ton of questions about.
You can nurture relationships with customers over time. Conversations are easy with live chat - anything from questions like "How do solar panels work?" to "What time of year is installation the cheapest?" This makes it easy to turn total strangers into devoted customers.
Why not give Userlike a try? Userlike gives you everything you need to not only generate more solar leads through the convenience of live chat, but to turn them into your customer base once you do.