The 3 Steps to Master Social Customer Service
If you have a presence on social media, your clients will inevitably use it to reach out for support questions. This social customer service can be either a curse or a blessing.
Everyone has heard of embarrassing social media moments . Working at quintly, a tool for social media analytics , I see plenty of those pass by every day. But you also hear many stories that show that social media can also be a great channel for providing customer service.
So what are the factors that make social customer service great or horrible? What do you have to keep in mind when your Facebook timeline or Twitter feed suddenly becomes an additional support channel?
The metrics tell a clear story. Here are 3 tips for mastering social customer service.
1

Understand: Set up a dedicated questions table

To gain a broader understanding of your customers, you need an overview of your incoming requests. You need to understand what the customers want from you. Most customers that get in touch with you are hungry for answers.

Messages like these urge you to act immediately, especially when an additional support channel isn't available. It's also clear in this scenario that your social media managers need strong customer service skills.

But how do you keep track of all the incoming requests in a systematic way? A dedicated questions table can help you. You use it to gather the questions from your social networks, allowing you to analyze all customer questions in one place.
The benefit is immense: With the help of this table you can measure the effectiveness of your customer support. Data like the response times and the number of unanswered questions can help to improve your customer service. All this can be greatly beneficial for your next customer support meeting.
Let's create from this our first key take away: Listen and learn to understand your customers using a questions table.
2

Act: Focus on Speed

Your customers reach out to you via Twitter or Facebook because they want quick answers. According to a study by the Social Habit , 42% of customers that use social media as a customer service channel expect a response within 60 minutes . Yet again another sign that instant solutions are the holy grail of customer service.

But how should you measure the speed and effectiveness of your suppovalid customer service metricrt team? The first response time is a valid customer service metric . It shows the time between your customer's first request and the first 'sign of life' she receives from support in return.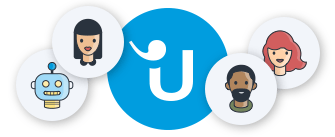 Looking for better customer relationships?
Test Userlike for free and chat with your customers on your website, Facebook Messenger, and Telegram.
Read more
That said, it's also crucial to differentiate your answers in different time periods. An example could look like that: Cluster your answers in different time periods.
One segment for unanswered posts (you should definitely avoid this!), another one for posts that were answered in less that 2 hrs, and finally a column for posts that were answered in 2-8 hrs.
What's more, these customer service metrics can work really great to benchmark your performance against competitors.
It is time for our second key take away: Be there for your customers and get back to them as fast as possible.
One of the fastest and better Customer Service: @JetBlue ! Thanks and Happy Thanksgiving

— Esaí Vélez (@EvpLares14) November 26, 2015
3

Analyze: Set up a post table

So far I've covered the response time and the customer questions metrics. The third metric I'd like to focus on are the user posts.

Instead of solely looking at customer questions, I want to look at all incoming user posts. A user post table can be a helpful and valuable tool for having a direct and measurable overview of all your customer posts.

By summarizing all of your posts per day or even specific hours of the day, you receive more specific insights on the post behavior of your social media follower base, and the workload that your social media employees have to handle.

An extreme example on how listening to your customers can benefit not only your customer service team, but also your marketing team, was shown by the American restaurant chain Mortons. The loyal and tremendously hungry customer Peter Shankman sent out a tweet to his favorite restaurant asking them for a free steak.
Hey @Mortons - can you meet me at newark airport with a porterhouse when I land in two hours? K, thanks. :)

— Peter Shankman (@petershankman) August 17, 2011
Imagine you sent out an innocent request, just for the fun of it. Then all of the sudden a 24 oz. porterhouse steak is waiting for you at the airport.
This example is extraordinary, but it shows that listening to your customers can be a huge benefit for building up a good relationship with your customers.
Another great example on how listening to your customers can put a smile on their faces was made by the British supermarket chain Sainsbury's. They engaged in a really funny twitter conversation with one of their customers about a really "fishy" topic.
. @sainsburys Thank you. This has probably been the finnacle of my tweeting career. Carp diem, David.

— Marty awrence (@TeaAndCopy) January 10, 2014
I hope you've learned more about how analyzing your social media profiles can benefit your customer service. Focus on these three values: learning, quickness and listening. Trust us, your customers will appreciate the effort.