Introducing SMS Connect – Customer Support Via Text Messaging
Extend your customer support to SMS, the original messenger technology that so many of us grew up with.
When you connect your Userlike account with SMS, customer text messages sent through this channel will arrive in your Message Center. They will be marked with an "SMS" tag, but otherwise behave exactly like customer messages sent through your website – or whatever other Channels you have connected (Facebook Messenger, Telegram, WhatsApp).
From the Message Center you can then reply with ease, with all the comforts and features of a modern support solution.
Why SMS support?
SMS offers a few unique benefits that has allowed it to remain one of the largest mediums for mobile texting.
It's platform independent. SMS is built into all mobile phones, and therefore doesn't require you to sign up for an extra service (e.g. WhatsApp). It also builds a bridge between, say, those with iPhones and those with Android devices. What's more, it's the perfect channel for those who worry about handing over their private conversations to the likes of Facebook .
It's internet independent. If your customer's internet connection fails, – e.g. when they're in a foreign country without coverage – SMS is still there to support you. When you offer the option of SMS support, you're telling your customers that they can reach you, always.
It's become almost free of charge. The main impetus behind the growth of messaging apps like WhatsApp was that regular texting used to be expensive. But many mobile phone plans these days offer unlimited text messaging, and those that don't only charge a tiny amount.
The reason why so few companies offer SMS as a support channel is that –until now– it wasn't easy. SMS has no browser versions like WhatsApp and Facebook Messenger . So responding wasn't as simple.
What's more –and this also holds true for WhatsApp and FB Messenger– SMS was built for private communication. It wasn't made with a business-to-customer support scenario in mind.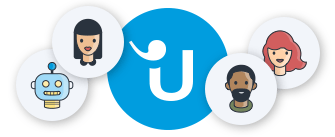 Looking for better customer relationships?
Test Userlike for free and chat with your customers on your website, Facebook Messenger, and Telegram.
Read more
Userlike's Message Center is the browser version SMS never had. It gives you an added support logic layer, including features like a shared inbox, tagging, forwarding, canned messages and much more .
How does it work?
To realize this SMS Channel, we've teamed up with Twilio , an API platform for communication channels. This means you will need a Twilio account and – while the channel itself is free – each SMS you send and receive is operated and charged by Twilio .
Check out the full SMS Channel tutorial here .
Now what?
If you want to give it a try, then sign up for a free 14-day Userlike trial . This will allow you to experiment with SMS, and of course also with our other channels: website chat, FB Messenger, Telegram and WhatsApp.
When you sign up, be sure to enter the Unified Messaging beta . That's where the Channels are available.
Happy chatting!