9 Tips for Making Remote Work
When they told me I could work remotely, I was psyched. While following my dream of living in Colombia, I could at the same time gain experience working in a fast-growing startup.
That's the promise of remote work – being at the place you want to be, without sacrificing your career. But what I didn't know was how challenging remote working would be.
It stressed a previously unused set of mental muscles. Determined not to let the Userlike team down, I read up all there was to know about remote productivity.
Here are my 9 tips for making remote work .
1

Find your productivity zone

Many people imagine remote workers sitting in their pyjamas in a warm bed, cup of coffee in one hand, and some acoustic guitar in the background. While this stereotype certainly applies to some of us, each remoter has to find their own comfort zone.
Just ask yourself, "Do you feel comfortable in this environment?","Are you able to concentrate?", "Can you be productive?".
Some prefer to work from home, others favor the white noise of a coffee place, and even others need the social pressure of a shared office place.
Whatever your preference, it's important to stick to a weekly routine. For me, Mondays and Wednesdays are coffee place time. The rest of the week I work from home.
2

Develop a "remote personality"

While most of us are as –or more– productive as we'd be in an office, some cannot prevent sliding into " cyberslacking ". Not everyone is made to work remotely.

Thomas O'Neill examined the personality attributes of suitable and unsuitable telecommuters. He highlighted the following three traits of a great remote worker:
Conscientious. It's the desire to perform your work well and take obligations seriously. Conscientious people tend to be efficient and organized – great qualities for a remote worker.
Honest. Honesty towards yourself and your colleagues. Are you only checking out the latest youtube channels or are you actually working for what you're paid for?
Satisfied with your work. Loving your job helps you to become a great remote worker just like being a great office worker. When you love what you do, you'll enjoy working remotely even more.
So it's important to know yourself. You can still be productive if you lack any of these traits, but you'll probably need the social pressure of an office environment to get you there.
3

Hone your communication skills

When remote, communication between you and your co-workers is based almost exclusively on writing. Writing skills are already valuable for regular office soldiers, but they're even more crucial for lone, remote commandos.

Collaborative work spaces like Slack, Asana and Skype are invaluable in helping you compensate for the lack of face-to-face contact. But to make this work, you'll need to be even more transparent than your office-based colleagues.

Indicate what you're working on. When you're stuck, say so. You're not actually on your own; your colleagues are still there to help.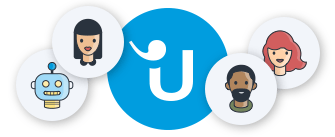 Looking for better customer relationships?
Test Userlike for free and chat with your customers on your website, Facebook Messenger, and Telegram.
Read more
If you're working in a different time zone, try to have at least some overlapping working hours so you can keep in touch with your colleagues on a daily basis.
4

Be crystal clear on what your company wants from you

Working remotely means less room for feedback from your manager. You won't have someone next to you to answer your questions. So make sure that you've fully understood what your company wants from you, what processes to use, and how to use the tools that were given to you.
5

Don't wait to be told what to do

Successful telecommuters don't wait to be told what to do . Passivity is the surest way to remote failure. If you notice that something vital is missing in the task description, don't wait around for an answer – for that might take a day or two.

If possible, call your manager for clarification. If it happens to be 2AM at her location, send a message about the issue instead and let her know you've moved on based on what you thought would be the best choice. This proactive approach shows that you're an autonomous worker.
6

Overdose on personal discipline

As mentioned above, it's important to set up your daily routines. You have to be organized to compensate for the lack of daily office-life routine. That takes a considerable amount of self-discipline – more than your office colleagues will have to show.

See your work as a duty, not as something you do for just a few hours every day. Set up your cornerstone habits to shape your day . Wake up at the same time every day to maintain a healthy sleep cycle; make your bed; follow a fixed morning routine.
7

Stay visible through transparency

Besides being able to communicate clearly, transparency with your teammates is critical. Those colleagues who assure you they trust that you're constantly working? They're lying. To a varying degree, everyone suspects you're really just enjoying a mojito in a hammock.

Radical transparency is the only medicine.

Indicate what you'll be working on today. Report on your progress. Let your colleagues know if you're stuck on an issue. Your managers can't always follow up on what you're doing, so keep them informed.

With sentences like "I'm still working on XY, but I should be able to finish it by tomorrow" you show your managers that you're actual working and that you keep them posted about the progress you've made.

Show your managers results and summarize your day, week, and month. Make sure that what you say is what you do .
8

Meet new people, stay social

The remote life can be lonely at times. A change of scenery, from home to a coffee place or library, will prevent the walls from closing in on you and allows you to see some human faces.
Don't stay isolated: Go out and socialize – join a sports team, an interest group, remote working communities (there are plenty on facebook, also specified per city), and visit networking events.
In Bogota we have " Gringo Tuesday " – an event to get to know expats and remote workers.
9

End the work day

It's important to set barriers between your professional and your private life. That couch you were finishing your blog article on in the afternoon turns into a meet-up place for friends at night.

For this reason: end your workday and banish all thoughts of work until the next day.
---
Not all work can be done remotely and not everyone is cut out for the remote existence. But if J.K. Rowling was able to write a lot of Harry Potter in her local coffee bar , imagine what you could achieve.
If you have the opportunity, just try being a digital nomad and see how productive you may become!