9 Recruitment Methods for Building an All-Star Team
People make or break your organization. So when expanding your team, you'd better get it right .
At Userlike , we've been in a rapid-growth situation for the past few years. From a crew of four in 2014 we've grown to one of thirty-four today.
Such speedy growth is risky. Hiring is expensive . And if you fail to attract the right people in terms of skills and culture, it will cost you in effectiveness, efficiency, and employee churn.
Besides focusing on building a lovable culture , we've learned that the only way to build an all-star team is by building a recruitment machine to 10X our approach. Instead of reaching out to 10 developers per week, we could reach out to 300. This allowed us to be highly selective at the end of the funnel.
But how do you build such a machine? We've done plenty of experimenting with recruitment methods. Here are 9 methods we have tested:
1

Referral compensation

An internal policy that pays current employees a sum of money if they recommend a potential hire who is then taken on for a position. This turns your employees into "lookouts"for new hires, while also costing less than a headhunter or recruitment agency. It also has the benefit of having someone with inside experience into the business's culture and workflow.
One downside of this approach is that you'll likely be turning down a lot of your employees' friends, so you should take care to make them not take it personally.
You also don't want to reward your current employees for finding someone who ends up not being a good fit with the organisation. To avoid turnover and incentivize good work, you could make the money award contingent on the new hire keeping the job for at least a few months.
For more information on this strategy, check out this article from The Balance .
2

Active Search

You or an employee you task to do so look to social media to find employees by connecting with people organically.

First, you need to figure out which social media platform has the type of employee you're looking for. LinkedIn is a great pick to start with due to its focus on professional profiles, and here in Germany we mostly make use of Xing . Stack Overflow is a valuable source for us to find developers.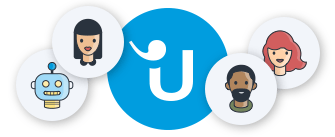 Looking for better customer relationships?
Test Userlike for free and chat with your customers on your website, Facebook Messenger, and Telegram.
Read more
Next, you can post an ad on a platform like LinkedIn, which will semi-automate the search process in comparison to something more hands-on. Alternatively, you could get in touch with a particular individual who you find interesting online, noting that you may be hiring, and chat with them about themselves.
3

Job ads on online job boards

This can be cost-effective, as many of these platforms are both popular and free (or cheap).

Indeed , possibly the biggest job search site online, lets you post job descriptions for free or promote your ad for additional visibility for $5 a day. Craigslist is another popular option, while FlexJobs or RemoteOK can be great for hiring a remote team of specialists.
4

Employer branding

This approach builds a sense of what it's like to work for your company, and why it's so great for employees to work there.

Modern companies often compete on the perks they offer to their staff, like high-quality free lunches, gym memberships, or "unlimited" vacation. That's one way they brand themselves: as an environment that caters to the needs of their staff.

While employee perks sound like fun, you should make sure that the're in line with your culture and values . At Userlike, for example, unlimited vacation isn't one of them, because practice has shown that people actually take less holidays - and we want a team of happy, well-balanced individuals.

The perks we do offer are aimed at people who want to excel- an educational budget for personal growth, free fruits and water for a healthy diet, team events for social cohesion, and an optimal work environment.
For these efforts to benefit your recruitment efforts, we recommend to showcase them through your social channels- like we do on our Instagram and Facebook accounts. In fact, we've integrated our Instagram on our hiring page .
5

Employee platform reviews
This is not something one can demand from one's employees to do, but if you have a happy team, they may post sites on Glassdoor or Kununu about how it is to work at your company.
This provides more exposure to what your company has to offer to potential hires on a different platform. Don't underestimate the value of the strategy, as word-of-mouth is persuasive.
6

Office meetups

Not a means of directly hiring people, but a great way to let your local professional community know how awesome your company is.

Here at Userlike, we occasionally run a DevHouse Friday . We invite the local developer community to our office, invite them to give talks about their work, and relax with beer and pizza. We've found it really helpful for building and maintaining connections to the developers'network in our area.
Of course it's not our goal to rob our fellow startups from their talents, but oftentimes the ones visiting have gifted friends who they know to be looking around. Indirectly, hosting such events brings us a lot of applicants.
7

Media and Public Relations

Again, not a direct hiring strategy, but if you're looking to take on new people and find yourself talking to the media or doing press releases, make sure to casually mention that you are currently hiring. We did this in our story in T3N , one of Germany's largest tech news outlets. This alone can bring applications from great candidates to your inbox.
8

Headhunters

A headhunter is a professional recruiter, hired on contract, who actively searches for employees with the training and experience that suits them for the job. Having a pro take care of recruitment leaves you and your staff time to work on the company, but it can be expensive.
Headhunters offer different payment schemes. You can arrange to pay them only after the job has been filled, incentivizing them directly to produce good results, or you can pay them hourly, or in milestone installments (for example, a first payment when you agree to interview one of their prospects).
It may be best to pay them only after you have hired someone, to best align their interests with yours. When you do this, however, you can expect them to be constantly following up with you like hungry salesmen. Which can be quite annoying.
If you're interested in going down this path, this page has a number of great tips about how to work with headhunters.
9

Recruitment agencies

A recruitment agency is an organisation with a number of headhunters and support staff. Compared to lone headhunters, recruitment agencies can tap into larger professional networks that they've built up over the years, accelerating the process of finding a suitbale hire.
They also provide more comprehensive support than that of a lone headhunter. They can be sophisticated, with experts in a variety of industries working for them, but they mostly cost more as a result. And they are just a professional in how they follow-up with you until the contracts are signed.
Job site Monster.ca has a great interview with HR agency Drake International about how they do what they do.
As you're going through the process, remember: who you add to your team is one of the most important business decisions you can make. Good luck!