What's New: Permissions, Preferences, Proactivity, and More
Here is an overview of the latest developments that we launched with our RC20 release.
1

Roles and permissions

The primary focus of our release was on roles and permissions. Although there were roles before, these had been designed for the old "Live Chat" version. Since with Unified Messaging the range of functions –and thus the possible applications– have become more diverse, the permissions also had to be adapted.

For example, should an operator have access to contact information and be allowed to edit them? And should operators only see their own assigned conversations or also unassigned ones? Since neither "contacts" nor "unassigned conversations" were available in "Live Chat", the roles were now adjusted to UM.
You can adjust them in the Roles section in your Dashboard .
2

Contact details mandatory when leaving offline messages

You can now enable an option that makes it mandatory for a contact to provide their contact details when they message you while you are unavailable. This basically means that a registration form is active during offline times. It will prevent the situation that your contacts won't receive your answer.

To activate this, simply activate the "Only receive new conversations with contact details" in the Widget Editor .
3

New proactive mode

The proactive mode is now available in a new design. Where the entire chat window previously opened after the timeout, individual bubbles now appear, which display the text content.

With this move, we are aiming for a less 'disruptive' proactive approach. One that stands out enough to be noticed, but that is subtle enough to not disturb the website experience.
You can deactivate the Welcome Bubble via the text settings by leaving the text field empty.
4

Storage of operator preferences

Operators can now customize their view in the Message Center. If, for example, you want to see certain fields of the contact profile always folded out, this selection is saved after the first folding out.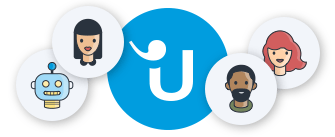 Looking for better customer relationships?
Test Userlike for free and chat with your customers on your website, Facebook Messenger, and Telegram.
Read more
If you need a specific view in the archive under "All conversations", you can also customise this view and it will be retained for future access.
5

Offline within service times

In order to let your contacts know how quickly they can expect an answer from you, there will be two differentiated offline messages: an "offline message" and an "offline message during service times".
6

Access to multiple organisations

When working with organisations, you can now give operators access to specific organisations. If it was previously only possible to give access to one or all organisations. You can now define this specifically.
7

Manage WhatsApp templates

From now on, you can create and select the WhatsApp templates for your WhatsApp business account directly in Userlike. The templates are required if you want to respond to a WhatsApp conversation after the 24 hours. You can set up your templates at the bottom of your Dashboard's Channel section .

You do not have a WhatsApp Business Account yet, but are interested? Just leave us a message here :)

If you have any questions, don't hesitate to get in touch!