What's New: Audio Calls, Messenger API, Analytics, and More
With last Friday's release we've made some bigger and smaller improvements to Userlike. Here's an overview:
1

Audio calls

The crown jewel of this release. We've written a dedicated post on this new feature, which you can find here .

Available from Corporate onwards, audio calls allow your operators to escalate from website conversations with contacts to in-browser audio calls. Perfect for discussing complex issues, building customer rapport and/or capturing a lead.
2

Messenger API improvements

We've made various improvements to the new Userlike API, the Messenger API , which is available from the Business plan onwards.

Rebuilt from scratch for Unified Messaging, the Messenger API allows you to do some pretty cool stuff.

It allows you to load the messenger "invisibly", allowing you to use any element you see fit as a trigger for the chat. That allows you to load a certain widget based on your own requirements and business logic.

It also allows you to set custom and contact data via the API. This means you can send relevant data right into a conversation for the Operator to see for example the contents of a shopping cart or if someone is logged in, etc.

I'll do a dedicated post on all the cAPIbilities sometime soon. (Ba-dum tss...)
3

WhatsApp on new API

We've had to update our infrastructure for the new WhatsApp API.

If you're a current user of the WA API, you will need to set up the new API key and template name in your Channel Editor . You can reach out to your account manager for help.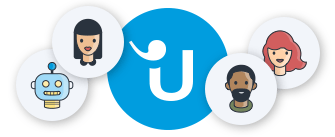 Looking for better customer relationships?
Test Userlike for free and chat with your customers on your website, Facebook Messenger, and Telegram.
Read more
The new WhatsApp API also allows you to set up your business' WhatsApp profile picture, about section, address, description, email, industry and website URL also from within your Channel Editor.
4

Analytics improvements

When entering the Analytics area in your Dashboard, you'll notice that many KPIs have been duplicated with a "service times considered" section.

We've added these sections because you will likely have different standards for how your service performs depending on whether conversations take place within or outside of your service hours.

Besides that, we've added a couple of new KPIs:
5

Screenshot feature is gone

For privacy reasons, we have removed the screenshot feature. Luckily the Message Center and Website Messenger allow you and your contacts to easily share files through drag-and-drop, so this way your contacts will be able to easily send you screenshots. And you can also always rely on the URL-path to see where your website visitor currently is.
That's all folks!
I'd just like to close with some props to our design and development teams for delivering a massive new feature like audio calls so quickly after leaving the Unified Messaging beta.
What's more, you can really feel that it was well thought out. In terms of development processes, it might be our best feature so far.
I think it confirms that the challenge of getting Unified Messaging out of the door has really made our teams more fit. The new design and development processes that we've had to put in place to deliver Unified Messaging can now be used for further feature developments and improvements. Which should make us optimistic about future developments!
That said, our focus for the coming weeks won't be on developing major features like audio calls. We'll focus instead on product feedback, optimizations, and perfecting our current feature set. So if you have some feedback to share, make sure to let us know!
Lacking a recent team picture due to corona, we'll have to do with this video from our development co-lead Manu at last year's FrOSCon conference: