Quick Guide to Making Customer Service Fun
"Business should be exciting, stimulating and FUN. it should be done with and from the heart, with the real desire to help other people. That is the definition of Success." - Nadia Arain
Having fun is what makes life worthwhile. This wisdom is something successful entrepreneurs, investors and professionals have learned sometime in their life and applied to how they do business.
Research shows that fun increases employee motivation and productivity. Even more, being able to use humour gives corporate workers a sense of belongingness to the company. Barbara Cocoran, a famous Business Angel from the United States, highlighted in an opinion article that the best ideas come from happy and amused employees. We will explore how you can use live chat to include fun in your customer interactions and how it can have a positive impact to your business.
1. The Psychological Effects of Fun
Did you know that stress is one of the most common disorders among urban workplace employees in service sectors? Affecting more than 40 million adults in the United States and a proportionally equal number throughout the world's biggest capitals, stress is seen as a mental illness with large impact on the wellbeing of modern workers. Stress, as one of the routes for depression and other severe diseases, should be seen as a real problem worth fighting.
In hectic lifestyles with fast-paced responsibilities, it's hard for any human being to remain calm and avoid stress. According to specialists , some of the best ways to unwind is by having fun, being able to smile and do things we appreciate.
2. Advantages of Including Fun at Work
Fun can have immediate impacts on an employee's daily productivity, mood, capability of making rational decisions and on the way s/he deals with colleagues, partners and customers. Here's a list of some of the most common advantages of adding fun to the workplace:
Fewer Burn-Outs: Investing in keeping mental disorders such as anxiety and stress out of the door will help you save on future employee costs.
Fewer conflicts with customers: A happy relaxed mind is more capable of providing consistent rational support to your customers, without being affected by mood swings or angry customer complaints.
Clients will love to work with you: Fun is infectious. Fun people have the power of arousing enthusiasm in others, which is why other people love to be around such persons. The situation where customers like to be around your company and feel empowered after a visit is one that should be strived for.
People will talk about your support: Soon your efforts will go outside of your office walls. People will tell their friends about the fun and cool people working at your company. Word of mouth will increase and so will your leads and referrals.
Employees are more motivated and productive: When allowed to have fun, people are more motivated to deliver higher quality service. Apart from doing their job, they are allowed to enjoy it and that makes a tremendous impact in their working productivity.
3. How to Successfully Include Fun in Customer Support
Company Culture
Many support agents would never dare to make a joke while offering support because they are too worried about upsetting their supervisors or appearing unprofessional for the customer.
If your agents display this concern then there might be some influence of your company culture which leads them to respond like that. In this case you need to start tackling your internal problems, allowing more space for informal conversations and relationships between colleagues and higher roles.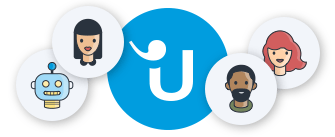 Looking for better customer relationships?
Test Userlike for free and chat with your customers on your website, Facebook Messenger, and Telegram.
Read more
It's a good idea to let your employees take a course in improvisation/stand up comedy course. Don't expect your employees to become professional comedians (you probably don't want them to be that anyways), but these courses have valuable lessons for getting in the right mindset for informal human interaction.
Then, it is important that you purposely select the right people. Hiring employees with a good sense of humour is essential for introducing and establishing fun environments.
Empower Employees
People become fun when they are confident and comfortable. Therefore it's important to empower your agents on providing fun customer service (which is not about telling jokes over the chat). Let them know how far to go and how to understand when it's a good moment to include fun in a conversation. For example, Rule #1 of Improv: Always Roll with It. If a customer makes a joke, build upon it.
Make Fun of Mistakes
If you or your company made a mistake (and make sure the customer is not steaming in anger right now) that would be another good moment to bring a joke about yourself, something like "What was I thinking?" or some other informal expressions to show the customer that you fully understand their concerns.
Use Emoticons
Using emoticons is important when you're including fun in your live chat support. With live chat you don't have a voice to communicate that you are making a joke. That's why emoticons are important. They are recognised worldwide, are accepted in business environments these days and can have a significant impact on the way the customer interprets your message. When using emoticons, make sure you are consistent with context and timing. Too much might end up being seen as unprofessional.
Create Empathy
There are many other opportunities to be nice, show sympathy and fun. Joking about the weather in your country in the beginning of a conversation and relating to your clients location is one of them. There are millions of them. You only need to be aware ;)
Having fun and being fun ends up in showing everyone that you are passionate about your product. Customers will understand that you are not there only to conclude the transaction and pocketing the profit but also believe in the product you are selling by the simplest fact that you are having fun while doing your job.
About Userlike
Userlike is live chat software for websites, allowing companies to chat with their (potential) customers directly over the website. Look here for more information.