Userlike Now Supports Plant-for-the-Planet
Update May 2022
In an article from Dec 2020, the ZEIT newspaper made accusations against Plant for the Planet and concerns grew about their sustainability activities. That's why we at Userlike have decided to suspend our support for Plant for the Planet for the time being. However, we're actively looking to support different sustainable projects now.
Aug 2020
This post is a deviation from our usual topics of discussion. It's about Plant-for-the-Planet, an environmental initiative, which we now support at Userlike by planting one tree per customer per year.
With every tree planted, Plant-for-the-Planet strives to offset C02 emissions, reverse the greenhouse effect and mitigate the devastating effects of the climate crisis .
Supporting Plant-for-the-Planet is the next step in our ambition for Userlike to become more than just a company — to become a positive force for change.
Until recently, our efforts have been human-centered. We've already been supporting the Atefa Girls' School for many years. Our team members have also been active in local projects such as group blood donations and volunteering at the Ronald McDonald Haus .
With our support for the Plant-for-the-Planet, we're now adding an environmental dimension to our projects.
The story of Plant-for-the-Planet
It all started back in 2007 when Felix Finkbeiner, inspired by research for a school presentation, hit upon the idea that children could plant 1 million trees in every country on Earth. Tree-planting is the cheapest and most effective way to absorb C02, reduce greenhouse gas emissions, and reset the clock on the climate crisis.
Since its inception, the initiative has gained enormous traction worldwide with over 13.6 billion trees planted in 193 countries. What's more, a total of 88,000 children in 74 countries have been trained to become ambassadors for climate justice.
With the backing of the United Nations Environment Programme (UNEP), Plant-for-the-Planet is now working towards the goal of planting a trillion trees. These would absorb a quarter of the man-made C02 emissions produced worldwide.
On the Yucatán Peninsula in Mexico alone, the organization plants a tree every 15 seconds. This shows that planting a trillion trees is within reach.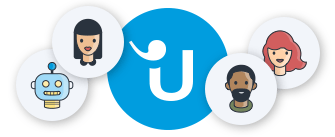 Looking for better customer relationships?
Test Userlike for free and chat with your customers on your website, Facebook Messenger, and Telegram.
Read more
Plant-for-the-Planet also aims to mobilize 1,000,000 children worldwide to become ambassadors for climate justice. As Climate Justice Ambassadors, children call on adults and peers alike to fight for the future through lectures and organizing plant parties. They've even addressed the UN and world leaders.
A wider objective of this initiative is to achieve social justice. Climate change has the most impact on developing countries, yet they are the least able to afford its consequences. Tree-planting in developing countries purifies water sources, improves the soil and helps people grow their own food.
---
At Userlike, we're proud to be joining an impressive list of companies that align their success with the well-being of the planet. We hope we can inspire other companies the way that we've been inspired as well.
If you're interested in learning more about Plant-for-the-Planet or want to support this cause, head over to their website!