The Shift Toward a Personalized Shopping Experience
With the emergence of Ecommerce, shoppers now have an abundance of options from around the world available at the tips of their fingers.
This has made it increasingly important for brands to cut through the clutter and offer something different. Retailers need to respond to new customer buying habits and decreased responses to traditional advertising by offering more. Not only at checkout, but across the entire shopping experience.
Early Attraction
With today's amount of online content, consumers have become indifferent toward generalized ads.
To cut through the clutter, it has become more important for retailers and brands to connect with their customers on a personal level and offer them content that's both interesting and engaging.
It's human nature to respond positively to personal interaction. For example, we respond better the more our name is used in conversation. As such, you're more likely to have a favorable first impression of someone if they refer to you using your name.
The same is true during a person's shopping experience. Consumers respond better when they feel an ad is personalized or targeted toward them in particular.
A yahoo survey found that people aged 13-64 thought personalized ads were more engaging, educational, time-saving and memorable. This is a clear indication that personalization, early on in the shopping experience, can turn a customer onto your brand and product.
Companies often find ways to tailor their message to a customer's buying or shopping habits. Through cookies, a packet of data used to track your activity on a website, retailers are able to continuously advertise products you recently searched for on their online store. This method offers a sense of personalization as customers see products they've showed an interest in.
Omni-Personalization
Consumers buy online and in-store - switching between the two seamlessly. Retailers need to respond to this behavior by ensuring that customers find personalized and easy service throughout their omnichannel store.
Personalized service is not only about using a customer's name or tailoring a message for them; it's about giving them options that will make their shopping experience easy and unique.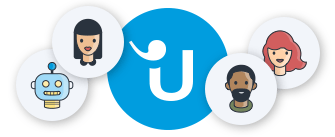 Looking for better customer relationships?
Test Userlike for free and chat with your customers on your website, Facebook Messenger, and Telegram.
Read more
For example, retailers need to offer options for customers who wish to customize online preferences - which can then be accessed by an employee in-store for personalized service.
On its own, Omnichannel gives shoppers an option to purchase from a brand on their terms, whether it's online or in-store. For this to be effective, customers need to be recognized across each channel.
While shopping, Ecommerce websites can feature personalized recommendations based on the customer's previous searches and buying habits. This adds a personal and attention-grabbing touch - as though they've been noticed by the retailer.
It's also a good idea to allow customers to sign in to their profile on your online shop. Through this they can save items to their wishlists, favorites, or shopping carts, which they can then access each time they log in.
Personal post-purchase
As we've seen, a personalized shopping experience can enhance a customer's experience before and during a purchase. ost-purchase is another efficient way to make your customer feel special.
Customized delivery options are favorites among consumers, as they can select which day they would like their product shipped and delivered, or pay for express shipping.
This simple customization can engage a customer's brand loyalty as they would have control over when they receive their purchases, making the shipping and delivery process easier.
Furthermore, retailers can benefit and enhance their relationship with their customers through personalized email communication.
Automated emails that alert customers when they have items in their shopping cart that they have not checked out, or private sales with discount codes and new releases are a touch of personalization that can help increase loyalty.
There is a direct benefit for retailers when they personalize the shopping process for customers. Whether retailers implement targeted ads, customizable options online, cookies on their website, or personalized emails, personalization allows them to cut through the clutter that customers face every day.
Feedback from your customers can benefit your processes and add a more personal touch that will increase communication and loyalty between your brand and consumers.