Forget Multi Channel vs. Omni Channel. The Future is Opti Channel.
Alongside multi channel's proclaimed death omni channel appeared with a sense of finality. A multitude of customer communication channels, neatly integrated at last. But some issues persisted. Simplification could be the unexpected fix.
The terms "multi channel" and "omni channel" are often used interchangeably. In fact, both are related but still distinctly different. Multi channel was the rushed attempt to integrate novel channels into existing structures. Omni channel was the next evolutionary stage, focusing on the close interconnection of all these customer interaction channels.
In omni channel, the relevant communication history and context information are synchronized across all channels. This offers the customer a 'seamless experience' even if she first calls, then sends an email, and then starts a chat. Over the past years, omnichannel has turned into the holy grail of customer experience (CX) .
But new research suggests that customers don't actually want or need this. Instead, they want guidance and transparency.
Like the smartphone reversed the trend from ever smaller to ever larger mobile phones, the rise of messaging apps may turn the trend from ever more to fewer, improved contact channels.
The rise of multi channel
The internet brought us an array of new communication channels. Companies naturally adopted these new channels to service different types of customer interactions. For complex issues, a phone call is more suited than an email. For simpler issues live chat may beat both of them. Social is the more casual option.
The spirit halfway through the 2000's was to add every single channel possibly frequented by customers. Around that time, sales, marketing, and online communication via several channels and platforms slowly grew from a USP to a no-brainer.
The high investments in technology and manpower for more channels were supposed to be rewarded with bigger audiences. But adding all these channels had one major drawback. Customers shifting between channels were a service nightmare.
Today's average person owns 3.64 web-enabled devices , with various channels on each of them. Customers say they have to switch channels 38% of the time . Ten to fifteen years ago, people weren't this obscenely connected, but that quickly changed with the advance of smartphones and apps. And so did customer behavior.
When they formed a habit of shifting channels, they fell right into the cracks between.
Overall, customers report having to repeat information 50% of the time they interact with companies—much of that the result of this channel-switching behavior. And, repetition is a killer: it increases effort by an astounding 60%.

Matt Dixon, CEB
An example: The customer sends an email to a support desk, then calls, impatient for a reply. But getting the right person on the line is tricky, and the customer needs to explain her case all over again every time another agent picks up. A disruptive experience all over.
As Shep Hyken explains , issue repetition means increased effort for the customer and inefficiency for the company.
The birth of omni channel
Omni channel is the term for the focal switch on integrating all these channels to solve the disruptive CX experience. It's the descendant of the multi channel approach. Most companies deciding to "take a holistic view", as Talkdesk's Maya Horowitz puts it, already offer a variety of channels. But they are mostly disconnected.
All omni-channel experiences will use multiple channels, but not all multi-channel experiences are omni-channel.

Aaron Aguis, HubSpot
So, companies implement software solutions that pipe all user interaction data into one place. Premium solutions like SAP's Hybris and IBM's Websphere Commerce offer carefree packages for big businesses. Over the past years, Open API has changed the game in favor of customization options, as provided by Segment and Shopify with its vast app collection .
The revenue boost from the increased customer experience would offset the cost of tightly integrating all channels.
Omni channel would make buying and issue-solving easier for customers. The company would also be able to deliver a more personalized service by gathering data from all these channels.
All of this would additionally drive overall efficiency. The money saved could be subtracted from the costs. Poured into one formula, it would look like this:
Revenue from increased reach & loyalty + efficiency savings > costs of additional channels & channel integration
Omni channel, a false prodigy
If above equation is true, omni channel is the way to go. If you ask Matt Dixon, co-author of The Effortless Experience , it just rarely is. How come?
Firstly, because the software to tightly knit all channels together is frightfully expensive. As CEB found , some companies face costs from $10 million to $80 million.
Secondly, it usually takes years to implement the solutions, adjust processes and train staff until a true omni channel experience is established.
Even worse was CEB's finding that the impact of seamless channel-bridging on customer effort was surprisingly low. It winds down effort by no more than 5,3%. And measuring companies' abilities to deliver a tailored customer experience, they received an equally disappointing result: omni channel data improved "customer knowledge and recognition" by a marginal 5,4%.
If you take a look at the websites of omni channel vendors, however, those two attributes are exactly the most prominently advertised.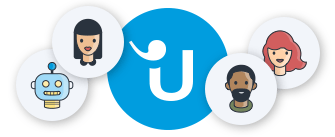 Looking for better customer relationships?
Test Userlike for free and chat with your customers on your website, Facebook Messenger, and Telegram.
Read more
If you trust these numbers, then omni channel is a tempest in a teapot. Like the first draft pick prodigy from college who just never lived up to the expectations in the NBA.
One way to explain this deception is by zooming in on what omni channel actually changes for the customer.
Say the company has all channels neatly integrated. The service rep can track the customer on her journey across channels and prevent repetition. The customer, however, still needs to think about what channel and device to use next.
Knowing that she won't have to repeat her issue again doesn't guarantee her that the issue will also be resolved in her channel of choice. If her service interaction concludes without a repetition, it doesn't mean she'll know what happens next. The amount of user data the company has gathered is meaningless if it isn't used to advise her.
When in doubt, a customer sends out follow-ups in an attempt to learn what's going on. This creates effort.
Channel choice is an idea companies invented. Customers don't want choice, they want channel guidance.

Matt Dixon
CEB's numbers support this reasoning. "Service transparency" reduces customer effort by 58,1% and "service proactivity" reduces it by 15,3%. Vast channel choice does help customers, but it's certainly not at the heart of their interest. For companies, it leads to a disproportional rise in complexity and cost.
The opti channel alternative
Translated to actionable strategies, this suggests being transparent about waiting time, steps taken and future steps necessary. About managing expectations as well as proactively guiding the customer to the best channel for his problem.
This approach has found a home in the growing term "opti channel", referring to the optimal channel for a certain use case. It encourages companies to simplify the experience for customers. Instead of offering more channels and integrating them, the customer experience will benefit from clear guidance to fewer channels — and doing those few channels very well. In the future, we'll see more companies favor the channels that work best while dropping others, even traditional ones.
Instant messengers could be that optimal channel soon. All conversations between customers and businesses build upon the existing thread from previous interactions, so context is always provided. Also, both voice and video calls are becoming standard features in messengers. For every other kind of customer interaction, in time there will likely be either a function or a bot . In other words: Conversational Commerce and opti channel describe the exact same thing, yet from different viewpoints.
Be it through messengers or other solutions – in the future we'll see more companies favor the channels that work best while dropping others, even traditional ones.